Reverb Pedals
| More in Electric Guitars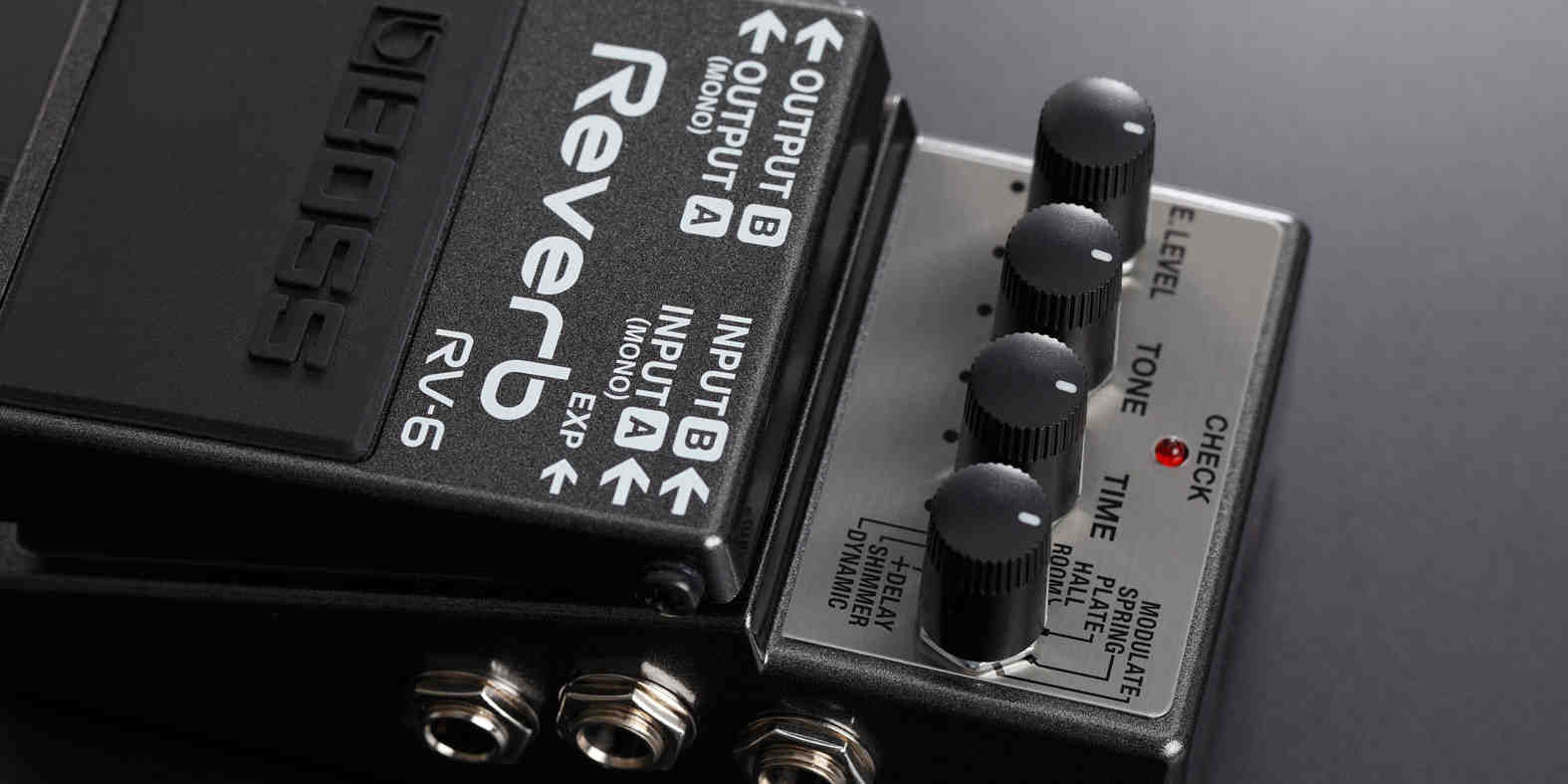 What is reverb? Well, it may be the only effect that you've all heard in one form or another whether you realize it or not.
In fact, you hear reverb every single day. Reverb simulates the sound of a space, everything from a small room to the Taj Mahal. So, kind of like echo right? Yes, but where you hear the individual reflections of echo: hello hello hello hello…reverb is the sound of many reflections washing together. It's a universally appreciated and widely used effect that most of us would probably choose if we could only ever use one effect.
Like other effects, "how much, or how little, is the perfect amount?" is a subjective question and entirely a personal preference - which is great news for individuals who like to use effects as an extension of artistic and personal expression.
Over the years, there have been many variations of reverb types as technology has evolved, such as spring reverb, plate reverb, hall reverb, chamber reverb, modulated reverb and many more. There was a time when great sounding reverb was something only available in pro studios, eventually making its way to the stage in the form of reverb tanks and expensive rack mount devices.
With the introduction of the first reverb pedals in the mid-'80s, the sound finally became accessible in a more compact and portable format. Although a great innovation, many of these were unable to match the authenticity of mechanical counterparts, or the processing power of the rack mount versions. In the past few years, great leaps and bounds have produced studio-quality reverb pedals. Here are a few examples that have caught our interest. There are many more excellent reverb pedals available but these models should whet your appetite.
T.C. HALL OF FAME REVERB 2.0
Danish company TC Electronics has been in business for over forty years. Known for their studio-quality rack mount effects units, they made a move to mobilize the technology and have created some of the most popular stompboxes on the market today.
The TC Hall of Fame is an all-encompassing reverb unit that incorporates lush ambience and the most extreme reflections available in modern reverb modeling. A preset rotary knob will allow the user to cycle through the eight factory preset voicings which include classics such as room, plate and spring. One of the great features of this pedal is the ability to store three user presets on board. Through TC's own online tone sharing hub, you can download three interchangeable presets. TC has gone to great lengths to get some of the hottest artists around to collaborate with them in studio to design signature tones which are free to download and store in these banks. Alternately, you can design your own signature tones and store them within.
One of the most exciting design elements included with the current version of this pedal is a new feature called MASH. MASH is essentially a touch reactive, pressure-sensitive footswitch that replaces the standard on/off footswitch found stock on most pedals. With this new feature, you can manipulate the tone and decay of the reverb by applying variable pressure to the switch, much in the same way you would control a wah or volume pedal with a treadle. A new era of expression has arrived.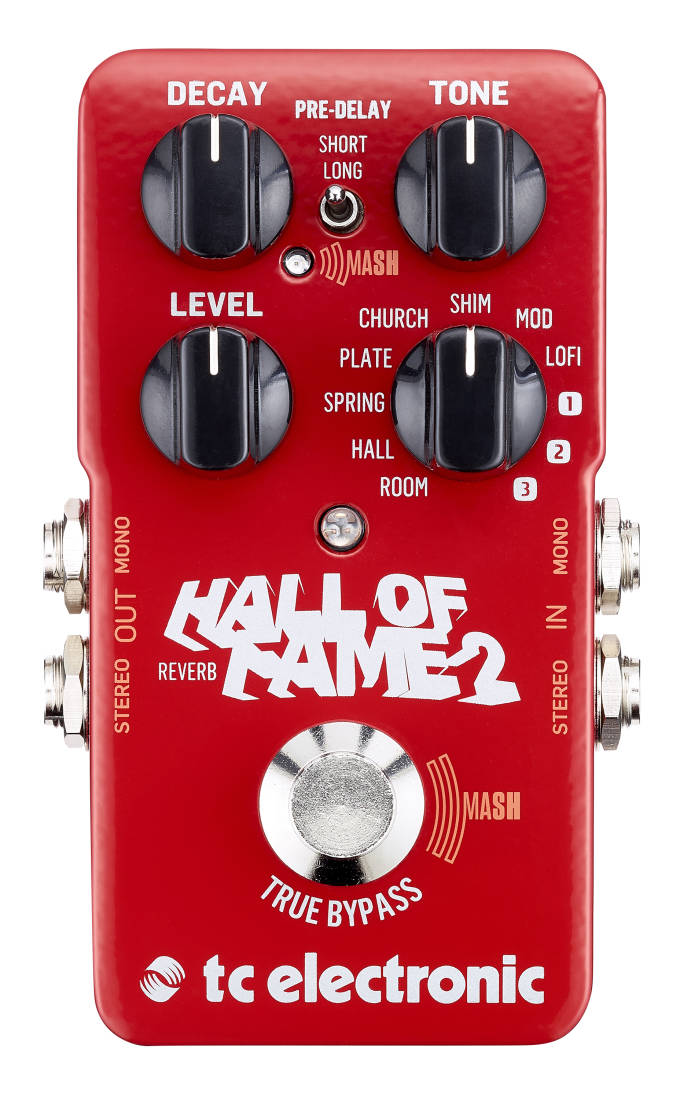 Check out the T.C. Hall of Fame Reverb 2.0 here!
BOSS RV-6 REVERB
One of the first manufacturers to bring pedals to the masses, Boss continues to raise the bar on cool pedal innovations more than forty years after their first pedal hit the market place. Boss pedals have become a staple on many gigging musicians' pedalboards because of their great sound and incredible durability. Their newest offering in the reverb world is the RV-6 model, which continues their legacy of excellent quality at an affordable price.
DSP (Digital Signal Processing) drives this pedal and gives it the added horsepower to duplicate tones usually reserved for professional studios, but in a small package. This is the same technology you'd find in CAT scan imaging, mobile phone audio compression and radar/sonar technology. Pretty advanced stuff!
Similarly to the TC Hall of Fame, the Roland offering showcases eight factory preset settings and an optional expression input for using an external expression pedal to control reverb level on the fly. The real standout setting on this model is the modulated reverb mode. With a fantastic library of sounds to draw from, the RV-6 lets you combine pristine reverb along with rich chorus effects that artists such as Andy Summers, John Schofield and Jaco Pastorius made famous. This incredible mix can be a real game-changer for those looking to add textural layers while simultaneously swelling in volume to achieve an almost synth-like effect.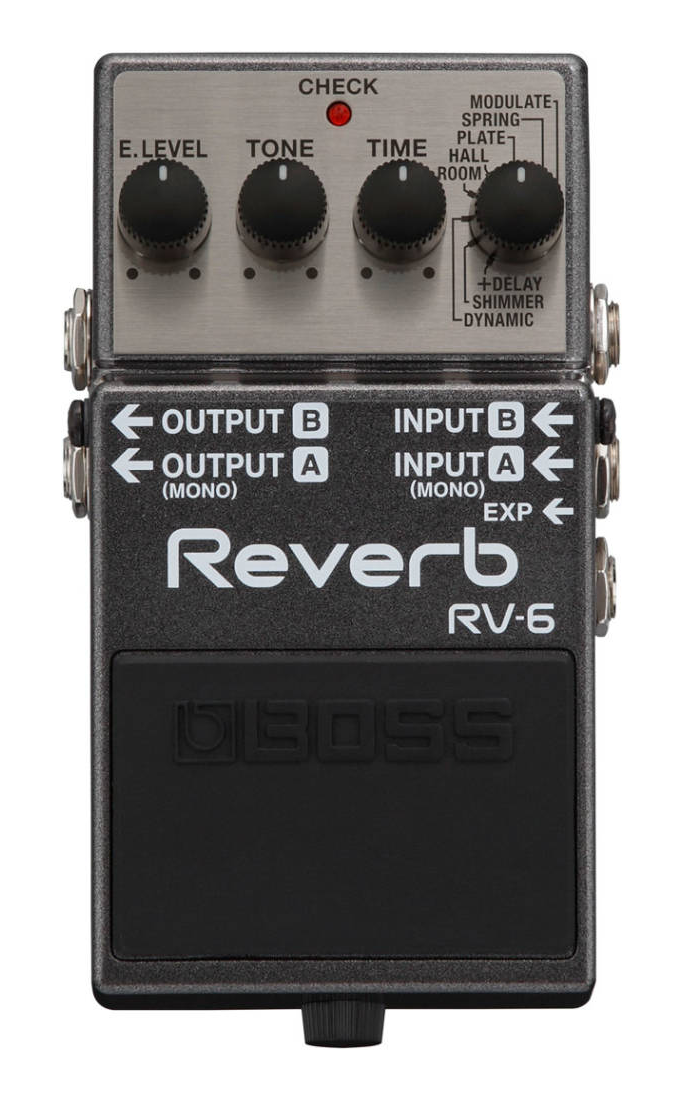 Check out the BOSS RV-6 Reverb pedal here!
ELECTRO-HARMONIX HOLY GRAIL REVERB
Founded in 1968, this company is probably best known for the creation of a completely different effect, the Big Muff fuzz pedal. Not to be overlooked, they are serious contenders in the reverb market making several different varieties of reverb pedals for every playing style and instrument application.
The focal point of their offerings would be the heavenly and aptly named Holy Grail reverb. Comparatively minimalist to the above-mentioned offerings, this pedal is great for the no-fuss player who likes to simply plug in and go with little required tweaking. A three-position mini-toggle switch and a single linear pot grace the face of this pedal, allowing you to cycle through the three presets of Hall, Spring and Flerb while adjusting the level of the selected setting.
Famously known for its uncanny likeness to a true vintage reverb tank, the Spring setting is a common favourite. However, the Flerb setting is considered by some to be one of the most unique, quirky and fun effects on the market. In Flerb mode, the combination of flanger with exquisitely ethereal reverb creates some truly awesome soundscape possibilities.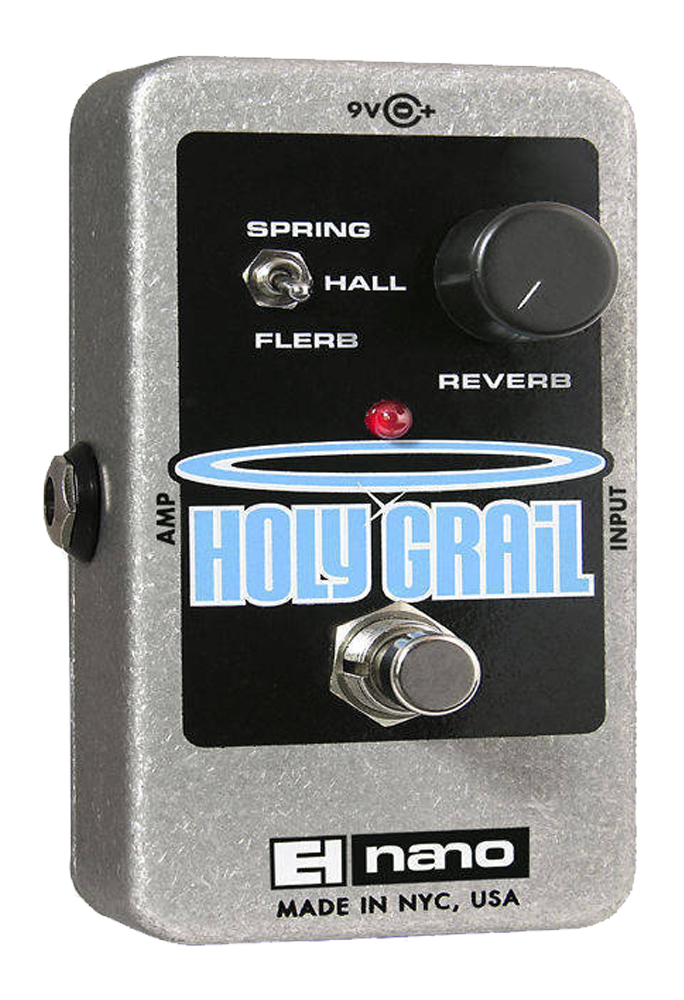 Check out the Electro-Harmonix Holy Grail - Digital Reverb here!
STRYMON FLINT REVERB
Have you ever wanted to sound like you're playing through a vintage combo amp, but just couldn't nail the tone? Give this pedal a try. A relative newcomer to the pedal world in comparison to some of the founding brands mentioned above, Strymon excels at replicating some of the most iconic effects of the past while still remaining on the cutting edge of new development.
The Flint aims to be the most authentic replica of a vintage tube-driven amp reverb, with the added bonus of an included tremolo. They really do nail it. This pedal is a deep diver's dream with many adjustable parameters, and a secret sub-menu of additional parameters you can access by holding down both footswitches simultaneously.
One of the key features of this pedal is the addition of a colour knob. The colour knob allows the user to fine-tune the overall tone of the reverb reflection when used in front of different amps. This ensures that regardless of what amp you plug into, you are able to achieve the same consistency from performance to performance; a real dream, especially for bands that share gear at gigs, or owners of multiple amps.
Strymon has included an expression pedal input, as well as a Tap Favourite input in the design. Tap Favorite is a technology they have developed whereas with the optional Tap Favourite accessory switch, you are able to store a preset you've designed, and recall it at any time with the click of a button.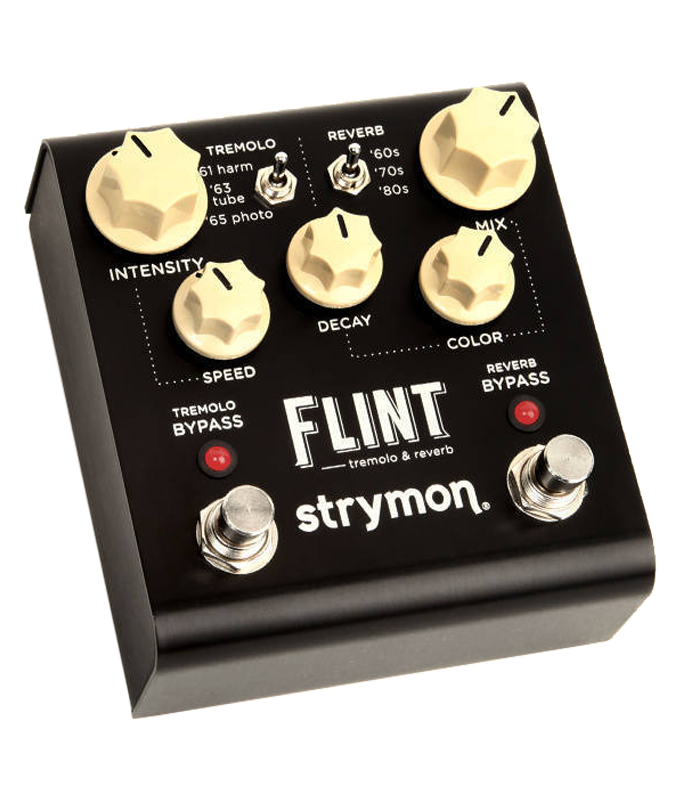 Check out the Strymon Flint Tremolo & Reverb Pedal here!
As always, it's best to experiment with several pedals to find out which ones really suit your style and musical personality. The world of effects pedals is completely inclusive, and anyone - regardless of skill level - can have a fun, creative and incredibly fulfilling experience through experimentation.
One of the most compelling aspects of the effects pedal world is that ever-evolving technology continues to propel the design and quality of pedals to new amazing heights; however, very few sounds ever become dated. The adage "what's old is new" is applicable in this realm, and once-popular effects always seem to make a resurgence, making a nice collection not only easy to justify but also a great investment for years of enjoyment.
* * *
Andrew Waite is the assistant manager at the Halifax Long & McQuade location. He has worked for Long & McQuade for 10 years. He has toured across Canada several times performing, and has a diploma in Entertainment/Artist Management.