Facebook Live Clinic Series
| More in Livestream
A LOVE LETTER TO LIVE MUSIC
As Rocktober 2020 comes to a close, we've enlisted some of the greatest names in Canadian music to tell us what they miss most about live music. – as performers and fans. Join us for Rocktober's Love Letter to Live Music!
Featuring appearances by Ed Robertson (Barenaked Ladies), Gordie Johnson (Big Sugar), Tim Hicks, Donna Grantis (Prince, 3RDEYEGIRL), Chris Murphy (Sloan), John-Angus MacDonald (The Trews), Ian Thornley (Thornley/Big Wreck), Kat Lucas (P!NK), Dave Brownsound (Sum 41), Jon Harvey (Monster Truck), Ewan Currie & Ryan Gullen (The Sheepdogs), Adrian X (Drake, Kylie Minogue), Colin James, Luke Doucet (Whitehorse, Sarah McLachlan), Dave Bidini (Rheostatics), Ross Miller (The Dirty Nil), Leandra Earl & Kylie Miller (The Beaches), Justin Rutledge, Haviah Mighty, Aaron Goldstein (Cowboy Junkies, City & Colour).
ROCKTOBER 2020 KICK-OFF LIVESTREAM
Powered by Canada's favourite distributor, Yorkville Sound, Rocktober is a month full of gear sales, limited editions, rental specials, 0% financing and contests. Join Yorkville Sound's team as they take you through what Rocktober has in store for you this year -including deals for Gibson guitars, Traynor amps, Epiphone guitars, Mapex drums, Hughes & Kettner, HK Audio, Aston Mics, KRK, Line 6 and more!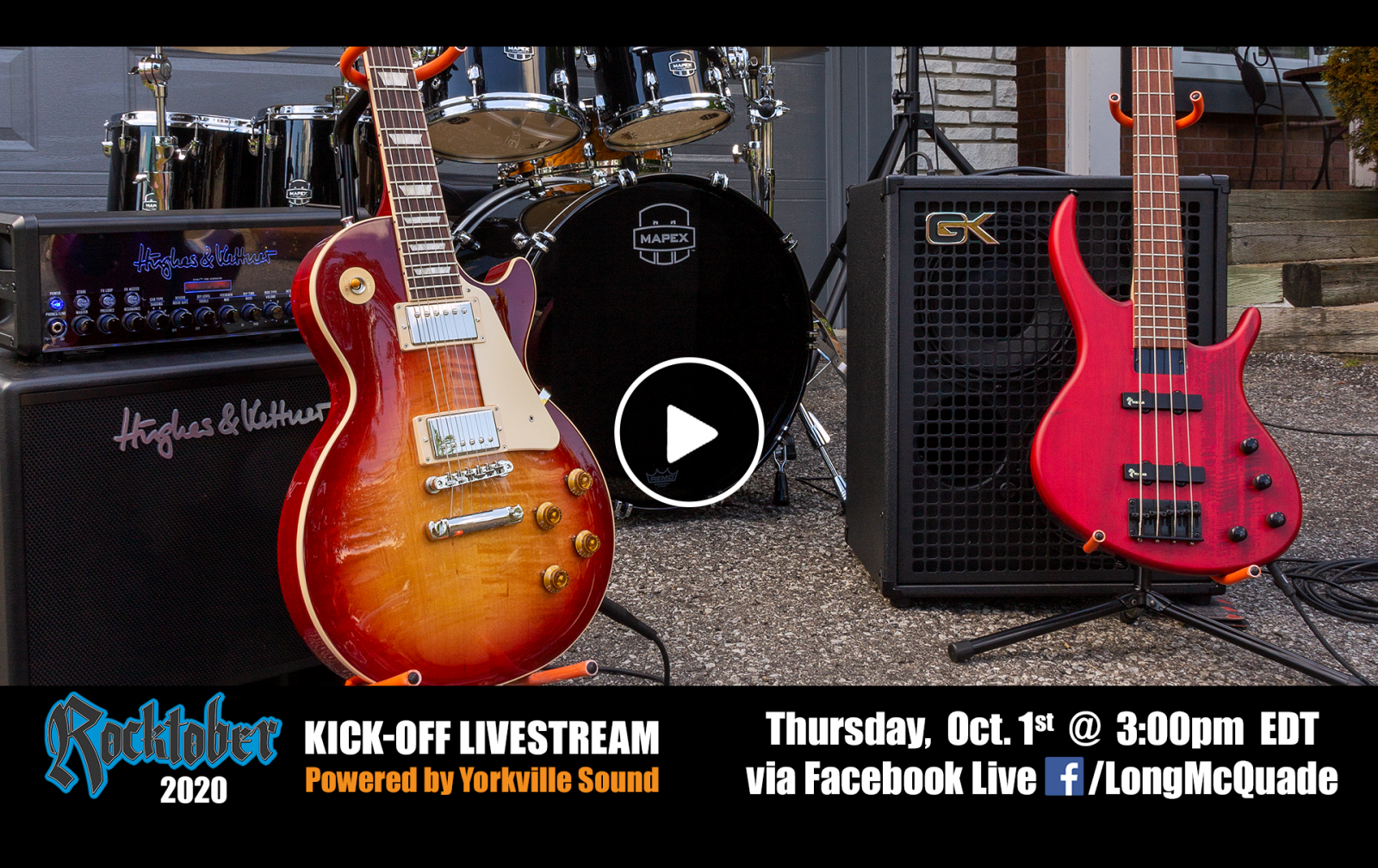 "UKE" CAN DO IT! WITH JODI BOESE
"Uke" Can Do It! Free Livestream Clinic with Jodi Boese: In this livestream, Jodi Boese from Long & McQuade (St. Catharines) will guide you through an introduction to everything ukulele. From its humble beginnings to its current popularity, Jodi will teach you everything you need to know to fall in love with the world's happiest instrument. You'll learn how to pick the right ukulele for you and how to start playing it right away.
UNLOCK THE HIDDEN SOUNDS OF THE GUITAR WITH JEFF GUNN
Guitarist, songwriter, educator and author Jeff Gunn takes you on a journey of exploration on the guitar in solo and band contexts. Based on his Hidden Sounds series, you will learn to sound all variety of harmonics, muting, tremolo, chord voicings, string percussion and much more. Gunn offers a brief history of the technique in question, an explanation of how to perform the technique, a series of examples and excerpts from original pop, rock, jazz, folk and world music compositions that demonstrate the practical use of techniques and, finally, a challenge for the guitarist to expand these exercises and make them their own.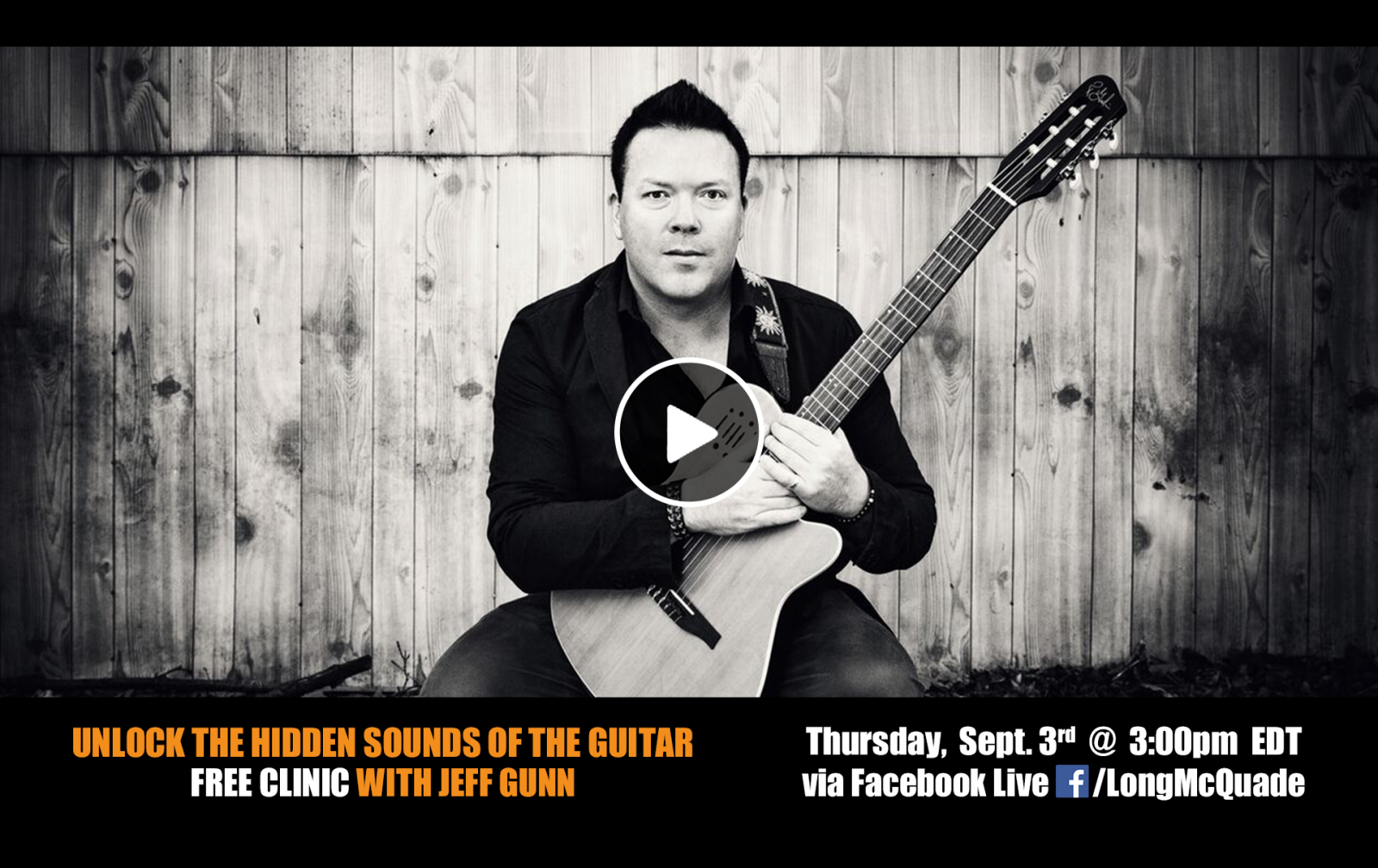 AN AFTERNOON WITH GORDIE JOHNSON OF BIG SUGAR
Join Grammy-nominated Gordie Johnson, frontman of platinum-selling Big Sugar and the cult classic Texas cowboy metal band Grady. From his Sound Shack Studio deep in the heart of Texas, he reveals the intricacies of his many altered guitar tunings. Performing Big Sugar hit songs like "Diggin A Hole", "Turn The Lights On", "I'm A Ram" and "Wonder Woman" and even some low down Grady cuts, Johnson will demonstrate and give viewers tips on utilizing different guitar tunings and their sonic differences. "I'm both a friend and long time customer of Long & McQuade", states Johnson. "After being in literally every store across Canada, I look forward to sharing some techniques with y'all." Gordie Johnson's online stream with simultaneous live Q & A will be Thursday, August 20, 2020.
FENDER GUITAR TALK WITH GRAHAM KO
Join Graham Ko as he discusses the history of the iconic Fender Stratocaster and Telecaster guitars, going in depth about the details of different models across varying price ranges. Graham will also be highlighting guitars, amplifiers and ukuleles featured in our Fender Month flyer. Which Fender model is right for you? Tune in to find out!
SOFTUBE CONSOLE 1 WITH TIM CONDON
Join Tim Condon of YSL Pro as he discusses the groundbreaking Softube hardware controllers; Console 1 and Console 1 Fader. Tim will discuss and demonstrate the features and benefits of both units, how they can offer instant inspiration for your mixes, and offer hands-on control over many Universal Audio and Softube plug-ins.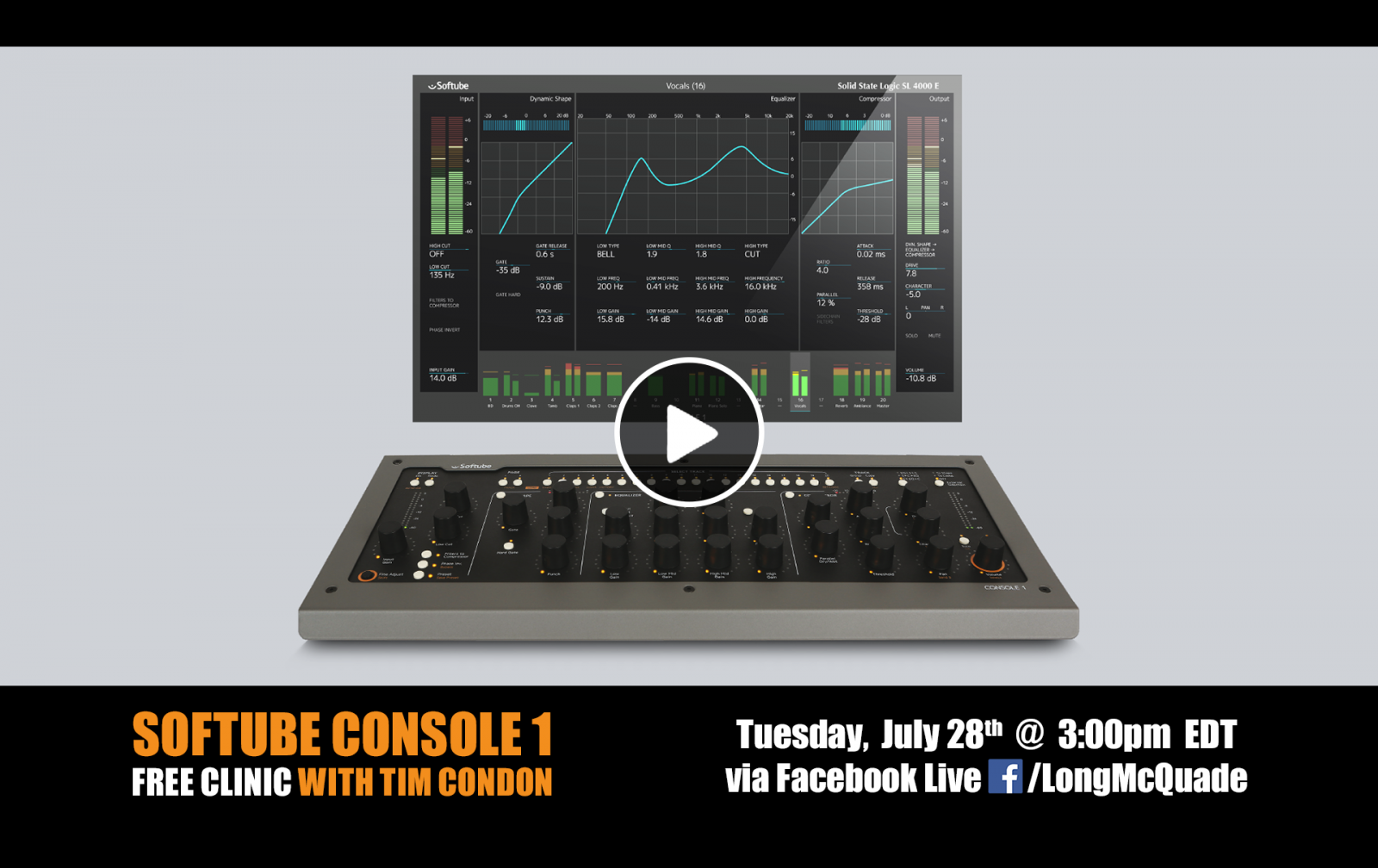 A ROCK 'N' ROLL GUITAR JOURNEY WITH STEVE DAS
Take a stroll through memory lane as Guitar Product Specialist Steve Das takes you through a journey of some of the most memorable songs and riffs over the past 60 years. Find out how to get all those guitar tones with only using one pedal – the Line 6 HX Stomp! From Elvis to U2 to Linkin Park, join in on the fun and don't forget to rock and/or roll! Over 30 classic riffs being played, plus free giveaways!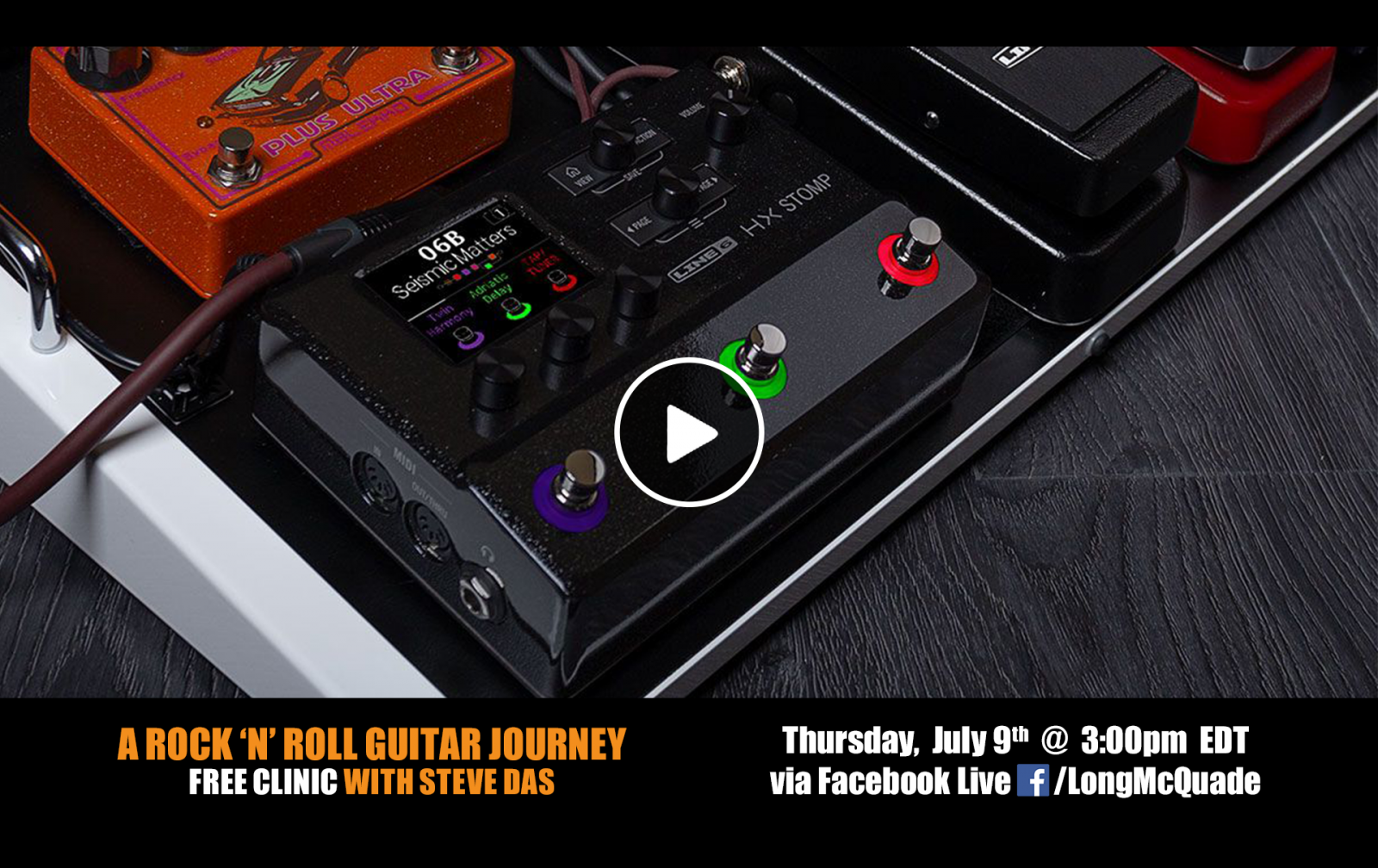 EXPAND YOUR TUBE AMP WITH BOSS
Russell Gray from Boss will show you how to get the most out of your beloved tube amp with the Boss Waza Tube Amp Expander. Getting a great and consistent tone, whether it be for recording, playing with others, or at home can be wrought with challenges. Russell will show you how to use the Waza Tube Amp Expander to lower the volume of your tube amp without sacrifice, get a consistently great recorded tone and the many other uses the WAZA-TAE has to offer. It is a tool that EVERY guitar player needs. Questions are encouraged, Boss specialists across Canada will be in the chat answering your questions!
RECORDING 102 WITH RAY WILSON
Back by popular demand, recording master Ray Wilson from Yorkville Sound will join us to discuss bringing your home recordings to the next level. He'll be touching on a variety of topics including: summing, mastering, mic placement, effects, and cool mixing tips and tricks to make your recording experience the best possible.
MUSIC LAW 101 WITH BYRON PASCOE
Get an overview of music law considerations for your career.
In this workshop music lawyer Byron Pascoe from the entertainment law firm Edwards Creative Law will cover:
General Music Law Q&A
Your new favourite question: "What are your expectations of me and my music?"
Music Producer Agreements
Management Agreements
Music Agreement Tips & Red Flags
SPRUCING UP YOUR KIT WITH DAVE LAWRENCE
Join Dave as he reviews accessories and add-ons that will assist you in developing your unique drum style and sound!
Brief look at snare drums – Mapex MPX Series
Different sounds - cowbells, shakers and peripherals
Cymbals, hardware and accessories
Heads and tuning tips
Cleaning and maintenance
MAKE YOUR DRUMS DO MORE WITH THE YAMAHA EAD10
Gear spotlight and special performance featuring drum artist Sarah Thawer. Join Sarah and Yamaha product specialists live from Yamaha HQ in Toronto to get an in-depth product showcase on one of the most innovative drum products on the market today. Learn to mic your drums in seconds and enhance your practicing, performing, recording, teaching, and sharing all with the EAD10.
HOME STUDIO 2.0 – THE TOP TEN ESSENTIALS FOR A DEDICATED HOME STUDIO WITH RAY WILSON
Now that you have your interface, microphone and headphones you're ready to record. You're getting used to your DAW and everything is working. It's time to collaborate, but something is missing…
Ray Wilson will walk you through the top ten essentials to upgrade your bedroom studio to a dedicated home studio space; one that other artists will pay to use. Ray will share some industry tricks to help you take the leap regardless of your budget.
JACK LONG DOUBLE FEATURE
Join us for a live screening of two Jack Long featurettes! Learn about our Founder and Chairman, the early days of Long & McQuade, and the growth of the business into the largest musical instrument retailer in Canada.
LIGHTING 101 WITH DARREN BUTT
Yorkville Sound's Pro Audio Specialist Darren Butt will be discussing and demonstrating the company's array of products that can be used to light everything from rooms to stages, parties to performances. He will be highlighting LED par cans, effect lights and lasers, and reviewing how they operate independently and together via DMX / App Control.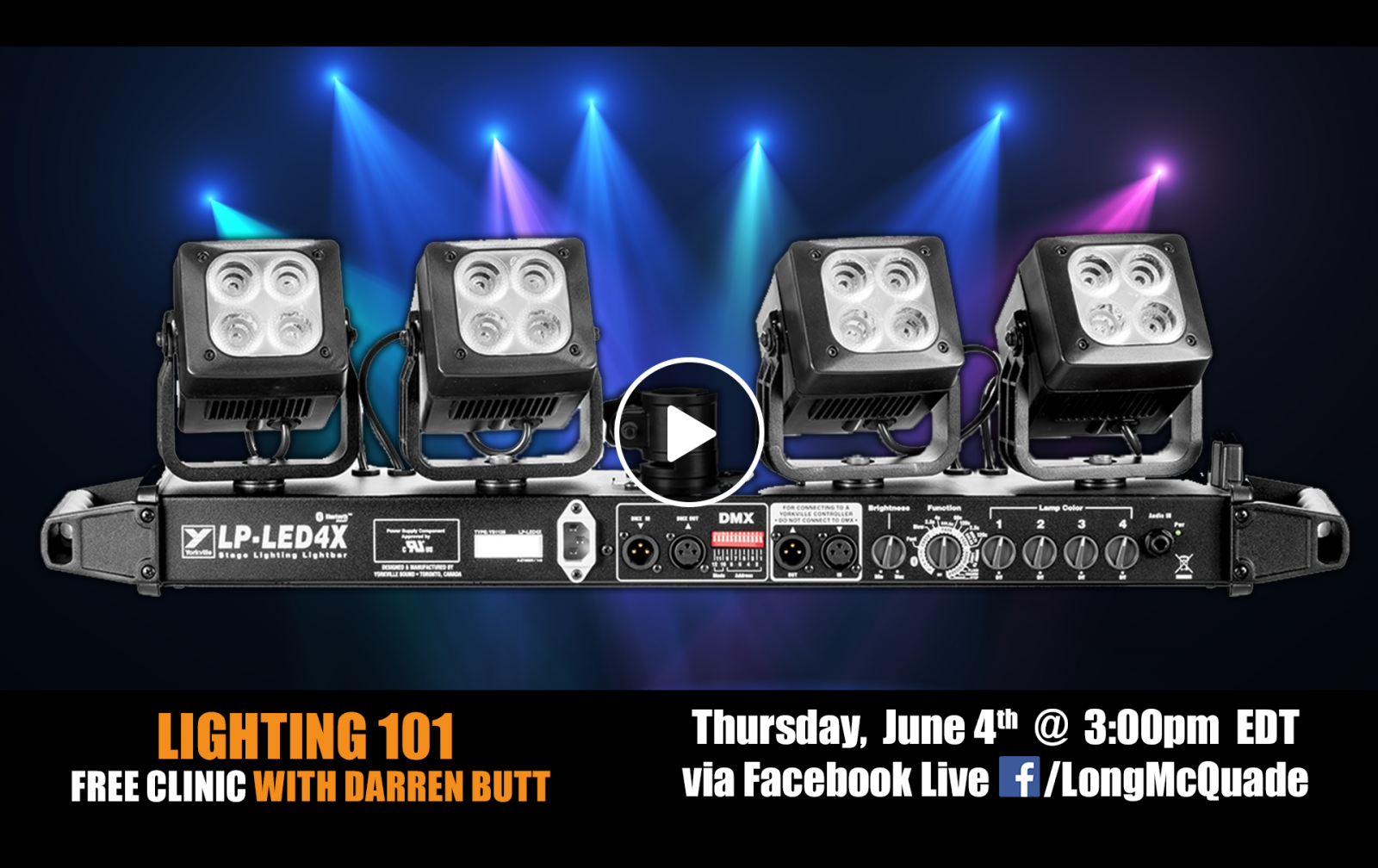 GUITAR AMPS 101 WITH RYLEY GALLWEY
In this clinic, Ryley will cover all of the basics you may need when trying to choose a guitar amplifier. He'll talk about differences between tube, solid state, and digital amps and which one may be right for you. He'll also cover cabinet and speaker sizes, as well as different wattage options and what they mean. The goal is to spread some good old fashioned gear knowledge to those who may not know which direction to take when choosing an amp. Ryan works at the Markham Long & McQuade location.
BASS GUITAR BASICS WITH DAN CONIGLIO
Join professional bassist and Markham Store Manager Dan Coniglio for an in-depth dive into the fundamental aspects of bass equipment. We will learn about wood, pickups, electronics, types of basses, amplification and the effect pedals that every bassist needs to know about. This clinic is mainly directed towards those who are new to bass, but almost anyone can get some interesting tidbits from this session.
THE ART OF SONGWRITING WITH CHRIS GAUTHIER
In this seminar, Chris will focus on ideas, tips, and tools on how to write songs - lyrics, inspiration, chord structure and arrangement as well as copyright and publishing. He will also discuss basic tools of the trade for live performance and home recording.
GUITAR MAINTENANCE 101 WITH MIKE ROBICHEAU
Keep your guitar looking and playing its best with tips from Long & McQuade's Guitar Service Manager!
Topics will include how to:
Properly clean and store your guitar
Use a guitar humidifier and the importance of humidity
Change strings
He will also troubleshoot common issues, including:
Guitars going out of tune easily
String/fret buzz
Electronic crackling, humming and distortion
AN AFTERNOON WITH UNIVERSAL AUDIO WITH DAVE DYSART, TIM CONDON AND DAVE ROMAN
Universal Audio's 60+ year history is a tale of two eras. From designing the classic-era preamps and compressors used on virtually every record in history to the ground breaking UAD plugins used in almost every home studio today, Dave Dysart and Tim Condon will walk you through this evolution right to LUNA; their new DAW.
ACOUSTIC DRUMS 101 WITH TIM GITTENS
Join Tim as he covers everything you need to know about setup and selection to get your perfect drum feel and sound.
Throne adjustment
Hardware and heads
Snare and tom positioning and tuning
Drumstick selection
Cymbal options to suit your playing style
GUITAR PEDALS 101 WITH JUSTIN WATERFIELD
A retry of Justin's April 14 clinic, that was hampered by sound issues!
Guitar effects pedals are a fun and exciting element of guitar playing, but it can also be a confusing area to navigate.
In this seminar, Justin will take you through the vast world of effects pedals in an easy step-by-step method. You will learn about the different types of effects, how to use them in combination with each other, and how to build your dream pedalboard. Add in a healthy dose of myth-busting, and it's going to be one awesome afternoon of learning!
STUDIO MONITORS DEBUNKED WITH RAY WILSON
Studio monitors are one of the most misunderstood tools for home engineers. Ray Wilson will explain common buzz words like flat response, DSP and imaging to help you to make an informed decision. He will then review some of the features and benefits of some of the top selling brands available today.
PODCASTING 101 WITH LAURA DAVIDSON FROM SHURE
Laura from Shure will walk you through all of the important points to consider when podcasting, including subject matter, setup, techniques, script, recording and publishing tools.
SYNTHESIZERS & TECHNOLOGY 201 WITH GRAHAM COLLINS
For "graduates" of Graham's Synthesizers & Technology 101 seminar, we will be looking more closely at modular synthesizers and virtual software instruments. We will be touching on practical uses of synthesizers for non-keyboard players, including applications for guitarists, and studio engineers/producers looking for a creative 'edge' that might not be apparent to them at first glance - by way of advanced techniques for integrating synths into DAW (Digital Audio Workstation) usage.
Prior to watching this livestream, we recommend viewing Synthesizers & Technology 101.
GUITAR TALK WITH JEFF AND JEREMY
In celebration of Long & McQuade's Gibson Month - extended until May 17th - please join Jeff and Jeremy to learn all about Gibson Acoustic Guitars.
Handcrafted in beautiful Bozeman Montana, the current Gibson acoustic lineup offers an Original and Modern collection, as well as some special pieces from the Acoustic Custom Shop. Jeff and Jeremy will be joined by a product specialist direct from Montana to discuss materials, construction and the bounty of new models available. Please join us for some musical fun.
LEVEL UP YOUR V-DRUMS WITH MILES GIBBONS
Long & McQuade and Roland Canada team up for a close look at how to maximize the potential of your V-Drums kit for practice, recording and live purposes. Learn how to get the best tactile and sonic response from your kit, and create versatile and dynamic custom sound palettes. Learn how to create great sounding drum tracks quickly for your studio project, and the vast possibilities of a computer-connected V-Drums kit.
ASTON MICROPHONES - INFORMATIVE AND INTERACTIVE WITH RAY WILSON
Ray will take you through a step-by-step introduction on Aston's extremely popular line of microphones, including the NAMM TEC Award-winning Aston Stealth. He will then be joined by Aston's CEO James Young to discuss "Project Element," Aston's latest undertaking. Long & McQuade viewers will be the first worldwide to catch a glimpse of what's next AND can sign up to take part in the development of it. Tune in to make Aston (and maybe microphone) history!
THE ESSENTIALS OF MIXING WITH MURRAY DAIGLE
Murray will be discussing key components of an electronic pop mix and how to get that "pro sound." He'll be breaking down a song into 4 main groups - drums, bass, synths and vocals, and providing details, tips, and techniques to get everything sounding great. Gain staging, levels, EQ, compression, modelling FX and mix buss processing will all be addressed.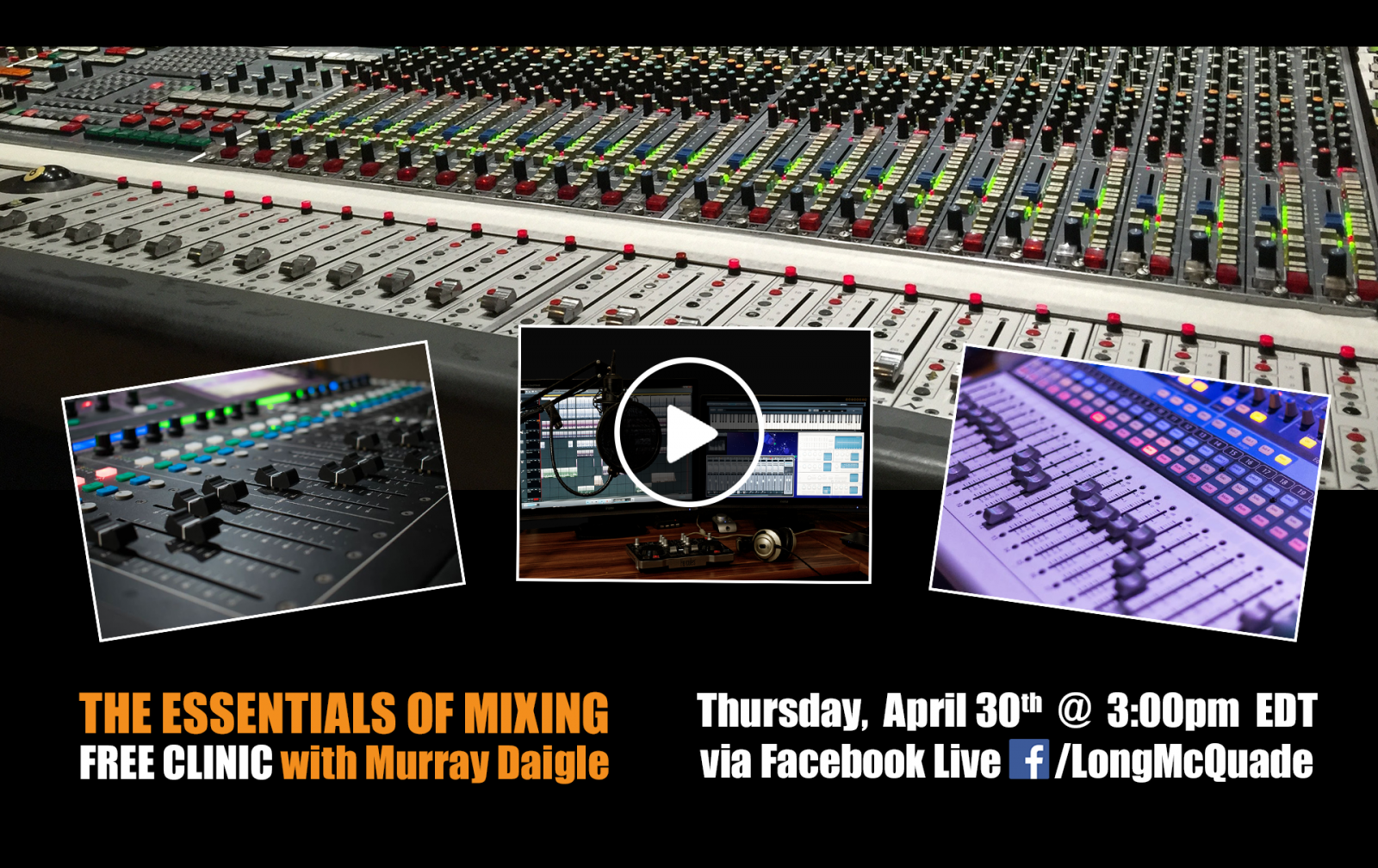 DRUM MACHINES AND GROOVEBOXES WITH DUSTIN GOOD
Join us for a session covering electronic music hardware sequencing with the Roland TR-8S and MC Series. Whether for on stage or in the studio, Dustin will take you through building a song and will demonstrate a live set using the Roland TR-8s, MC-707, and MC-101.
EPIPHONE GUITAR TALK WITH JEFF & JEREMY
In celebration of Gibson Month at Long & McQuade, please join Jeff and Jeremy to learn all about the 2020 Epiphone lineup. They'll cover the new "Inspired by Gibson" models, original Epiphone models, and some instruments exclusively featured for Gibson Month. Electrics, acoustics, ukes and more!
Epiphone is made For Every Stage - join us for some musical fun.
PA 101 WITH DARREN BUTT
Have you ever been confused about how to set a PA system for your band's rehearsal room, a small gig, a large club, or even a backyard party? None of these get-togethers are recommended right now, but tune in Tuesday at 3:00pm EDT to learn how to get the most of your PA system for all your future events!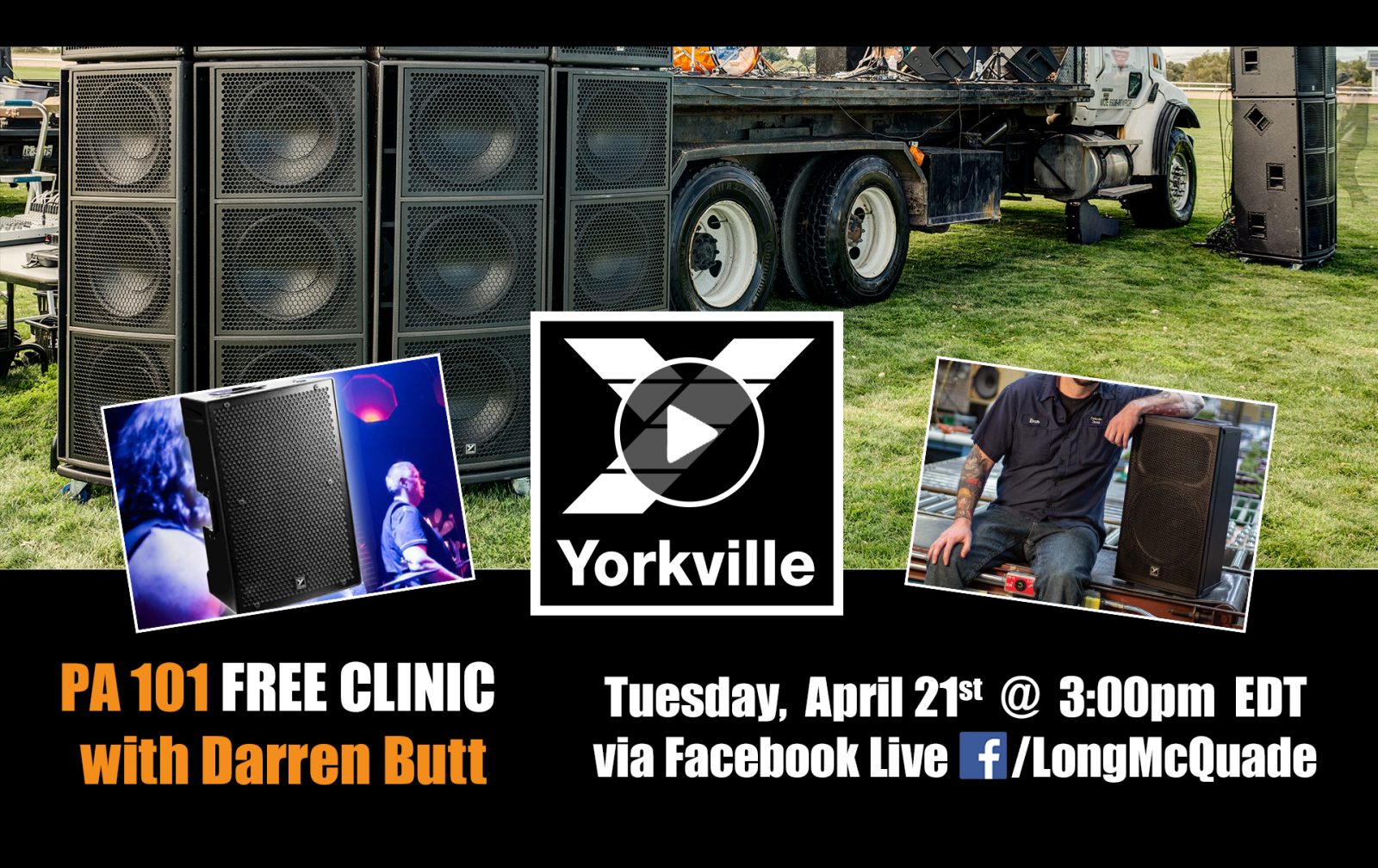 SYNTHESIZERS & TECHNOLOGY 101 WITH GRAHAM COLLINS
In this presentation, Graham will start with an historical overview of electronic instruments, and discuss the idea of technology as a constant in the drive towards greater expression and control in music creation.
He will then be looking at the different types of synthesis, and the components common to most synthesizers - whether you are using a hardware or software instrument. Topics covered will include Waveforms & Oscillators, Filters, Envelopes and LFOs, as well as FM Synthesis, Sampling, and more.
This session will be useful for both beginner and advanced synth players alike.
PEDALS 101 WITH JUSTIN WATERFIELD
*Due to the audio issues we experienced during this livestream, we have scheduled to re-broadcast this clinic for Thursday May 14th
In this seminar, Justin will take you through the vast world of effects pedals in an easy step-by-step method. You will learn about the different types of effects, how to use them in combination with each other, and how to build your dream pedalboard. Add in a healthy dose of myth-busting, and it's going to be one awesome afternoon of learning!
GIBSON GUITAR TALK WITH JEFF & JEREMY
Jeff Cowling and Jeremy Berger are Canada's Gibson Guitar ambassadors. After recent trips to the Gibson factories in Nashville, Jeff and Jeremy have some beautiful guitars to unbox and show off.
This livestream will include notes about Historic Anniversary models from Gibson's Custom Shop, and sneak peeks into a few rare pieces that have landed in Canada. Break up your day with some serious guitar eye-candy, bursting with 'bursts!
DJ101 WITH BRENNAN GALLEY
This tutorial is designed to help you make an educated decision when buying your next (or first!) piece of DJ gear.
This hour-long interactive live session will show the difference between different Pioneer DJ products. Brennan will also demonstrate how to take your DJ set to the next level.
Whether you already own some DJ gear, or are just getting into it for the first time, this presentation will provide you with some great information.
RECORDING 101 WITH RAY WILSON
Learn the basics of what you need to capture your music using your computer. From the hardware to the software, learn what components are necessary and how to set up your new gear to begin recording in minutes!