Rees Harps and the Harpsicle
| More in Band Instruments
There is a renaissance happening in the world of music, with growing interest in learning how to play traditional acoustic instruments. One folk instrument garnering a lot of renewed interest is the harp, and this is in no small part thanks to the efforts of the Rees Harp Company in Indiana.
Luthier William Rees was originally a school teacher who handcrafted Harps in his garage. Eventually the Harp business took flight and, in partnership with his wife Pamela, he bought a building in Rising Sun, Indiana where they dedicated themselves to fulltime harp building. In 2003 they produced the first Harpsicle: a lightweight, diatonic instrument that is easy to play and very affordable. Getting into harp playing used to be a challenge both because it was difficult to find harps to try and the harps available were expensive. The Harpsicle has changed all of this.
The standard Harpsicle consists of 26 strings, weighs less than seven pounds and is just 3 feet in height. These little harps are easily tuned with an electronic tuner. As mentioned earlier, the standard Harpsicle is a diatonic instrument which means it only includes the notes from one scale, or key. The most common tuning is a C major scale. Since diatonic instruments are tuned to a single scale, they are comparatively easy to learn. Because of this, the standard Harpsicle model is great for beginners, while at the same time featuring great sound and a build quality that has made it quite popular with pros looking for a portable alternative to their full-size harps. The tuning wrench can be used to change keys for different songs, but most players prefer to leave the harp tuned in C major/A minor and choose pieces that fit the instrument.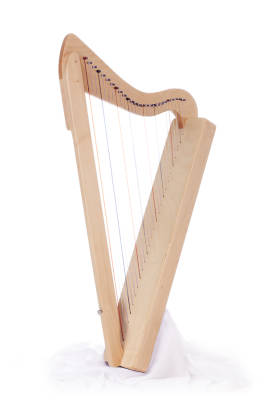 Harpsicle 26-string Harp - Maple | $615 | SKU: # 276918​
More advanced harps come with levers on some, or all, of the strings. Levers change the pitch of the string by a semi-tone and make it possible to play in different keys. Harpsicles come in several different models, some with levers, some without levers, and Harpsicle even offers models with installed pickups. There is also a rainbow of colours available to choose from, giving everyone an option to find their perfect harp. Additionally, Harpsicle uses the industry standard coloured strings to identify which string will sound each note, thus making the Harpsicle a great choice for any harpist whose major needs are portability and size, as there is virtually no learning curve between a larger lever harp and the Harpsicle.
Rees makes a full selection of harps all the way up to their full levered, 36-string harps, but they also make a series of fantastic step-up instruments starting with the Sharpsicle and Flatsicle. By adding levers onto specific strings, these harps allow musicians to more easily change keys between songs. The Sharpsicle has levers installed on the C and F strings, which allow for songs to be played in three major keys and their relative minor keys without having to re-tune all the strings on the harp. Sharpsicles retain the same tuning as the standard Harpsicle, but the levers allow for music to be played in more key signatures. Most Celtic and folk music can be played on a Sharpsicle, and it's especially suited for playing Irish folk tunes and dances, as many of the songs are written in sharp keys.
Sharpsicle 26-string Harp - Green Stain | $980 | SKU: # 700451​ Flatsicle 26-string Harp - White Stain | $1050 | SKU: # 700405
Like the Sharpsicle, the Flatsicle also has levers that allow the musician to change keys between songs. Flatsicles offer three sharpening levers instead of two and can be played in four major keys and their relative minors. Offering more available key signatures than the Sharpsicle, the Flatsicle is very popular with music therapists and harpists who may need to accompany themselves or a vocalist. As with the Sharpsicle, the harpist changes key signatures by flipping the appropriate sharpening levers up.
The Fullsicle has everything that is outstanding about the other Harpsicles: height, weight, and portability. They also add levers on all of the strings, to allow the harpist to play in eight major key signatures and their relative minors, making it the best choice for harpists who wish to perform a variety of genres, including folk, pop, classical and contemporary music, as well as the ability to employ some chromatic playing techniques during performance. The Fullsicle line includes an option for the Special Edition Fullsicle, made of either walnut or cherry, and includes wound bass strings. Both of these options give the Special Edition Fullsicle a larger, fuller sound than the standard Fullsicle or Harpsicle.
Lastly, Harpsicle also offers two larger, lightweight harps for the harpist who wants more range to play with: the Grand Harpsicle and the Brilliant! Harpsicle. The Grand Harpsicle is a 33-string harp that weighs just 12 pounds and is approximately 3' 5" in height. The fully levered Grand Harpsicle can be played either on a stand, or with a strap, so the harpist can be fully mobile - which is the same concept as the 26-string Harpsicle models. This model also includes a built-in pickup and preamp that works with all standard patch cables and the amp of your choice.
The ultimate in Harpsicles, the Brilliant! model has 34 strings, is made entirely of wood, and is the lightest weight full size harp available on the market weighing in at just 15 pounds. This is a wonderful harp for the harpist who wants a lightweight full size harp. Brilliant! is also fully levered and includes a built-in pickup and preamp.
Whatever the needs of the harpist, whether beginner or advanced, there's a Harpsicle available to suit the music you want to create. Every Harpsicle is manufactured using locally sourced woods, including cherry, maple, walnut and poplar.
Note: Harpsicles can be rented for as little as $20 per month.
***
Kristy has an applied Music Degree and has been with Long & McQuade at the Bloor St. location in Toronto for just over two years.