NAMM 2018: Keyboards and Synthesizers
| More in NAMM 2018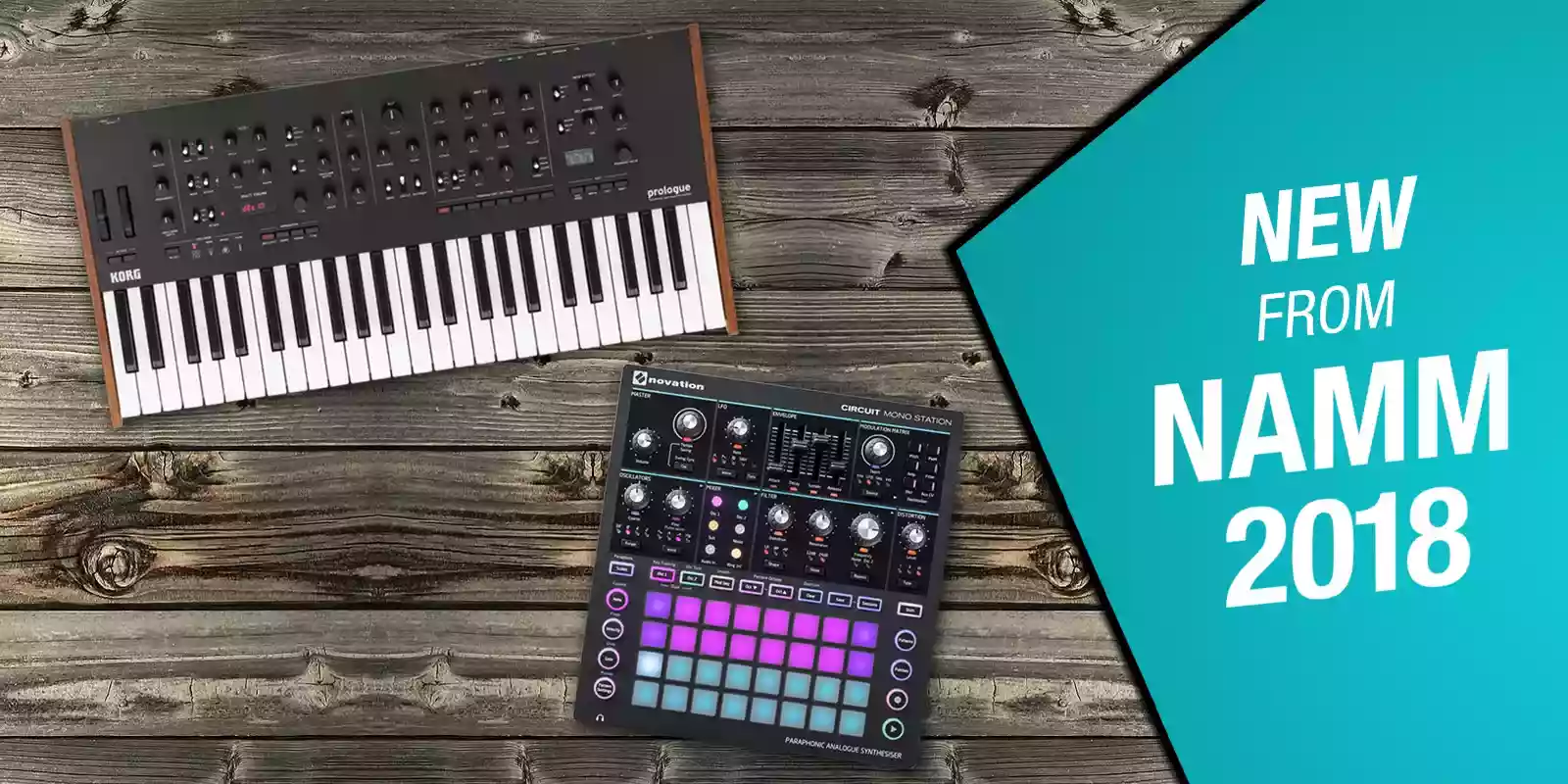 YAMAHA
Yamaha demonstrated their new digital workstation, Genos. Genos will be replacing the Tyros5. Genos comes with a 9" colour touchscreen, 9 faders, 6 knobs and 6 buttons that are assignable, OLED sub-display to shows you your settings, style control section with an XY joystick for pitch bends and modulations and a modulation hold, microphone input XLR combo jack with built-in phantom power and much more. This product is great for live performance with lots of real-time control and is also great for songwriters who want to produce a professional sounding demo.
Check out the full video below:
NOVATION
Novation demonstrated their new Circuit Mono Station, a paraphonic analogue synthesizer. The Circuit Mono Station features individually controlled oscillators. You can sequence them independently, switch patterns instantly, sync rate and mutate patterns. Everything on the face of the synthesizer is record-automatable and the LED feedback shows what you just did. It also comes with a noise and ring mod in the mixer section as well as an audio input and CV, Gate and modulation outputs for controlling separate hardware.
Novation also demonstrated their new Novation Peak, an 8-voice polyphonic synthesizer. This polyphonic synth features 24 MHz wavetables, generated not sampled bass waves as well as an analogue mixer, VCA, filter and overdrives. You can create analogue sounding wave shapes as well as go through the 4 banks filled with 128 patches. The 16-slot modular matrix allows for control to shape the sound.
Check out the full video below:
ALESIS
Alesis demonstrated their new Vortex Wireless 2 Midi Controller. It works wirelessly with a computer and comes with a USB stick that plugs into your laptop or desktop and doesn't require any drivers. It has a velocity-sensitive keys, touch-sensitive fully assignable pads, 8 assignable faders, ribbon controller that senses the position on the ribbon with 3 different settings per preset, a pitch wheel, octave buttons, two different zones to set up different two different sounds on the keyboard, volume slider as well as a tilt sensor to change any setting that's set up when tilted.
Check out the full video below:
KORG
Korg demonstrated their new Korg Pa1000 Professional Arranger Keyboard. The Pa1000 is an upgraded version of the Pa900 with new sounds, new styles and more PCM memory. Korg put more focus on dance music in this version as per request. The Pa1000 also has TC-Helicon vocal technology with a microphone input to allow for vocal harmonization as well as a guitar input with onboard guitar effects.
Korg also demonstrated their new Korg Prologue 16 16-Voice Analogue Digital Polyphonic Synthesizer. The Prologue 16 builds on their Minilogue and Monologue lines to make 16 voices of polyphonic synth action. One of the key features is the multi-engine oscillator in addition to their two analogue oscillators. The multi-engine oscillator allows you to make digital noise, digital synthesis algorithms, and create unique algorithms. The filter has been modified to be thinner keeping the sound cleaner. The Prologue 16 also features a low-frequency compressor which is a newly developed two-voice analogue style compressor focusing on retaining and boosting low-end frequencies. The Korg Prologue is available with either 49 Keys or 61 Keys.
Check out the full videos below:​​

ROLAND
Roland demonstrated their new Roland GP609 Digital Grand Piano. The GP609 has a full 5' case with a 6.1 audio system. The PHA50 wood hybrid action provides a more authentic grand piano feel while the 319 different tones provide unlimited capabilities. It also has 3D ambience for headphones which puts more distance between your eardrum and the sound produced by the piano allowing you to feel like you're in a room with the piano. The GP609 also has Bluetooth capabilities which allow you to stream music from your mobile device and also allow you to connect to certain apps.
Check out the full video below: