NAMM 2018: Guitars
| More in NAMM 2018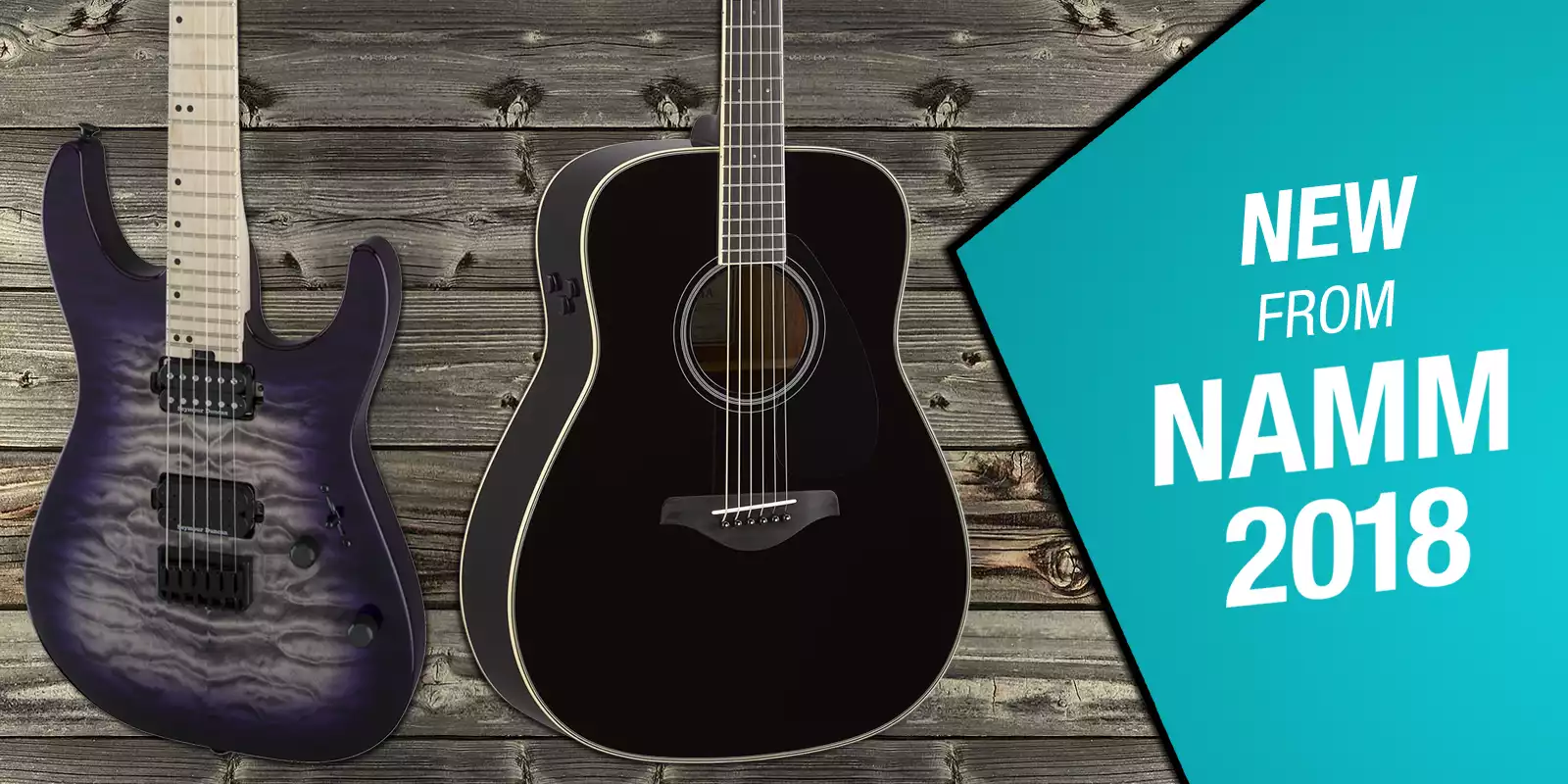 ERNIE BALL MUSIC MAN
Ernie Ball Music Man updated their Cutlass series with the new Cutlass RS (Roasted Special) in two new colours, Stealth Black and Firemist Silver. These electric guitars all come with roasted maple necks but still have a Music Man silent circuit, two Music Man single coil pickups and a Music Man designed modern classic tremolo.
Ernie Ball Music Man also came out with new two-humbucker models of St. Vincent guitars. These electric guitars all come with roasted maple necks and Music Man designed pickups but still have custom designed knobs and inlays.
Ernie Ball Music Man updated their Stingray basses with a smaller aluminium bridge, plate and knobs and redesigned the tuners making these basses lighter overall.
Check out the videos below:
GODIN
Godin showed us their new Summit Classic SG series of electric guitars which comes in matte finishes like Matte Green and Matte Black and also comes in a Vintage Burst. They also showed us their new Stadium '59 series which feature a single custom cajun pickup, a Seymour Duncan humbucker and an adjustable ashtray bridge. These electric guitars come in three finishes, the new 60s Chevy Inspired Desert Green, the Coral Blue and the Vintage Burst. Godin updated their Progression and Session series offering both series of electric guitars in a Cherry Burst finish.
Seagull now makes ukuleles that come with either steel or nylon strings. They also updated their Entourage series of acoustic guitars and included new finishes like Autumn Burst as well as added a new model, the Entourage Grand, which has a parlour shaped body and comes with or without a pickup.
Godin also showed us their new basses, the Dorchester IV series, a short scale semi-hollow bass that comes in two finishes, Black and Cherry Burst.
Check out the video below:
CHARVEL
Charvel showed us their new DK24 lineup. These electric guitars have a Dinky body (7/8 the size of a normal guitar body), a maple neck, 24 medium jumbo frets, a heel mounted truss rod adjuster and two Seymour Duncan pickups (full shred pickup at the bridge and jazz pickup at the neck). Most guitars have an alder body and come in many finishes like White with Gold, Satin Black with Gold, Purple Phaze over quilt maple top and Rootbeer Burst over quilt maple top as well as other bodies and finishes like Charcoal Grey on Ash and Natural Okume.
Also new with Charvel is their Stachel signature model in a Matte Neon Bengal Stripe finish. This guitar features a non-recessed Floyd Rose (preventing your strings from going out of tune if you break one) and two Fishman's Fluence Classic pickups on an alder body with a maple neck.
Check out the video below:
GRETSCH
Gretsch showed us their new electric guitars from their Jet series. The new BT Jet was designed to be very resonant with a broad spectrum frequency and have Broad'Tron pickups (brand new pickups by Gretsch). They've upgraded their controls with a treble bleed on the master volume and a no low tone control. This model also features a studded bridge which allows for a lower neck set so the strings are close to the body. This guitar comes in a Flame top version with an Ebony Fretboard in either a Bourbon stain or a Deep Cherry stain as well as a Solid colour version with a Rosewood Fretboard in Cadillac Green Metalic (available as a left-hand version), Deep Cherry Metalic or Black. They also showed us their FT Jet which is a similar guitar to the BT Jet but has the classic Filter'Tron pickups and a Bigsby. This guitar is available in three finishes, Firebird Red, Silver Sparkle and Black. They've added the new Electromatic Jet BT to their Electromatic Jet series which also features the new Broad'Tron pickups. This guitar is available in three finishes as well, Deep Cherry Metallic (available as a left-hand version), Casino Gold and Black.
Check out the video below:
FENDER
Fender updated their American Original series with a 9.5" radius fingerboard and vintage tall frets making it flatter and easier to play. They've updated their '50s style Stratocasters with modern style switching. The Stratocasters are available in White Blonde (available as a left-hand version), Two-Colour Sunburst and Aztec Gold. Fender showed off their '60s style Custom Telecasters which come with double bound bodies and are available in Fiesta Red, Lake Placid Blue and Three-Tone Sunburst.
Fender also showed us their colourful new series of acoustics, the California series, which come in three different body shapes, the Redondo, Newporter and Malibu. The player series comes with a Fishman pickup and preamp, walnut bridge and walnut fingerboards, sitka top and mahogany body, sides and neck. The Redondo is the largest one with a more traditional shape (slope shoulder cutaway dreadnought) and comes in Electric Jade, Bellemont Blue, Candy Apple Red and Black. The Newporter is the mid-sized with a concert auditorium body but has a big lower bout but a slim waist and upper bout making it easier to play. This guitar comes in two exclusive colours, Sparkly Champagne and Rustic Copper Metallic as well as other colours. Both the Redondo and the Newporter are full-scale guitars while the Malibu is a short-scale guitar. The Malibu is the smallest of the three with a concert auditorium body. This guitar comes in two exclusive colours, Aqua Splash and Arctic Gold, as well as other colours. The California Special series, the intermediate level, is an all solid guitar with maple rosette, maple binding and a maple heel cap with a higher end Fishman pickup and preamp, Paramount Series Electronics. These guitars all come in Matte Black. The California Classic series, the professional level, also comes with the Paramount Series Fishman pickup with koa rosette, koa binding and koa heel cap. Thie Classic series comes in a two-tone finish with either a Cosmic Turquoise or Hot Rod Red top and natural sides and back.
Check out the videos below:
YAMAHA
Yamaha expanded on their TransAcoustic line that they came out with last year with the FG-TA. The FG-TA comes with amazing sounding reverb/chorus built into the guitar. It also comes with a solid top and is available in the full-size dreadnought and the smaller body FS Series. The new CSF Series is a 14 fret parlour guitar with a solid sitka top with solid mahogany back and sides. The guitar is available in two finishes, Vintage Tint and Tobacco Burst and is also available in a laminate option. Yamaha made some changes to the APX 600 Series going back to the original scale length of the original 500 Series. They have added a new CPX 600 Series going back to the original scale length and have added two new finishes to the line, Rootbeer and Vintage Tint. Yamaha also added a new series of bass, the TRBX 600 Series, featuring a solid alder body with a flame maple top. The bass is available as either a 4 string or 5 string bass in Matte Amber, Natural Satin, Transparent Black and Dark Red Burst.
Check out the video below: