Eight (Holi)days a Week: How and What to Buy for the Beatles Obsessed
| More in Gift Guides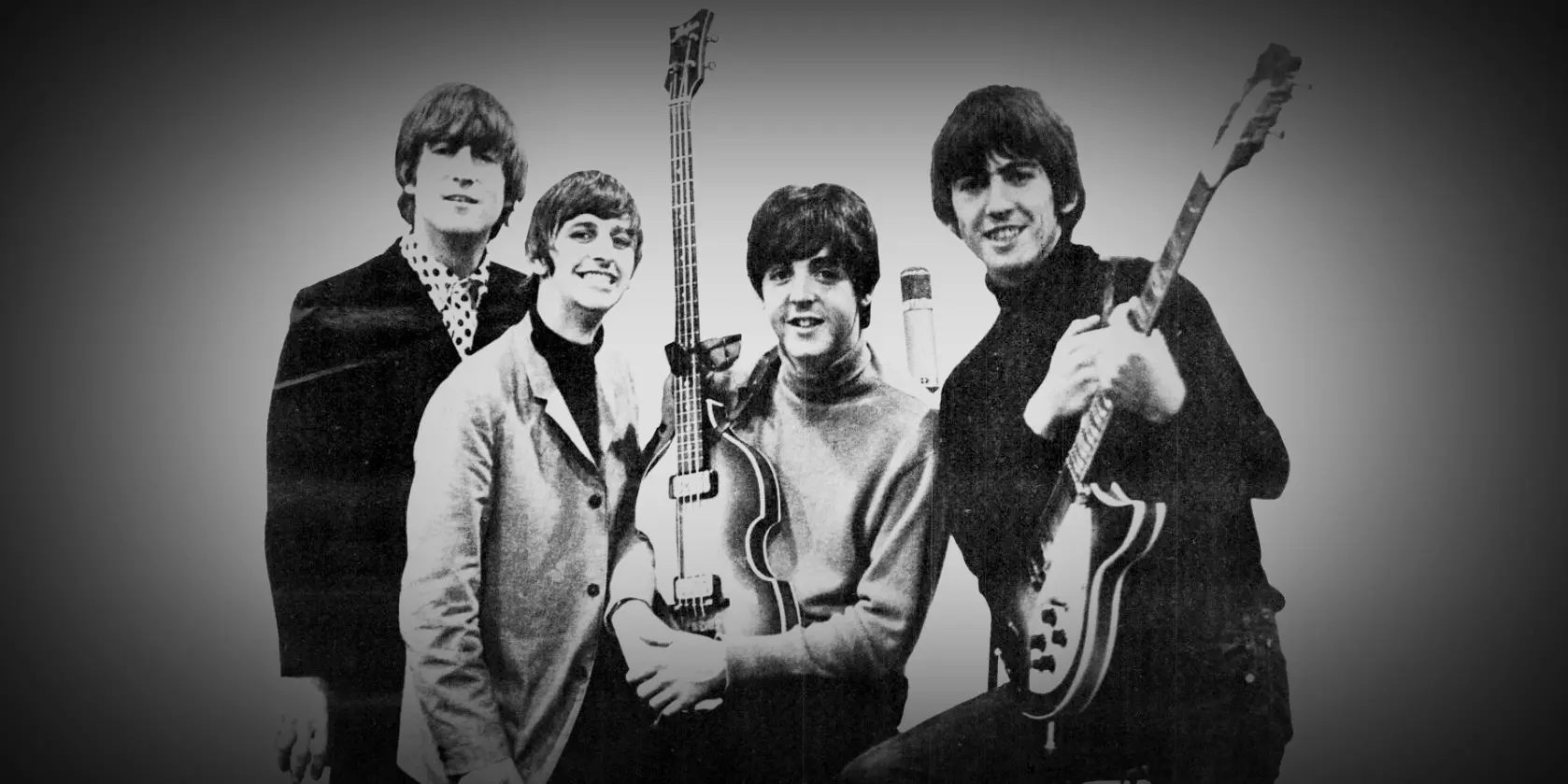 Ah, the Beatles. What more can be said that hasn't been already? If you don't have a Beatles fan on your Christmas list, then I suggest joining a new family. However, if you do have a Beatles fan and you are their secret Santa, read on; we'll talk about what gear the Fab Four used and how you can find something(on any budget) for a Beatles fanatic this holiday season, whether they are naughty or nice.
Perhaps the brand most associated with the Beatles is Rickenbacker, a company out of California. If you are thinking of giving the gift of Ric, I'd suggest going to your local Long and McQuade to get your order in now to ensure it will be here for Xmas - of 2019. Currently, the wait time for any given Rickenbacker is about 2 years. So unless you want to pull a Kenner Star Wars Empty Box Campaign (look it up, kids), it is unfortunate that the only way to get a Ric by Xmas time would be to trek to the North Pole and implore Santa himself. Even then...
John
John Winston Lennon started his musical career playing, most humbly, on the back of a flatbed truck (as a makeshift stage) on the front lawn of a Church in Liverpool. Throughout the years, John Lennon was known for playing many iconic instruments, but besides the aforementioned Rickenbacker (a 325 model), he is perhaps best known for playing an Epiphone Casino. He acquired it in 1965 and it remained his main instrument for the rest of his years in the Beatles (and later in his solo career), making prominent appearances in the promo video for "Revolution" as well as the much lauded "rooftop" concert in 1969. An Epiphone Casino, very similar to John's, can be under the tree for a very reasonable $779 in either a Sunburst (as John originally purchased it) or Natural (as it looked in the late 60's after John sanded the finish off).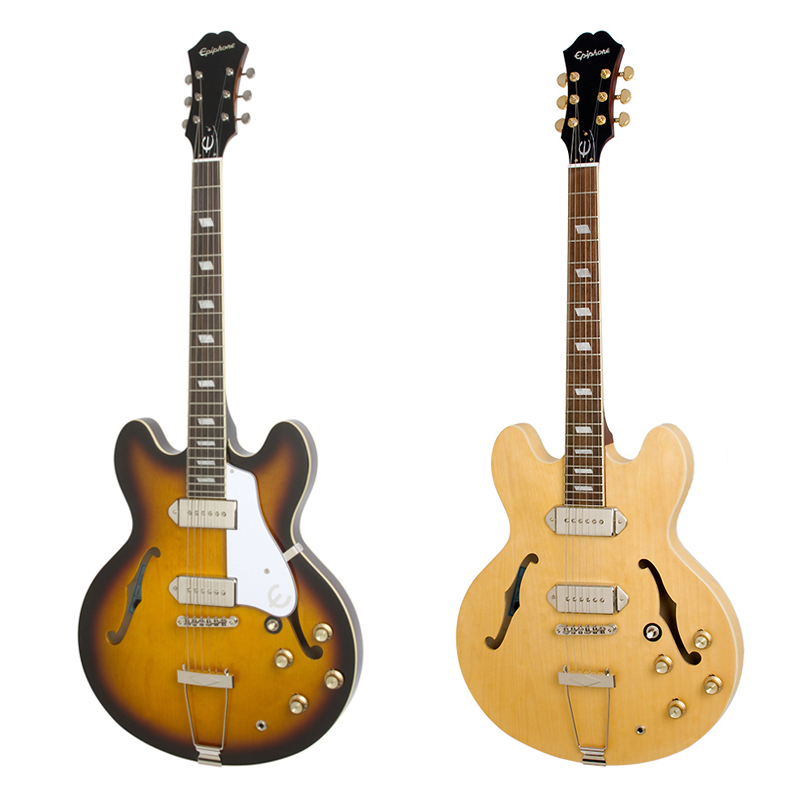 Epiphone Casinos inspired by John Lennon in Vintage Sunburst and in Natural
Mr. Lennon also played his share of acoustic guitars, his pick of the litter being a Gibson J-160e (available in-store). Considering John's original Gibson recently sold at auction for 2.4 million dollars, it's safe to say that the Epiphone EJ-160e will do just fine at an affordable $549. And if it's stocking stuffers you are after, and the owner of said stocking is a fan of the song "Revolution", then a Fuzz pedal for guitar is the way to go. The Electro-Harmonix Little Big Muff is a classic at $91.99; in any case, you'll say you want a revolution in no time.
Epiphone EJ-160e and Electro-Harmonix Little Big Muff
Paul
James Paul McCartney (Sir Paul, or Macca, if you like) started his long and winding road playing, of all things, the trumpet. However, he soon discovered that you can't sing and play trumpet at the same time, so he traded it into the local music shop for a guitar before transitioning to bass. There is perhaps no other instrument more closely associated with the Beatles than the Hofner 500/1 Violin Bass (available in-store), as evidenced by the fact that it is colloquially known as the "Beatle Bass." Hofner, as a brand, is a little hard to come by these days, but Epiphone comes to the rescue again with its Viola Bass. Oozing vintage flare and tone, this thumpy little number will only set Santa back $569. For that truly vintage tone (and something that will fit in a stocking), a good set of flatwound bass strings will get you feeling fine, and a set of Rotosound 77 Monel flatwounds cost about $60.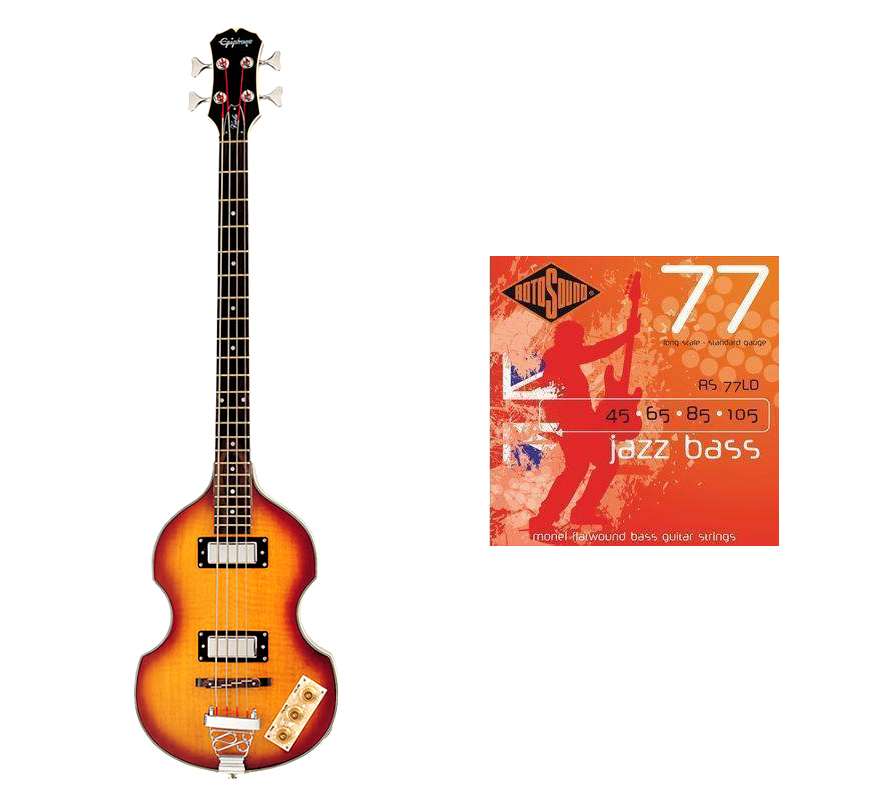 Epiphone Viola Bass and Rotosound 77 Monel Flatwound Strings
McCartney was also no slouch when it came to guitar playing, contributing solos on many Beatle records, but he will always be remembered for his classic acoustic compositions "Yesterday," "Mother Nature's Son" and of course, "Blackbird." On record as well as live (like on the "Blackpool Night Out" TV program from 1965), Paul often employed another Epiphone guitar, the Texan, that is available today as a reissue for only $649. Very similar guitars, the Epiphone DR100 or the AJ220S, go for $169 and $319-$329, respectively.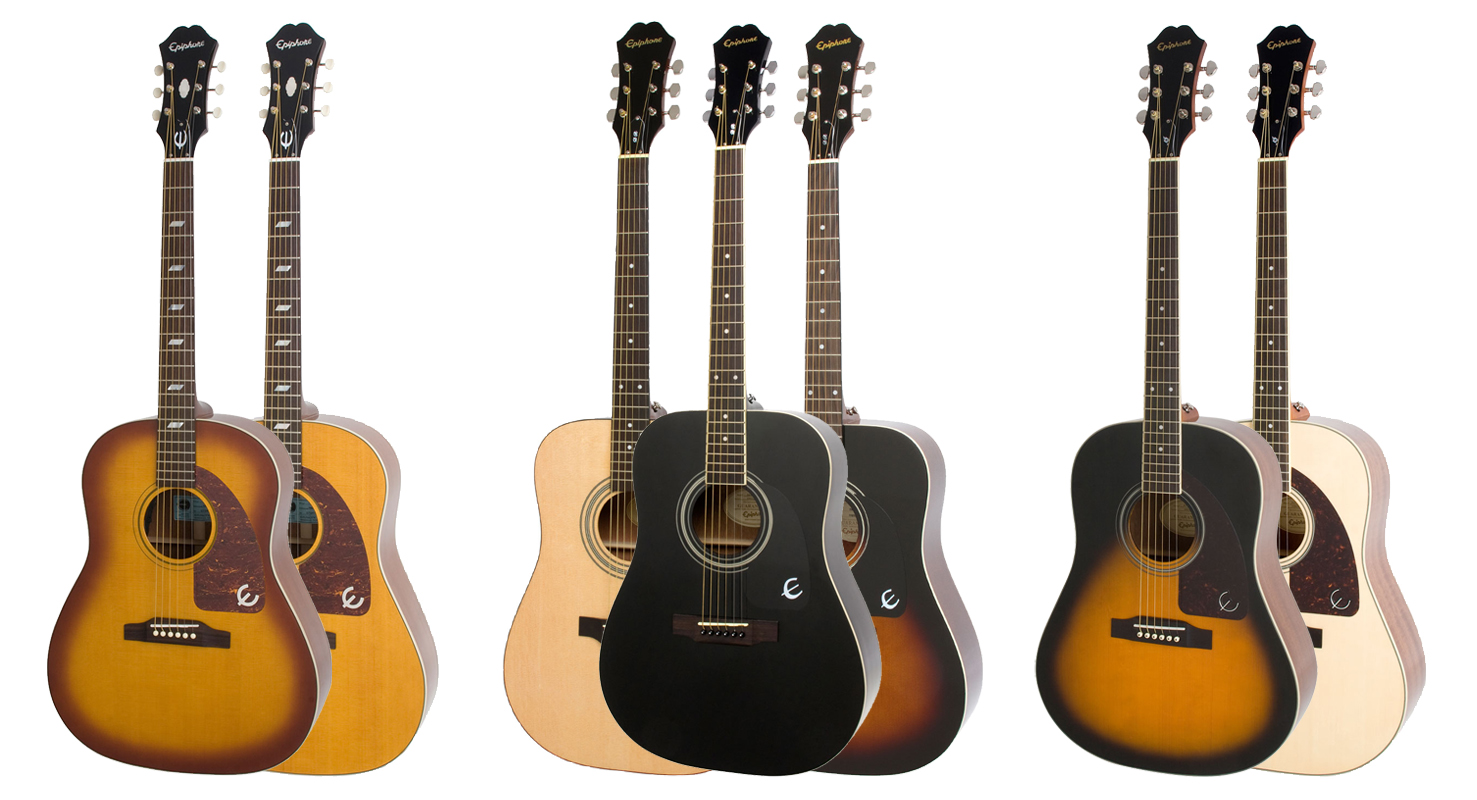 Epiphone 1964 Texan Acoustic Electric in Vintage Sunburst and Antique Natural, Epiphone DR100 in Ebony, Vintage Sunburst and Natural and Epiphone AJ220S in Vintage Sunburst and Natural
George
George Harrison bore the artistic burden of being in the same band as the writing juggernaut that was Lennon/McCartney. That being said, what he did contribute to the cannon are some of the most amazing songs in the Beatles catalogue. In his career, George was perhaps the most eclectic when it came to gear, never settling too long on one brand or guitar style. He has been known for playing Gretsch, Epiphone, Fender, and Gibson. After an early stint with Gretsch guitars, he moved on to a Cherry Red Gibson SG in the mid 60's, as seen in the "Rain" and "Paperback Writer" promo films. A wonderful USA-made version (the SG Faded Worn Cherry) would make an excellent gift at only $999, with its Epiphone counterpart (the G-400 Vintage SG in Worn Cherry, which is actually slightly closer in look to George's original) going for an unprecedented $469.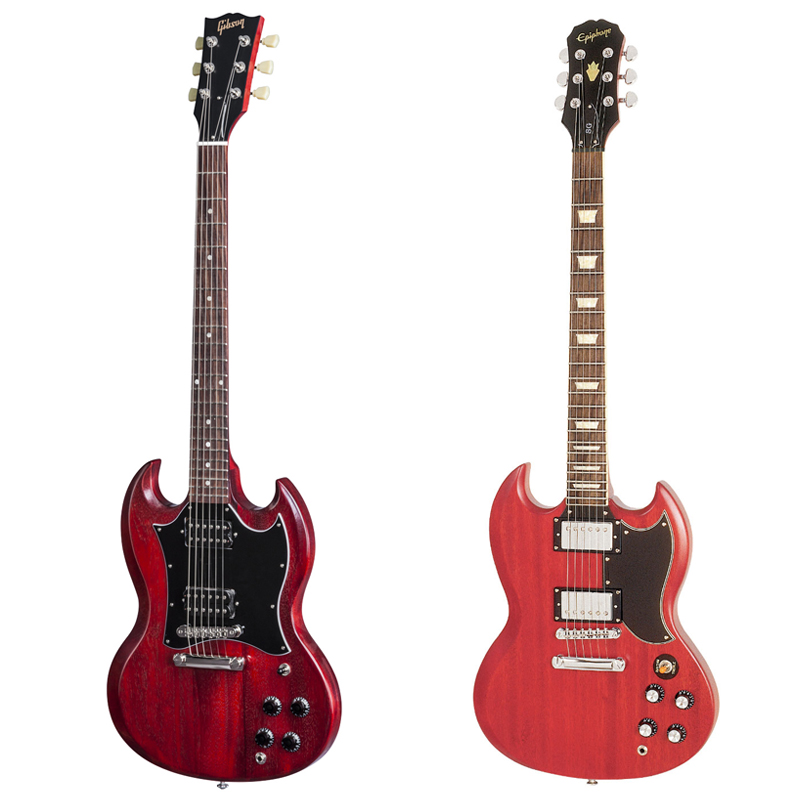 Gibson 2017 SG Faded T in Worn Cherry and Epiphone G-400 Vintage SG in Worn Cherry
One of George's most enduring songs, "Here Comes the Sun", couldn't be played without the aid of a capo, and they are readily available from $15 to $30.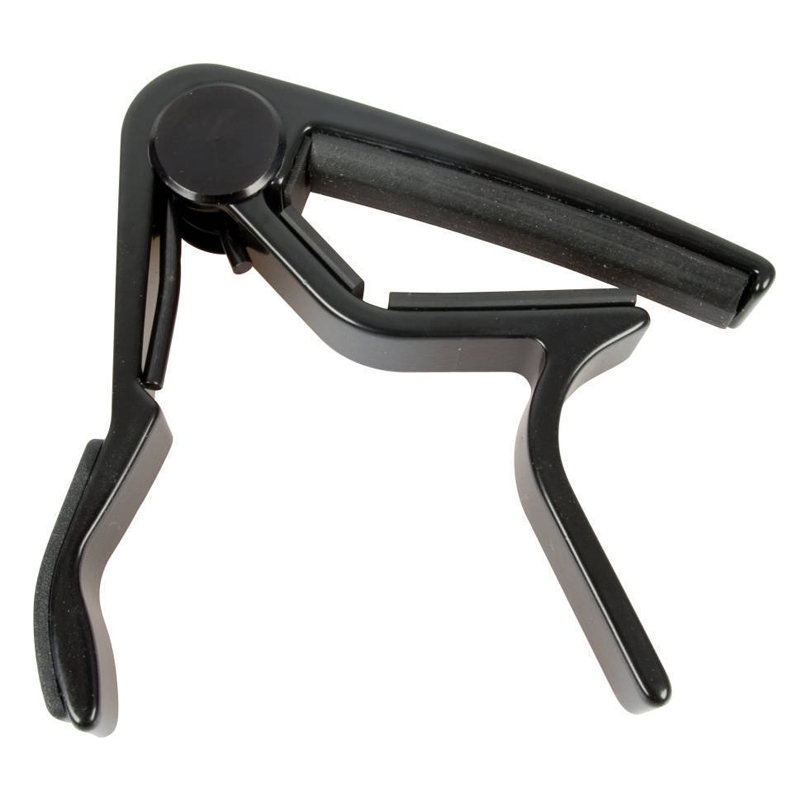 Selection of capos available at Long & McQuade
Ringo
Finally, we get to Ringo Starr (born, less interestingly, Richard Starkey), perhaps the most misunderstood and underrated member of the Fab Four. If someone in your family shoots off at the mouth over holiday turkey dinner that Ringo is a bad drummer, I highly encourage you to throw a drumstick at them (horrible pun absolutely intended.) Ringo was definitely the most consistent when it comes to gear, being a stalwart player of Ludwig drums for nearly 55 years, even down to a specific finish, that being Black Oyster Pearl. Unfortunately, it seems that Ludwig has never issued a Ringo Starr Signature kit, but they do still produce a kit that is very similar called the Classic Maple Downbeat series, which consequently is the same series the man himself played in 1962. They make it in Vintage Black Oyster! To complete your Christmas shopping for the drummer in your family, this 3-piece kit is $2599 (available in-store). As a more affordable option, our friends at Mapex make a very similar kit, the 3-Piece Saturn V Tour in Black Strata Pearl, for $1550 (available in-store).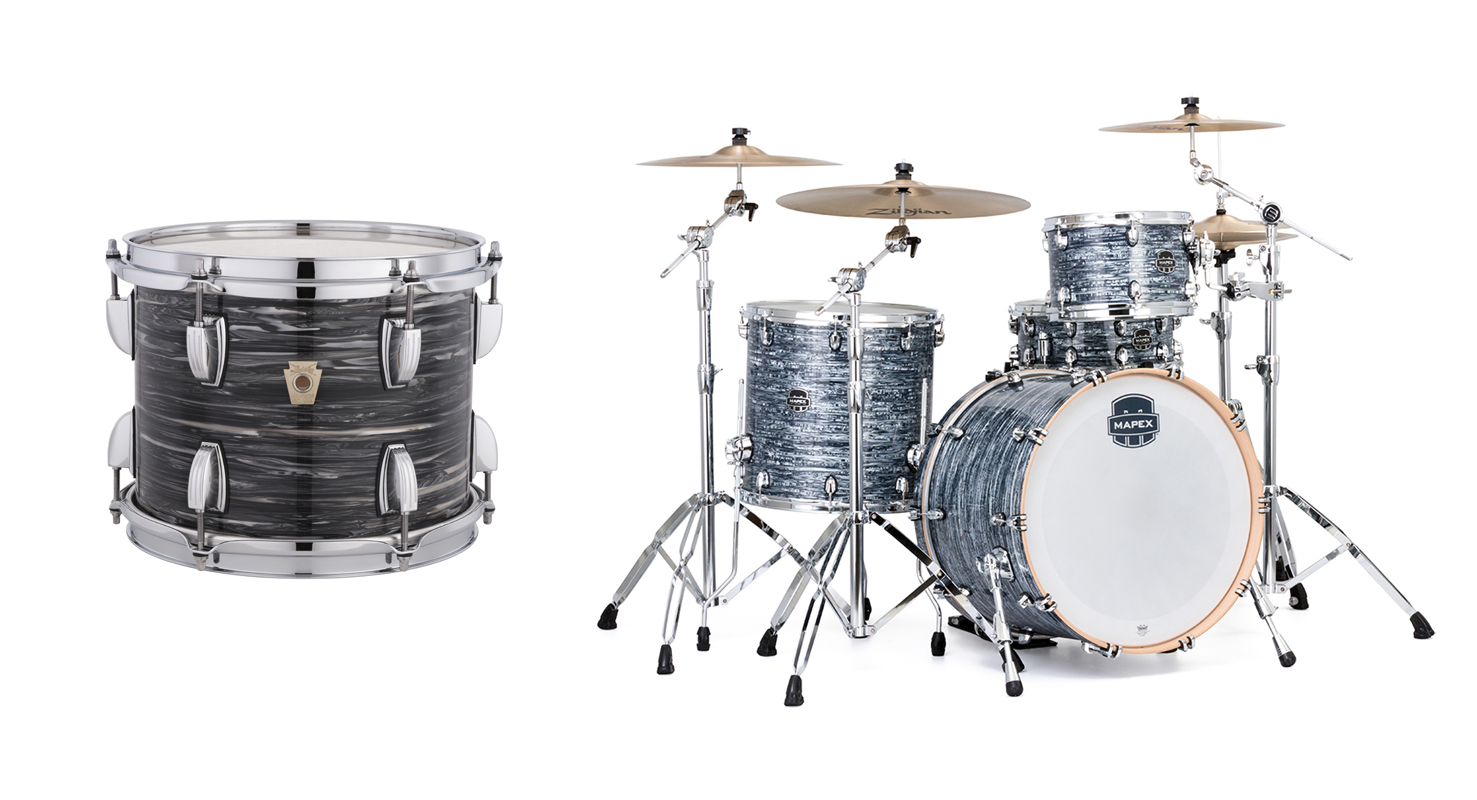 Ludwig Classic Maple Downbeat Series Tom in Vintage Black Oyster (3-piece kit available in-store) and Mapex 3-Piece Saturn V Tour in Black Strata Pearl available in-store (cymbals, snare and hardware not included)
Ringo was known for using a slightly smaller-than-average kick drum, and if you want to keep that vibe, stay in the Ludwig family but STILL have the biggest present under the tree, for $499 you can grab the Ludwig Breakbeats by Questlove kit; it's great for a young beginner due to its easy-to-manage 16" kick drum, but also perfect for intermediate players, players who need something easy to transport or those who play in small rooms.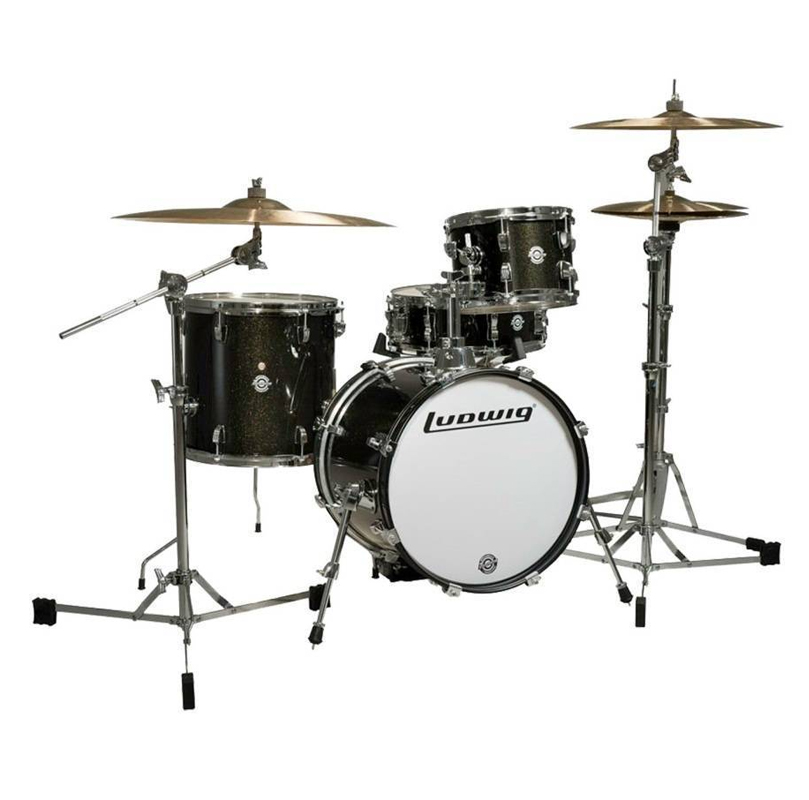 Ludwig Breakbeats by Questlove kit in Black Sparkle or White Sparkle
Lastly, to top off the tree instead of a star, you can use the Ringo Starr Signature drumsticks from Zildjian (the puns never stop…). Guaranteed to be made at the North Pole by Santa's elves, a $20 L&M gift card will cover it; they are only $14.99.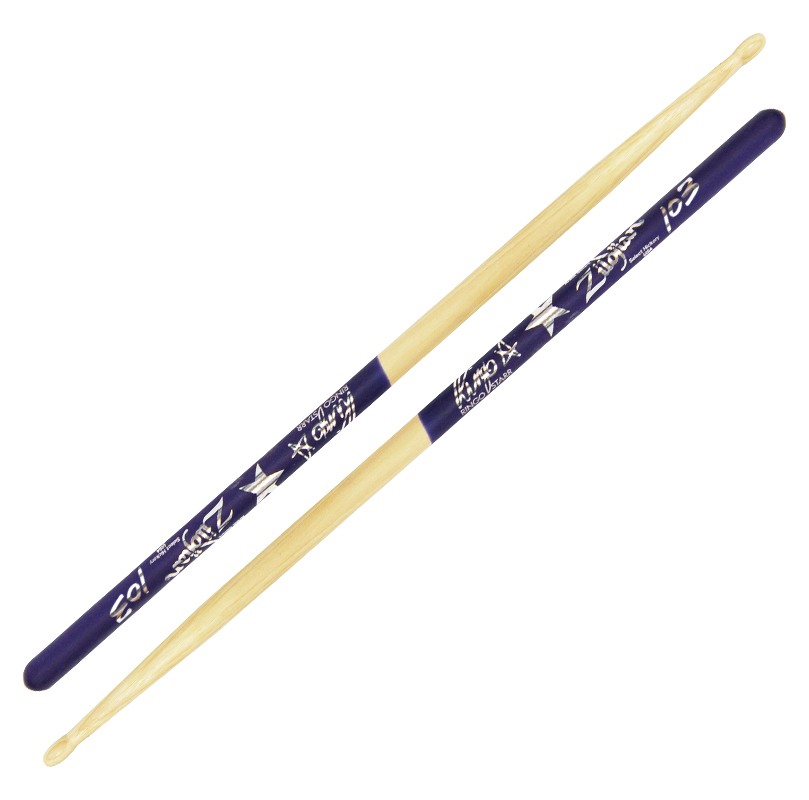 Zildjian Ringo Starr Artist Series Drumsticks in Dip Purple
Beatles fan or not, any musician can appreciate the instruments that the Beatles used to craft some of the most enduring music of the last 100 years. When gift giving this year, don't forget Beatles pick tins/packs and Beatles guitar straps (from Planet Waves and Perri's), Beatles song books, like the Hal Leonard Essential Songs book (available in-store), Beatles mirror balls and Beatles Signature trumpet. Ok, I may have made those last two up, but in any event, Long & McQuade will be your one stop shop for the any Beatles fan this Holiday Season!
* * *
Ian James is a lifelong lover of writing, recording and performing music, and has been working for Long & McQuade Langley and then Richmond for a total of 6 years.