NAMM 2016: Ernie Ball Expression FX Pedals
| More in NAMM 2016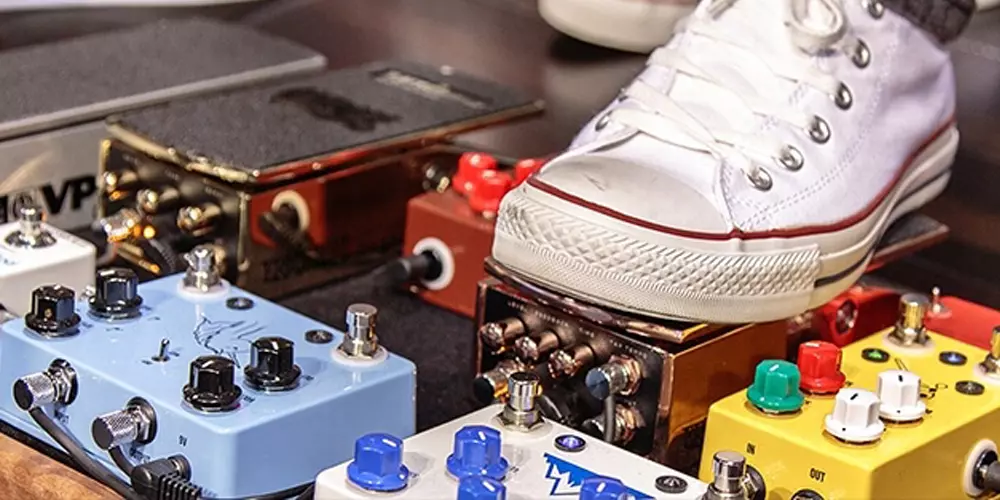 A look at Ernie Ball's latest Overdrive and Ambient Delay FX pedals.
Hi, I'm Adam Gainey from Ernie Ball with Long and McQuade. I'm talking about our new Expression effects pedals. First, we've got the Ernie Ball Overdrive. You've got your basic drive control to punch up the crunch, then you've got your tone to roll off your highs and we've added a 20 DB gang boost, just like in our MVP volume pedal. Great thing about these pedals, when your heel is down, your signal is live, but your effect isn't there from this pedal. As you start to come in, you can slowly bring your drive in instead of having to stomp it in first and only have that one level.
You can bring it and blend it up into your signal. You've got a lot of expressiveness you can do with this pedal. Along the same lines with the same working mechanism, we've got the Ernie Ball Ambient Delay. This isn't just a delay, it has a reverb that you control with the level. Then, you control your normal delay effects, which you know, give you how many repeats you get, and how long between those repeats. Same thing, as you roll it in, you can slowly roll that in and just get a little bit of the effect going or get that toe down and get your full effect under your signal. That's the new Ernie Ball Expression Effects Pedals.