NAMM 2016: New Yamaha Home and Portable Grand Keyboards
| More in NAMM 2016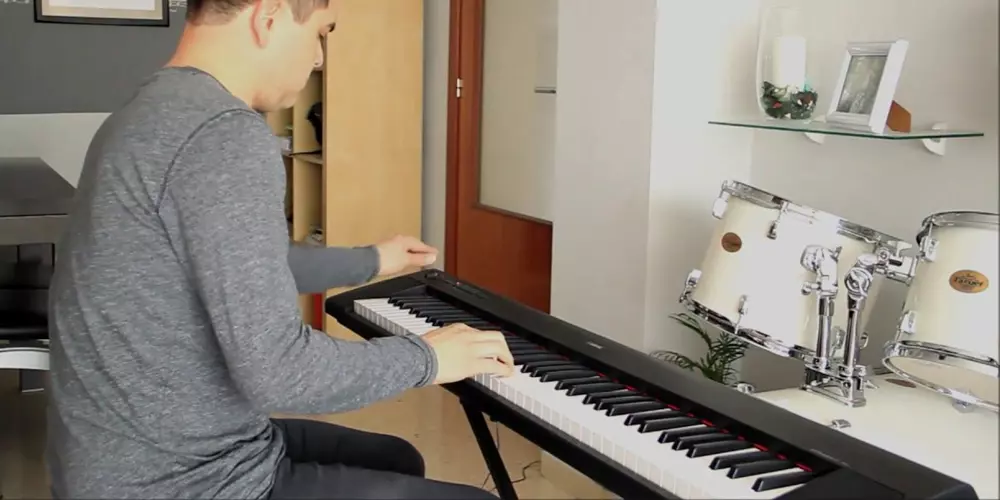 Yamaha Piagerro Series and PSR-A3000 Arranger Keyboard
Hi, my name is Mackenzie [Kundakcioglu]. I'm here with Yamaha Canada. We're here with Long McQuade at the Yamaha booth here at NAMM 2016. I'm here to show you some of the new home keyboard products we're showing off here.
The first thing we have is the Piaggero line, you may be familiar with the NP11 and 31, we're showing the replacements for those models, the NP12 and NP32. Now as usual when we have a good keyboard we don't spend too much time doing anything new to it but we have replaced the keyboard sample. The main piano sample has been improved. You'll be able to hear that if you were to compare the two keyboards. The other main thing that we've added is we have a recording feature now. These keyboards never used to feature recording, now there's one track recording for entry level customers who like to track their progress as they practice.
Another feature some customers may notice is it used to have 5-pin MIDI on the back, we're removing that as we do with all of our keyboards and now it just has a USB to host which still can support MIDI. Another feature we have is you may be familiar with the digital piano controller app that's available for the P1 15 keyboard, that app is free for iOS devices and is now also available for both the NP 12 and NP 32. Basically, once it's connected you can use this interface to do everything the keyboard could already do, changing voices and changing all the other features in a very nice easy visual format.
[break]
Hello, my name is Heratch Torossian, welcome to the 2016 NAMM at the Yamaha booth. I'm going to show you the new PSR A3000. It represents an instrument that is great for all kinds of music, specifically world music. This replaced the PSR A2000 and here are some of the differences between them. We'll start from the left, as you know it does have a joystick but now the joystick is assignable to any of the functions such as the filters and the cut off resonance. You also have the micro tune scale converter in real time.
All the styles for world music have been remastered, revoiced, re-engineered with brand new arrangements so they sound a lot punchier, they sound more convincing than ever before. Also, the memory expansion has been increased to half a gig so you're able to add a lot more content in the instrument now from different packs that we have on yamahamusicsoft.com. The large TFT screen allows for easy access to parameters and easy to read. The voices have been remastered and remixed now based on the new DSP that the instrument has which is right from the PSR 970. Also, the speakers are new so the keyboard itself will sound awesome on it's own. With that in mind, let me just play a few demos showing off some of the new voices and some of the new styles that the PSR A3000 has. Here is one of my favourite instrument which is a classic Arabic instrument called the ... actually not necessarily Arabic instrument, it's a Middle Eastern instrument it's called the Oud. Here's what it sounds like.
I forgot to mention one important thing, these voices in addition for them to be remastered based on the new DSP, we also included super articulation voices so the dynamics and the transition between the voices are very convincing.
… Let me play some demos for you. I'll start with playing a simple scale. Now you are hearing some of the new percussion in the instrument. This is a new string section. Another example. Now I'm going to actually use ... there are scale converter into real time.
These are some of the great examples of what the PSR A3000 is capable. As I said this has a lot of world content but it's not really limited to world musicians. Think of hip hop R & B, actually think of a film score composer that they're doing a documentary on the pyramids for example. How easy it is to actually call up some of the authentic Middle Eastern rhythm patterns and some of the authentic Middle Eastern instruments. Right away you're able to compose something at a very high quality, authentically as far as sound and sound quality. It's great for film composers, it's great for hip hop and R & B. A lot of that style of music it's now incorporating a lot of style and voices from that part of the world. Which is a very interesting, very exotic type of instrumentation and rhythm patterns. Now it's easy actually to combine some of these in your music production. Again, welcome to the Yamaha booth for 2016 Yamaha show and this is the PSR A3000. Check it out.

Yamaha DGX-660 Portable Grand keyboard
Hi, my name's Mackenzie, I'm here with Yamaha Canada. We're chilling here with Long & McQuade at the Yamaha booth at NAMM 2016. So the keyboard we're looking at right now is the brand new DGX-660. It will be replacing the DGX-650 in the home keyboard line. Now this keyboard is kind of a fan favourite. It's one of our top-selling keyboards for Yamaha. We've done a couple things with the new design over all. We've turned it into a little bit more of a sleek performance keyboard. Some people may recognize that the old keyboard used to have rosewood siding in the stand. While it still looks like wood, it's been changed to black, and the whole keyboard's been given a little bit of a matte makeover.
On to the keyboard itself. Some of the main new key features we have. The microphone you see in front of the keyboard right now is actually connected to the keyboard. This is a brand new feature for the DGX family. So if I go into the mic setting button here, you cycle through all of the mic settings. Some of the things the microphone can do: you can change the volume, the pan, the reverb, the chorus, but you can also cycle through some presets that'll change ... some Yamaha-made presets for the microphone. If I go in to the deeper mic settings, you can change the DSP, you can go into the EQ settings. There's a 3-band EQ, kind of imported from some of our pro-music audio, so that's really cool for the microphone.
The other really really big feature some customers will recognize, the DGX has always been called our portable grand, so we've added in the piano room feature that some customers may be familiar with in our much higher end Clavinova so that's a really big deal for these keyboards. If I go into the piano room button right there, it's a one-touch button, it's going to give me this beautiful screen, and it's going to lock me out of pressing any other buttons and changing anything else. The only thing I can change is this piano room.
So first of all, what I can do is I can change the environment: we have a a concert hall, we have a recital hall, a stage, just a nice room, and turning it off altogether. That'll change the reverb that's affecting the pianos. Now we have 4 amazing piano samples here. We have our grand, which is our pure CF sample, CFX grand piano. We have a pop piano, which I believe is our 7ft CFX. We have a warm grand, and we have our beautiful honky-tonk. You can also change the lid position, 3 lid positions: closed, half, and fully open, and that'll affect the piano sample as well.
So I'm going to quickly just show you the difference between the piano samples, and then what the lid sounds like open, half, and closed. It's a really great idea just to feel how the piano really sounds for the customer. Right now we're in the concert hall, the lid is full on the grand piano. I'm changing to the pop piano. We'll change to the warm piano. And finally the honky-tonk. So back to the grand piano, we can change the lid. Right now we have a full lid right open. Changing that lid half. And finally I'm going to close the lid all together. You can really hear how that muted sound, that's very unique to a Yamaha piano. We don't really have any samples like that in a home keyboard that can do that sort of nuance in a piano sample.
Other than that we have the USB-to-device and USB-to-host connections as before. We have the same kind of speaker system. We have an updated piano sample overall, and the usual upgrade in our voices and style selection, there's a little bit more. As always, it can record WAV audio, and you can record that and export to your files. So that's the brand new DGX-660. It's also compatible with the brand new chord tracker app that's available for iOS devices. If you're familiar with that app what you can do is that app will take any song file that's already on your iOS device and transmit that into chord data, as well as be able to play that song back through your speakers. Now that can be done wirelessly with a UD-WL01 wireless input and a closed network from your iPad to your keyboard.
For the first time ever the DGX-660 in Canada in white. Usually the colour was only black, so now we have this beautiful white finish for people who may want to match it with their stage setups or their Mac, or they may have a home environment that they want to match it to. Now the DGX-660 comes in white.
Once again my name's Mackenzie, I'm here with Yamaha Canada at the Yamaha booth in 2016 for NAMM and we're chilling here with Long & McQuade. Thank you so munch Long & McQuade for doing this video with us, for joining us today.