NAMM 2016: Keyboards and Bluetooth Controllers from ROLI, iRig, and Alesis
| More in NAMM 2016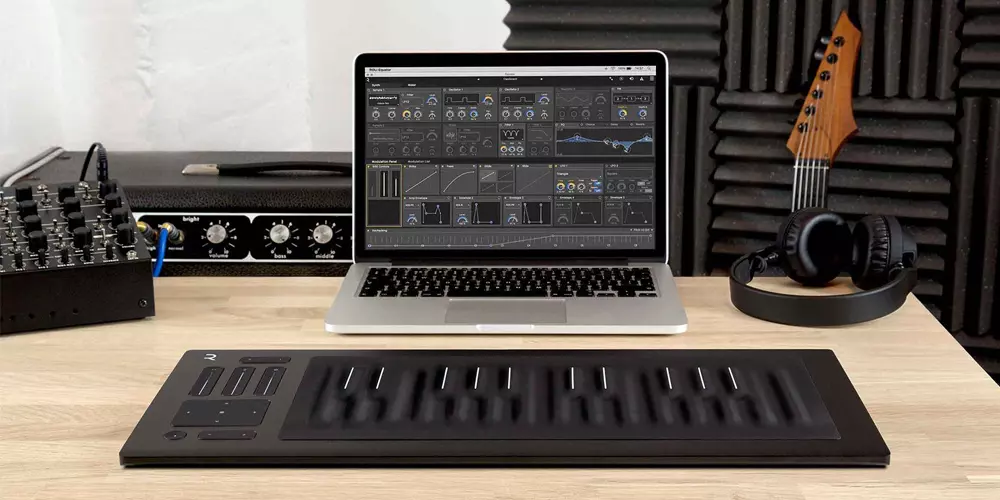 Roli Seaboard Rise 49 multi-touch keyboard controller
:
Hi there folks, thank you so much for watching. My name is Danny, I have the tremendous pleasure of working with Roli. We're here at NAMM 2016, and I am standing directly in front the brand new Seaboard Rise 49. It just came out. I'm tremendously excited to tell you a little bit about the product and about who we are.
We are Roli, and Roli is a music technology startup that is based in London, England. What we attempt to do as a company is pioneer what we call connected music. That means that we use innovative hardware and innovative software to empower musicians, and through that we want to enable seamless creation and seamless expression.
The product that lies at the heart of that effort is right here, the Seaboard. The Seaboard is a radically new musical instrument that reimagines the piano. It utilizes an interface that is multi-dimensional touch sensitive. What that allows you to do is achieve new levels of expressive ability out of the keyboard, that you've never been able to achieve before.
This product, the smaller version of it came out in September, and since then it's been incredibly warmly received. It won the most innovate computer peripheral product of the year at the Consumer Electronics Show. Just yesterday, Future Sound said that we were the product of the year. We're tremendously proud about that.
It's a great time to introduce the Rise 49. It utilizes what we call 5-dimensional touch. What that means is that where a normal piano only registers the velocity of your strike, this registers a following 4 more dimensions.
The first one you have is as I said, the actual velocity of your strike. Whether I strike it quickly, I tap it slowly, I could slap it, just like a guitar, all of those different methods of interaction actually scope the sound physically in a different way.
From there it registers glide. Again just like a guitar, where I could get for vibrato on the strings, I can get vibrato on the keywaves with the Seaboard Rise. I can also get full bend anywhere along the instrument. Then from there I have a third dimension of touch control which is slide. I can slide my fingers up and down the Seaboard and it modulates the sound that way.
The fourth dimension of touch control is press. It modulates the sound based upon my pressure into the silicon key wave surface. What that can do is give me something like breath control on a flute or a saxophone or entirely new things in electrical sound.
The final dimension of touch control is lift. Lift is really cool. Lift is actually measuring the velocity with which my fingers leave the key wave surface. Imagine if I were playing a harp. If I were playing a harp, once I actually strike the chord, I can the sound resonate from there or I can tamp it down. I can do a similar thing with this based upon the method of my lift. Also on a more synthy sound that could be a reverb tail or that could be a totally new sound entirely.
The other cool thing about the Seaboard Rise is that it's also fully wireless. It plays media over Bluetooth. You can use USB cable. It charges over USB cable. It has internal battery that lasts about 8 hours of continuous play, and 11 hours of affable battery life, but because it's over Bluetooth, we can go fully mobile with this. We don't necessarily need a computer anymore.
The reason we need a computer is for its processing power, but in this day and age, we all have computer processors in our pocket. You can download our free app called Noise. If you own none of the hardware at all, the Noise app will turn the surface of your phone into a Seaboard surface. It works particularly well with the iPhone 6s, because the iPhone 6s is also force touch sensitive. It works on iPad, it works on iPhone and it works on Android.
The really cool thing about this though is that if you do own the hardware, your phone will sync with the Seaboard and your phone will serve as the mobile sound engine for your Seaboard, so you don't need a computer at all. You can have this turned off asleep in your pocket and you can be playing this on the subway. It's a very neat innovation and it really works towards what we are trying to achieve with connected music.
Thank you folks so much. It has been such a pleasure to walk you through the Seaboard Rise. It is currently available at Long & McQuade locations across Canada.

IK Multimedia iRig Acoustic Guitar Interfacre
:
Hi, my name is Derrick Floyd of IK Multimedia, here at the 2016 NAMM show with the Long and McQuade guys to take a look at some great new products. The first one we're going to show you is iRig Acoustic. Now, iRig Acoustic is the first guitar interface that plugs onto your actual acoustic guitar, and gets your sound into your iPhone, iPad, or iPod Touch. It has a small microphone built on the device that goes on the body of the guitar and captures all the sound for you, bringing it into our application called AmpliTube Acoustic.
The AmpliTube Acoustic gives you tons of functionality, pedals, and cabinets, things of that nature. You can also change the body of the guitar by something we have called Body Modeler, so you can take your guitar and make it another guitar, simply by changing the pedals inside the application itself. It also comes with an actual recording device, so you can record yourself playing with information back, making it a great solution wherever you are.

Rig Blue Turn Music Page Turner and iLoud Micro Monitors.
:
Hi again, here at IK Multimedia 2016 Namm Show with the Long & McQuade team. Looking at our second product, which is iRig Blue Turn. Now that's IK's page turning solution that allows you to put it on the floor, bluetooth, and turn your pages on your iPhone, iPad, iPod Touch, or even your Android devices through Keynote or Adobe Reader or any of the other applications you use on your devices.
It actually has a soft backlit touch that lights up when you hit it on the ground. It has to come with batteries in the back as well. Easy to use, nice and portable, and it goes anywhere that you go. Great page turning solution that you can use with almost everything you have.
Our next product we're going to talk about is the iLoud Micro Monitor. Now iLoud Micro Monitor continues on the success of our original iLoud Bluetooth Speaker, which has been around for quite a while. What we have done is take that same 40 watt speaker and split it into two halves, making each speaker 25 watts, therefore enhancing the wattage to 50 watts now.
It's also got a 56 bit DSP chip in the back that controls the actual DSP or EQ of the speakers themselves, an actual auxiliary input, left and right, inputs to come in from our CA. Of course, you've got your power and it is a Bluetooth speaker. Again, being 50 watts it gives you great power at any source you need. Having these next to your computer or your desktop gives you a great solution for great sound. That's the iLoud Micro Monitor.

Alesis VX49 Smart MIDI Controller
:
My name's Walt, I'm here with Alesis at Winter NAMM 2016 and the Long & McQuade guys. I'm here to show off the new Alesis VX49. The Alesis VX49 is a smart midi controller. What I mean by that is, is makes it very easy to use plugins. Check it out. We're featuring this 4.3 inch color screen. What it does, it displays all the plugin parameters from the VIP software. The VIP software is what's powering this whole package. It allows you to catalog your plugins. It allows you to really load up a sound fast and start playing and create music. You don't really feel like you're in the box as much. You feel like you're actually making music with a synth or a workstation.
Check it out. On the screen, it shows all the plugins that are currently installed on your computer, on your hard drive. You can select whichever plugin you'd like. All your presets load up, but that's not it. See, what you can do is you can also sort by instrument. Say if I want a bass sound, and then I want it to be, let's say, a distorted bass sound. Now it's going to pull up every preset from every plugin that is a distorted bass sound on my whole hard drive, making it really easy to find the sound that I'm looking for.
Talking about the hardware, it's all very, very premium. You've got a 49 key semi-weighted key bed. It's got after touch. You have 8 drum pads that are back lit with RGB. They're pressure and velocity sensitive. You have 8 pad switches, which will allow you to do things like clip triggering and changing the tempo of the arpeggiator. Yeah, you have an arpeggiator too, with over 100 built in patterns, all very, very useful, very musical stuff, which is really, really fun. You have back lit pitch and mod wheels. Yeah, this whole package, it comes with a keyboard, The VIP software, which does all the cataloging and feeding the parameters and 7 plugins from our partner SONiVOX.