NAMM 2016: Computer Audio Interfaces
| More in NAMM 2016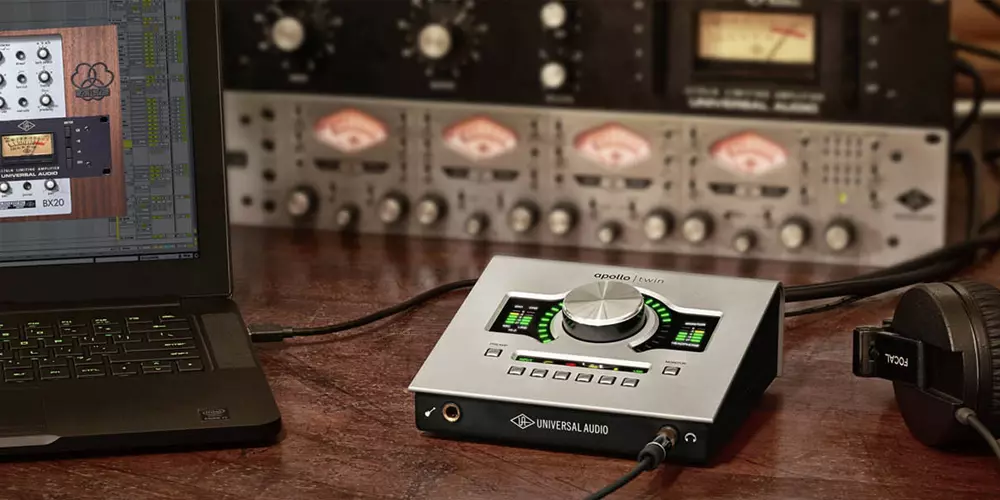 Apogee Symphony I/O mkII Audio Interface
Hey, this is Don from Apogee Electronics at NAMM 2016 with the guys from Long & McQuade. We're demonstrating our new Apogee Symphony I/O mkII chassis, a revision to the original Symphony I/O.
This is Apogee's flagship AD/DA converter, a modular system that's very, very flexible. It can be configured in many different ways depending on the I/O needs you have for your studio. Looking at the mkII chassis, we have this sleek, all black look. We've got a new constant current drive headphone amplifier. That uses technology from our Apogee Groove headphone amp, which is very, very powerful and clean and low distortion with any type of headphones you plug into it. We've got a beautiful and intuitive touchscreen, which allows you to control all of the parameters, input/ouput settings, monitor switching, everything like that, directly from the unit without going into control software.
We've got some improved chassis ventilation, and then going around the back, we have the Thunderbolt connection built in. That used to be separate in the ThunderBridge box, but now you've got two Thunderbolt II ports built right in, as well as to the right, you can see the option card slot. Right now, we only have the Thunderbolt version just like this shipping, but we will in about two months have option cards for the ProTools HDX or HD system, as well as in fall, we'll be doing a Wave Sound Grid option card.
Just like the original Symphony chassis, we've got two converter module slots, but we are introducing two new converter modules. We've got a new 8 x 8 module, and a new 16 x 16 module. Those do feature enhanced conversion, brand new A-D converters and they are the best converters that Apogee has ever released to date.
The sound quality is phenomenal and pristine, as you'd expect from Apogee. Extremely flexible for your studio. That built in Thunderbolt and intuitive touch screen make this a killer converter for your recording studio.
Apollo Twin USB for Windows
Hi, I'm Gannon with Universal Audio, and we're here at NAMM 2016 and we have some really exciting news. This has been the NAMM debut of Apollo Expanded, but our big news for the show is Apollo Twin USB for Windows.
This is a Windows specific twin. It connects to your PC laptop via USB-3, so a high-speed USB connection. It's going to ship in Q1. This is connected via USB-3 for high speed transfer for both working you DAW or the console. Hopefully, it's going to come around to the back. There you can see the connection. Brings the Apollo workflow right to your desktop, so you have your two units … mic pre-amps, a Unison enabled high Z input, monitor controlled output. Runs the entire library of UAD plug-ins.
We're really excited. This is also, as I said, going to ship in Q1. It comes in that duo configuration, so two shark chips. Plenty of DSP power to get you going. You can combine it with our other products. Firewire Satellite, for example, or our PCIE card. If you're in a desktop computer and you have other interface capabilities, you can combine it with those other products.
That's about it. It's a wonderful addition for the Windows platform and I think we're going to see a lot of adoption for this product.
M-Audio M-Track Audio Interfaces
Hi, this is Steve Curto from M-Audio. We're here at NAMM 2016. I want to introduce to you the new line of M-Audio M-Track interfaces.
We start here at the low end. This guy's called the M-Track Hub. The first thing you're going to notice about it is that there is no input for audio because this strictly is for somebody who does everything inside the box. There is a powered USB hub, three inputs right there. You can bring your control surfaces into that. Then you've got a very stoutly built, big knob with the audio outputs on the back. This allows you, for somebody who does everything inside the box, to have volume control monitoring and bring some of your data in to your DAW from the USB hubs.
Moving up the line, we have the M-Track Solo, which is a single-channel interface but does have multiple inputs. We have a line and an instrument input. On the back is where the XLR Neutrik combo connector is. Then we have one headphone out. This guy is just a wonderful interface for the typical singer/solo songwriter kind of person.
Stepping up to its next brother, the M-Track 22. That's a two-track interface with four inputs. We actually have two combo jack XLR 1/4 inch on the back. We have two main outs. You notice the addition of five pin midi here and the addition of 48-volt phantom power. We also have two instrument ends on the front. Once again, that really mature, ergonomic tabletop design, these are very well built interfaces. They're very hardy and the big knobs so you know you're grabbing volume right off the bat.
Then we move up to the four-channel interface with eight inputs. On the back, we're going to see four combo jacks as well as a couple of inputs. We have four outputs now so we can have an A/B monitoring kind of situation. Two headphone jacks, which now have moved to the left side, just a little attention to detail but there's quite a few headphone sets out there with hardwired cabling on the left side of the headset. That kind of keeps it out of your way and just keeps things a little bit more ergonomic and organized. This is called the M-Track 84.
Then we have one missing out of the lineup, but you can imagine the same form factor. We call it the M-Track 1212. All these interfaces are 24-bit 192, but the 1212 steps it up to 32-bit 192 kilohertz resolution. It adds word clock. It adds 12 inputs, including S/PDIF digital. It makes use of a DB25 connector, which is a multi-pin connector that has a breakout cable of eight analog inputs and outputs. We kind of boast the smallest footprint form factor with that many i/o channel counts on the analog side of anything out there in the industry. All of these are a type-C USB interface. We're ready for the future. We're the first to market with USB-C. This is backwards compatible to USB type-A. We're going to throw both cables in the box so that right out of the box and right off the bat you're ready to work with old hardware or anything that's brand new, making use of that USB-C connector.
The big value-add to all this stuff is that there's a software bundle that comes with it that includes three very good air music tech virtual instruments. There's a mini grand. There's a thousands of patch virtual instrument called Expand, … then Strike, which is a virtual instrument for drummers. Also a brand new set of 20 dynamic effects, we just call that the Dynamic Effects Bundle. You have things like compressors, limiters, gates, those type dynamic effects that will work very well in your setup. We're very proud of the line. I'm sure you're going to be able to find this at your local Long & McQuade dealer. Please stop by and see the new line of M-Audio interfaces.

PreSonus Studio 192 Mobile Audio Interface
Hi. My name is Lesley Smith. I am with PreSonus and I'm here with the guys from Long & McQuade. I am going to tell you about our Studio 192 Mobile Audio Interface.
The Studio 192 Mobile is a USB 3.0 audio interface, just like it's big brother, the Studio 192. It's got two remote controllable XMAX mic preamps. Two direct A-D line inputs and six balanced line outputs. It also has a full compliment of digital I/Os and 16 ADAT channels of in and out.
Even though it is compact mobile interface, it actually expands out to a 26 by 32 interface, with a Digimax DP88 plus you have all the great FAT channel plug in processing that you have with the Studio 192 and full Studio One integration, just like you do with the Studio 192.
The Studio 192 mobile will be available in the next 30 to 60 days.