NAMM 2016: New Microphones and Headphones for Stage and Studio
| More in NAMM 2016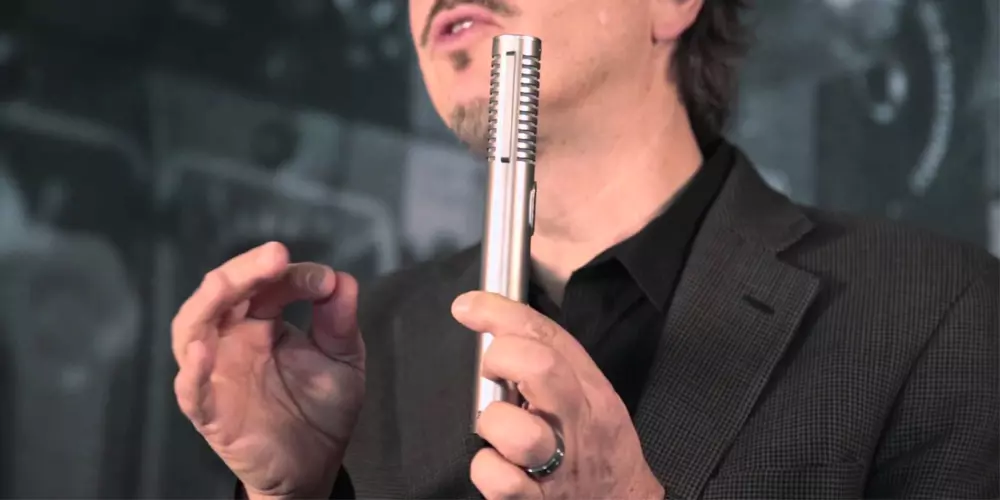 Royer Labs's R-121, R-101, R-122 MK2, SF-12 and more.
:
Hi, I'm John Jennings with Royer Labs. I'm at NAMM 2016 with the guys from Long & McQuade and really appreciate them all stopping by and getting a little information on what we do here. Long & McQuade has carried Royer Ribbons for a long time. You all know your ribbons pretty well. I'm going to give you a quick walkthrough of the line. The 121 is this guy. This is our most well known microphone. It's become a flagship ribbon for us and it's one of the standard microphones to use on electric guitars and trumpets and some high SPL instruments. This was the world's first ribbon that had a small footprint and could handle high SPLs so you could put a close mic on the trumpet or a heavy electric guitar and no problem at all. I mean Joe Perry with Aerosmith has been using these on his electric guitar since 1999 and never blown a ribbon. It's pretty impressive.
That's the 121, the 101 is $500 less and it's a really good ribbon microphone. It's a larger body which is easier for us to build actually. It has the same ribbon element like the transformer as in the 121. There are sound samples of that in our audio video library online. You can get to that from our homepage royerlabs.com and a very good microphone. Particularly useful on the road because it has a shock mount, a ribbon transducer and a three layer windscreen system. The 122 is a phantom powered ribbon which brings the level up to condenser microphone level. Ribbons are by nature dynamic microphones so they don't have a lot of output. This is the world's first microphone to have condenser like output in a ribbon.
This particular microphone also has a couple of switches, a 15db Pad, if the mic's too hot for something like heavy electric guitars. It also has a bass cut filter if you like to remove a little bit of low end. Then we went to a tube version, the 122V and man does that sound great. It's just like a 122 with a sprinkle of a little fairy dust on it. I don't know how else to explain it but it's a wonderful ribbon mic. It's been used on a lot of great guitar recordings and orchestral recordings. This is the R series line here. We have another series, these are the SF mics and these feature a shorter, narrower, thinner ribbon that's a little more sensitive and even more flat. The SF1 is a mono-microphone. This is used in a lot of classical work and if you go into our audio video library, you'll find some examples of that on violin and other instruments. Pretty beautiful.
This is the SF-12, it's a non-powered stereo ribbon microphone and this microphone is locked into a bloom line pattern so you get extremely natural, fast bloom line recordings. XY pattern, left, right, you get a beautiful stereo image. For people who need more output, this is the phantom powered version. It's called the SF-24 and then the tube version of that microphone is the SF-24V. It just takes it to another level. Particularly useful in classical recordings where you're looking to catch as much depth out of the orchestra as you can. Great ambient mics, great simple point and shoot stereo ribbon mics and that's basically the Royer line.
The thing about ribbons to remember is they hear things more like the human ear does than any other microphone type. That's what we've been all about since we opened in 1998, we make nothing but ribbon mics, we really believe in them. We were nominated or actually received a technical Grammy in 2013 for bringing ribbons back into mainstream recording.
Hope you checkout some ribbons yourself and thank you.
Royer R-122 MKII Microphone


:
Hi, I'm John Jennings with Royer Labs. We are at NAMM 2016 with Long & McQuade and we're here to talk about a new Royer ribbon microphone. Before we talk about the mic, I just want to tell you quickly that the thing that a ribbon does different from other microphone types is it hears things very naturally; more like the human ear does. So, that's not always what you're looking for. Sometimes you want pop vocals that really cut through a mix, you want to put a nice, crispy condenser up, or you want an acoustic to sit kind of bright or be glossy, that's great. But when you want something to translate the way it sounds in the room, like a good trumpet or an electric guitar amp, you put a ribbon on that, and you are so much "there." It's a very realistic, natural kind of a response.
So, Royer makes nothing but ribbons, and our latest ribbon is probably our most versatile ribbon. It's this one here. It's called the MKII. You see this sign behind here, this is a TEC award nomination; we're up for a TEC award this Saturday night and the 122 was a microphone released in 2002 and it was the world's first phantom-powered ribbon microphone. But what we've done is we've updated this to the MK II; 122-MK II. And you'll see it has a couple of switches on the back. Now these switches; one of them is a 15 dB pad and one of them is a bass cut filter.
Now, with ribbon microphones and pretty much any mic you set for figure of eight, when you get in close to it like this, you get a lot of bass buildup. It gets very thick. And you can EQ some of that out, or maybe that bass buildup is what you're looking for, but with this switch, you can knock out that proximity effect and have a brighter response with some of the lows taken.
If you hit this mic hard, like close-mic a guitar cabinet, sometimes you can overload the head amp or the following pre-amplifier. You kick this 15 dB pad in, and you can torture this mic; you'll never have a head room issue. It doesn't distort; it sounds very clean and natural, fantastic electric guitars. And if you're a rocker, you want to put this on your guitar amp; you want to put a 57 right next to it, blend those two and you're in Nirvana.
If you go to Royer's website, we have an audio/video library with examples of all these microphones there. All sorts of different recording techniques and videos. It's a great way to learn about recording and ribbons in general.
Thanks so much; I hope you get a chance to check this out and take care.

AKG
New microphones showcased by AKG at NAMM 2016, including the Microlite series and the Concert 1 Drum Microphone Set.
:
Hello and welcome to the AKG booth here in the Harmon room. We are together with Long & McQuade. I want to introduce to you the new line of very, very small microphones. The target group for this microphone is broadcast television, theatre and all kinds of speech and voice applications. Let's go through the line. Let's start with Lavalier microphones. We have always, for all kinds of microphones, we have two kinds of polar patterns. It's the omni and it's the cardioid. That's the cardioid version, that's the omni version. As you can see they are really small microphones, especially the cardioid. The omni one is one of the smallest in the market. We have wind screens, we have wire mesh protection caps, and we have four colors as you can see. Two of the colors are matching the skin color, so it's this dark brown and the brown one, and then we have the black and the white version to fit best to your shirts.
Then we have ear-hook versions. We only use, of course, the skin color matching colors. The good thing is if you turn around the ear-hook you can wear them whether right or left so you don't need to have additional versions and the small cylinder in the middle is perspiration protection so this avoids to get humidity into the capsule and that's great especially for applications where there is a lot of activity, like musicals.
The next are the headphone microphones, same colour setting, very lightweight, easily adjustable, and again a cardioid and an omni version. We have tons of accessories. We have accessories to use these mics for all kinds of other systems, even from our competitors. We have magnetic clips, we have make-up protection, so to cover the microphone during the make-up application. Tons of accessories you need to cover all kinds of applications.
If you want to have further information go to our web site … and now I will hand over to my colleague Nate…
Hi there, my name is Nathan Baglyos. I'm here at the Harmon booth for NAMM 2016 with the guys from Long & McQuade, excited to talk about the new Concert 1, AKG drum mic'ing kit that's perfect for live sound applications as well as recording. The heart of the kit is the D112-Mark 2. With its low frequency resonance chamber it's a perfect choice for mic'ing your bass drums. It captures all the low frequency punch from there. The D40, 4 of which are included, is a 156 decibel max-spl microphone. It uses the same laminated verimotion dual thickness diaphragm as our D5, which means that it gets excellent frequency range across the entire coverage pattern. It also means that off-access noise rejection is just excellent. Finally, for overhead mic'ing, you've got the C340. These are 2 condenser mics. They're perfect for picking up all the shimmer and sheen from your cymbals, and they get the entire timbre of your drum kit, exactly the way it sounds so your own personal sound is really captured in the recording and in the live feed.
This kit is that it comes with all the necessary stand and plate adapters. Either they're integrated into the mics themselves or we have the plate adapters here, as well as the stand adapters for the C340's. It also comes in this aluminum case so it's a great kit to take on tour with you. A couple added benefits are all of these mics aren't just for drums. The D112 is an excellent mic for mic'ing bass amps. The D40's are excellent mics for both acoustic and electric guitars, as well as strings, woodwinds, and other instruments, and in a pinch they can even be used as a vocal mic. Of course, the C340 is always an excellent choice for a room mic.

Shure KSM8 Dualdyne cardioid dynamic vocal microphone

:
Hey guys. John Borne here, from Shure, here at the NAMM 2016 show. We're here with our friends from Long and McQuade out of Canada. We love gear, and we love making gear for them to sell. We've shown off our brand new KSM8 Dualdyne mic. It's the world's first dual diaphragm dynamic hand held microphone. We spent 7 years on this guy, figuring out how to put a second diaphragm in the mic. We get some real big benefits out of this. First one, being proximity effect control. Sometimes you get right on a microphone, it can get muddy, or too thin when you get too far away.
The second diaphragm inside of this microphone is part of the acoustic network, and it blocks low frequencies from building up as you get proximity effect. That's in tandem with the front diaphragm over here, which is attached to the coil and the magnet. That patented airflow that we designed in this mic is really giving you that great, huge sweet spot that you get. House of Worship guys love it. Band guys love it. As you work the microphone, you don't hear all those changes in bass response.
It's a textbook cardioid pulley pattern. The stage bleed that bleeds into the microphone sounds extremely natural. You're not trying to EQ it out, because a drumset sounds like a drumset, instead of a drumset through a tin can, or a paper bag. Then, we have the smoothest top we've ever done in a dynamic microphone. Extremely, extremely natural on the top end. Not overly bright. That, in combination with the proximity effect control, gives you a really nice, smooth sound.
A waterproof grill. We've lined it with a hydrophobic liner. Pneumatic shock mount to reduce handling noise. It's available in wired and wireless versions, as well. Also, available in this new, brushed nickel finish, or in a black finish. We're so happy to bring this new, patented technology to the world for you, today. Please visit your friends at Long and McQuade for more information.

Mojave


A look at the microphones Mojave Audio displayed at NAMM 2016, including the new MA-1000 and the MA-50, as well as the MA-200, MA-300, and more.
:
Hi everybody, Dusty Wakeman here with Mojave audio. We're here in NAMM 2016, Day 1 just rocking and rolling. Mojave audio is fortunate to have two new mics to introduce this year. We have our new high-end mic which is the MA-1000. This is David Warriors take on the classic Telefunken ELA M 251. Not a clone but his interpretation of it. Gorgeous sounding mic, in a new foray for us into the higher end market. Sports a new logo and a new sling shot. Were very proud of this mic. It's a really lush sounding mic that you really need to hear it to understand how great it is.
We also have a new entry level microphone which is the MA-50. The challenge with this is to make a transformer-less mic under $500 that really sounded great. Going after the TLM102-103 market. David did it great.
If you don't know Mojave audio is a sister company to Royer labs, so these are all designed by David Royer. Same Royer that's in Royer labs who brought ribbon Mics back. We've been in business for 10 years and we started with the MA-200. Large diaphragm tube condenser and added the multi-pattern MA-300. This is the new MA-1000 and new MA-50. T hen we have our solid state mics the 201 set and the big brother to that, the 301 set , then our small diaphragm condensers, the 101 set which is solid state and the 100 which is tube. We're proud of them, all of our mics, they're all work horses, they're incredible value, for what you pay. That's the Mojave audio story.

Miktek



:
I'm John from Miktek. This is what we're showing at NAMM 2016.
I'm going to start off with CB4. This is our large diaphragm tube condenser microphone, multi pattern. This our top of the line microphone, really the greatest selling one that we have. Really awesome.
Then, moving down the line, this is our CB3. This is our second tube microphone that we introduce. Has a little bit of a different sound, a couple of different components here, but same great capsule, same great multi pattern supply to it, except this also has a high pass filter and a pad on it.
Then we have our C7, which is our classic fet microphone. Multi pattern, three patterns to use, a figure eight cardio omni. Also has the high pass filter and the pad on it. What's nice about this microphone is it has a variable bias voltage for the capsule that allows you to select either 44 volts for a more vintage sound, or 60 volts for a little bit more of a modern sound.
This is our brand new microphone right here. It is the MK300. This an affordable microphone. It uses high quality transformers. Everything done overseas, bringing it in. Multi pattern, has the pad feature and this is our new one going out, will be shipping in the first quarter of 2016.
Our C5 right here, which is our large diaphragm pencil condenser. Uses a custom Miktek transformer in it. Awesome on acoustic instruments, drum overheads. Really great small diaphragm pencil.
This is our PM9, which is our handheld vocal microphone. Killer sound, high definition, real clear. Great replacement for whatever you're using as your current vocal mic.
This is our ProCast SST. This is our all in one podcaster and singer/songwriter solution. We have a built in microphone with radio boom arm and weighted stand in a 2x2 interface coming out USB. This is 24 bit, 96k sample rate with two inputs on it. You have input one, which can be either the built in microphone or a line, and input two, which could be an external microphone or an optional line. You have two headphone amplifiers and you have a zero latency direct monitoring, blendable with your CPU playback monitoring.
This is our new ProCast product. This is the ProCast Mio. This is a really unique microphone in that it has both XLR on the bottom of it, and USB on the back. You can use it for whichever purposes you need. You can start off using it as a USB microphone, and then as you upgrade your rig, you can use it as your condenser microphone.
Thanks for stopping by the Miktek booth at NAMM 2016.
Blue
New products showcased by Blue, including the Hummingbird small diaphragm condenser microphone and Lola headphones.
:
Hello, everybody. This is Gabriel Whyel from Blue Microphones, and we're here at NAMM 2016. I'm excited to show you our newest products here at the show.
First, we have the Lola Headphones. These are sealed, over-ear headphones, and they're the followup to our popular [Mo Fi Headphones. For those of you who are new to Blue Headphone Products, I'd like to spend a little bit of time talking about these headphones.
As you can see, they look a little bit different than other headphones on the market. We realize that most headphones, when you put them on, they open up and out, which is not really how your head is shaped, so we thought, "Could we do something different there?" We came up with this. Four jointed, multi-jointed headband that keeps the ear cups perfectly parallel at all times as you open and close the headphone, which is great to create a perfect personalized seal on your head, which, of course, results in better sound. Height adjustment is accomplished via the pivoting arm here. As you can see, we can get to nearly head shape and size quite easily and quite comfortably.
Inside the ear cup is a 50 mm full range driver that is custom designed, custom built for this headphone. Behind the headphone is a large cabinet that maximizes the amount of volume of air that the driver can work in. Also results in tremendously smooth lows, wonderful mid-range and extended high range. This is the Lola Headphone, and it is available soon at Long and McQuade.
Also new at the show is our newest microphone called The Hummingbird. This is a small diaphragm condenser microphone, and as you can see, it has a quite interesting characteristic in that it has a pivoting capsule at the top. This is perfect for dialling in the perfect tone on the instrument that you're miking, be that an acoustic guitar, a piece of percussion or overheads on a drum set, or even piano miking. What this allows you to do is you can sweep the instrument, say from the rim to the centre, to get the perfect tone that you're looking for. What this allows you to do is to find the sweet spot of your instrument quickly without having to move the microphone stand around.
This is our newest microphone here called The Hummingbird, our newest headphone called Lola. Be sure to check out Blue at Long and McQuade and have a great show. Thank you very much.
AKG DJ and Studio Headphones
Hi there. My name is Nathan Baglyos. I'm at the Harman Booth for NAMM 2016, with the guys from Long and McQuade. We're going to talk about some new headphones from AKG. The first two headphones that we have over here are DJ headphones, the K67 DJ and the K167 DJ. Both of these headphones use 40 mm transducers that deliver excellent low frequency punch as well as extremely balanced mids and highs. This means that you're not competing with the system in the space, so that you can hear your whole mix. You got everything in there. You've got all the low frequency you need, and you're hearing everything in crystal clear detail.
They've also got a very unique three-axis folding mechanism, so you look here, and you can fold this in and fold back. This makes them extremely great for transporting and portability. This means that you can always take these headphones with you. There is a carrying case included with the mics, with the headphones, rather. It's an excellent choice for headphones for whatever gig you're doing. The main difference between these, obviously, the K67 is an on-ear design. The K167 is the over-ear design with excellent noise isolation characteristics.
On the other side here, we've got some studio headphones. We have the K52s, the K72s, and the K92s. These are excellent studio headphones. The first thing that you're going to notice, right off the bat, is the industrial design makes these extraordinarily lightweight. They've got a self-adjusting headband, and they've got extremely generous ear cups that will fit over anybody's ears comfortably. These are great choices for mastering, mixing, tracking, and recording. What makes them a great choice is that you can wear these for hours and hours on end. They've got 40 mm transducers and incredibly balanced tuning. That means that you're getting every detail and accuracy out of your headphones. The main differences with these are some of the hardware as well as the frequency response. The K52 has a snap-on 3.5 mm quarter inch adapter. It's a screw-on 3.5 mm to quarter inch adapter with the K72. The K92s have all gold-plated hardware, including the screw-on 3.5 mm to quarter inch adapter.
Finally, over here, we've got the K182s. These are also studio headphones, although similarly to the DJ headphones, they've got a three-axis folding mechanism that makes them extremely portable. This is a great choice when you need to bring your headphones with you to every gig, you want to know exactly what you're sounding like through a pair of headphones that you can really trust. The K182s are the perfect choice for that. These feature 53 mm transducers and have a frequency response from 14 hertz all the way up to 32 kilohertz. All 6 of these headphones also have a very unique feature that we're really proud of. They're 32 ohm sensitivity, which means that they can be driven from any device, whether it's your mixer, a headphone amp, your computer, or even your smartphone. Whatever you're listening on, whether you're doing it for mixing, mastering, monitoring, or tracking, you know that you're getting the sound you want, and you're driving your headphones to full output, even if the device isn't a professional audio device.