NAMM 2016: Roland TD-25KV Electronic V-Drums
| More in NAMM 2016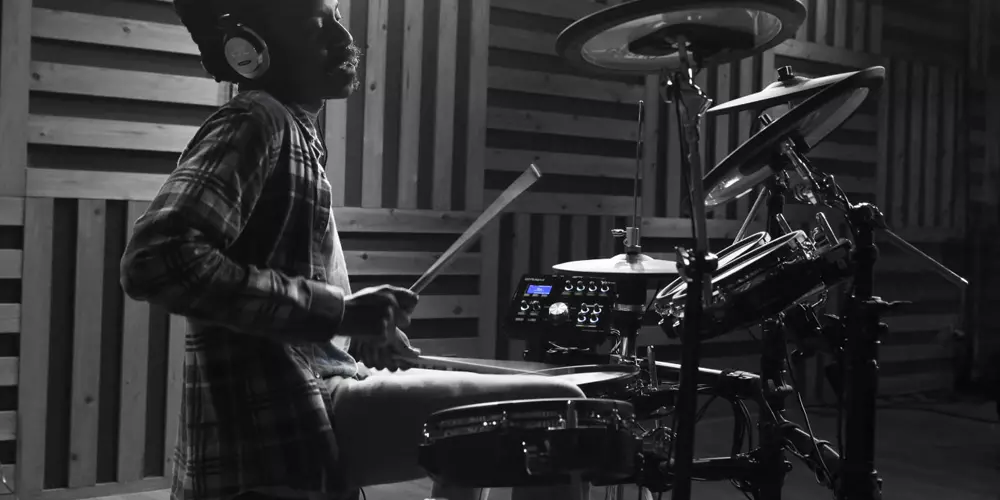 This is the TD-25KV. This right underneath the TD-30, but it has all the TD-30 sounds built into it. The KV here has an extra cymbal. I have it wired up a little bit differently. I have an extra auxiliary high hat I put on this one instead, too. I have three toms running. I'm also running a SBD-SX sample pad, which is a really great unit for running loops and specific samples.
I'll show you a couple of different standard kits here. This is the first kit that comes out of the box called Custom Maple. You've got a rock kit, several rock kits. Some metal kits, jazz kits, funk, electro. I'll show you one of the electro kits.
The really fun thing to do, though, is customize your own kit. This is one that I built.
Playing along here, I can show you a couple different examples with the SBD-SX running loops …
You can see a lot of great sounds built in. Again, customizing your own kits where you can really bring up the life and everything out of it, too, but it has awesome custom kits built in. You can also play along with your own backing tracks. There's an audio input here, and you can use the whole machine as a midi controller as well, which is really awesome.