NAMM 2016: Fender Guitars
| More in NAMM 2016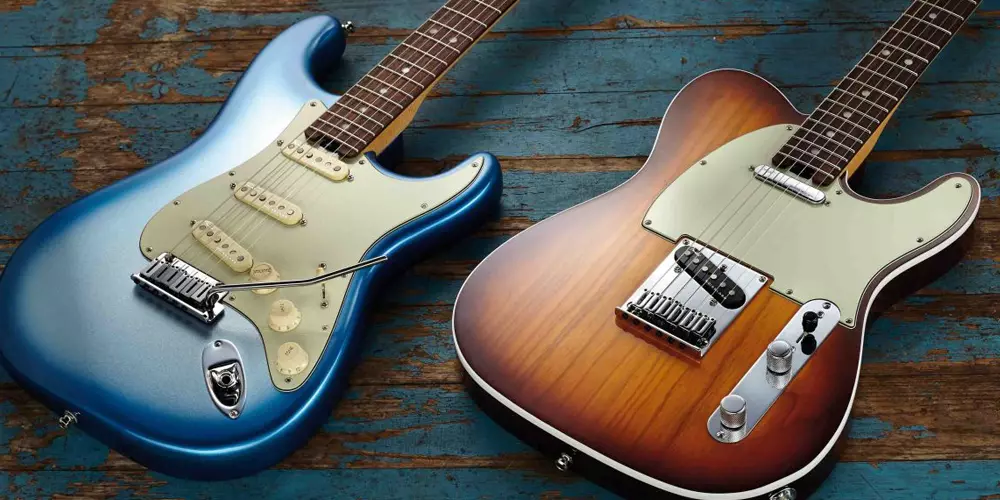 Fender American Elite Series
Hi, I'm Steven with Fender Musical Instruments, and we're at the 2016 NAMM Show, here with our good friends from Long & McQuade, and we're going to talk about the new, brand new, American Elite series. So, what I've got here is the new American Elite Stratocaster. These are the next evolution from American Deluxe. There are more then 12 changes on each instrument, and they retain all the beauty, all the style, with a lot of added appointments that are gonna make 'em a lot more comfortable, easier to play, and a lot better sounding. So, what we've kept is the same compound radius fingerboard, so nine-and-a-half to 14 inches. We've now added a compound back shape, which starts out at a modern C around the first fret, and flattens out to a nice D-shape closer to the body. You'll notice that we've cut away the heel a lot more, and added a little bit more carve to the neck, going down towards the heel, which makes accessing the upper frets just a breeze, and it's super smooth and easy to get to.
Along with that is our brand-new, fourth-generation noiseless pickups. We've been through many iterations of noiseless pickups over the years. We've essentially achieved cold fusion when it comes to the noiseless pickup. They retain all that vintage sparkle, and all the wonderful sense that you would get out of a classic set of vintage fender single coils, but now without the hum. All the beautiful note bloom and expression that you would get out of a traditional single coil, we finally have available in a noiseless pickup. We've retained from the American Deluxe series the great two-point bridge with pop-in trem arm. The S1 switch functionality with a great addition, we now have soft-touch knobs, so it's a rubber material that's actually molded in complete to the knob, making those real tiny sensitive volume swells and touches just great. Super grip makes it a breeze.
Let's see, we've also changed from a staggered locking tuning machine. We now have all short posts, so it increases the break angle over the nut, increasing your tuning stability, sustain, and just overall reliability of that. Also, has a brand-new design string tree that's really sleek and minimalist, and still looks like a traditional string tree from far away. Another major change is we've gone from the traditional bi-flex truss rod to a new wheel adjust at the heel, to a truss rod, so this makes all of your adjustments super quick and easy to do on the fly, as needed. That's our 2016 American Elite Triple Single Stratocaster. We also have the HSS version, featuring our amazing Shawbucker Humbucker, which we can see right here, all the same standard features. We also kept the passing lane switch, so no matter where you're at on the five-way, you press this switch in, you get just the humbucker, right to the output jack, all the extra sparkle, little bit more gain. It's almost like an instant solo switch and works beautifully. So those are our new American Elite strats, and let's have a look at a Telecaster.
So this is the new American Elite Telecaster, in absolutely gorgeous autumn blaze metallic. We've got, again, the brand-new fourth-generation noiseless pickups, retained the S1 switch for series parallel switching when you're in the middle position here. It's got the same, gorgeously sculpted heel, comfortable belly carve, the C- to D-shaped neck, nine-and-a-half to 14 inch radius on the finger board, all short-post locking tuners, the cool new string tree. The tele pickup sound, absolutely beautiful, they sparkle, vintage, absolute spanky tele tone, again, no hum. They just sound beautiful.
We also want to show you the brand-new American Elite Telecaster Thinline. What's really, really special about this guitar is our new bridge. We've adapted the saddles from the old hot rod vintage series, so you've got intonatable, vintage-style brass saddles. Just put a little Allen wrench in there, and you can adjust it, get it really perfect. The really special thing, though, there are no screws holding this into the body. It is simply held in by the string tension and a small flap that comes out here, and a little stop. You pull the strings off, if you want to pull the bridge, slide it back, pull it up, come out, it fits in snug, and really, really helps to vibrate the top. These guitars are quite alive, acoustically, as well as when you plug 'em in. They sustain and have a really, really beautiful tone to 'em. Again, nine-and-a-half to 14 inch radius, and on the natural, we've got the really, really sharp tortoise binding. Also, our post-locking machines, the new string tree, but this is really, really special. We are calling it the suspension bridge, and they're really, really special, very, very lightweight, very responsive, and people are gonna really love 'em.
And so this is our brand-new American Elite jazz bass. Brand-new, fourth-generation noiseless pickups. Again, they sound like a killer set of vintage jazz base pickups, absolutely no hum. We've kept the pre-amp with active/passive switching, but now there's actually a lot less wire inside, very little noise, and it just absolutely kills, and they sound beautiful in passive as well. Nine-and-a-half to 14 inch radius fingerboard, also sharing the C- to D-neck shape, and our brand-new heel, just making it a breeze to play in the upper frets. You'll also find that the lines in general on these instruments are a little bit more sculpted than before, not as many hard lines, and they just feel really smooth and great against your body. We've also moved the truss rod wheel, right there, again, super quick, easy access. We've kept the high mass vintage bridge on here, and these are real rockers, absolutely really, really great.
You can get this beautiful Olympic white. We have them in three-tone sunbursts, and varying colours will come in either ash or alder. Five string versions available as well, we have our new American Elite precision base, which incorporates a great, elite, precision bass pickup, and one of these fourth-generation noiseless jazz bass pickups in the bridge position. They balance out beautifully, and it's probably one of the best PJ configuration basses you'll be able to find today. Also, we are continuing through with our American Elite Dimension basses. They are fully active, with the big humbucking pickups, and they will thump all day long. The five-way switching allows you a lot of great different tones, and can get you through any gig you're ever gonna have. We've got the five-string jazzes, and they are they best, the top of the evolution, keeping a lot of that vintage vibe, the classic styling that everybody wants from a fender, with all the high-performance modifications that you need in today's playing atmosphere. And that is our 2016 American Elite line.

Fender Paramount electro-acoustic guitars
Hi, welcome to the Fender Booth at NAMM 2016. I'm here with the guys from Long & McQuade, and I'm going to tell you about the new Fender Paramount electro acoustic guitar range. The range itself is designed for a more serious player, for players who want to be on stage or doing some recording at home or in the studio. All the guitars in the range are electro acoustic for that reason. The actual design of the guitar is incorporating some key features from previous Fender acoustics throughout the decades. Things like the cloud pick guard here, the checkerboard rosette and purfling, the concert tone inlays on the fingerboard, and the cool Fender late-40's logo all make it a really neat Fender package.
The range itself consists of three body shapes. This is the parlor. We also have concert style, and we have a dreadnought model. They come in two different flavors: standard and deluxe. This is the deluxe model. It has solid rosewood back and sides with a solid sitka spruce top. It has an ebony fingerboard with the concert tone inlays I mentioned. Ebony bridge, ebony head cap, and it has open gear tuners with black buttons there. The difference between this and the standard model is that the standard model has a rosewood fingerboard with the dot inlays. It also has a matching rosewood bridge and matching head cap. The back and sides on the standard model are solid mahogany.
One of the cool features about the guitar is the preamp system. The preamp system itself we wanted to be very obvious, very intuitive, but quite discreet, so we have come up with this design in collaboration with our friends at Fishman. It's very simple: bass and treble controls, and a volume control in the middle. To access the tuner function, press the panel on the tuning fork and the tuner comes on. It also mutes the output at that point. Another press will switch it off.
These guitars each come with a case, an humidifier, and a booklet which will tell you how to get the best out of your instrument. And that's the new Fender Parliament range. Thank you.