NAMM 2016: Gibson USA High Performance & Traditional Guitars
| More in NAMM 2016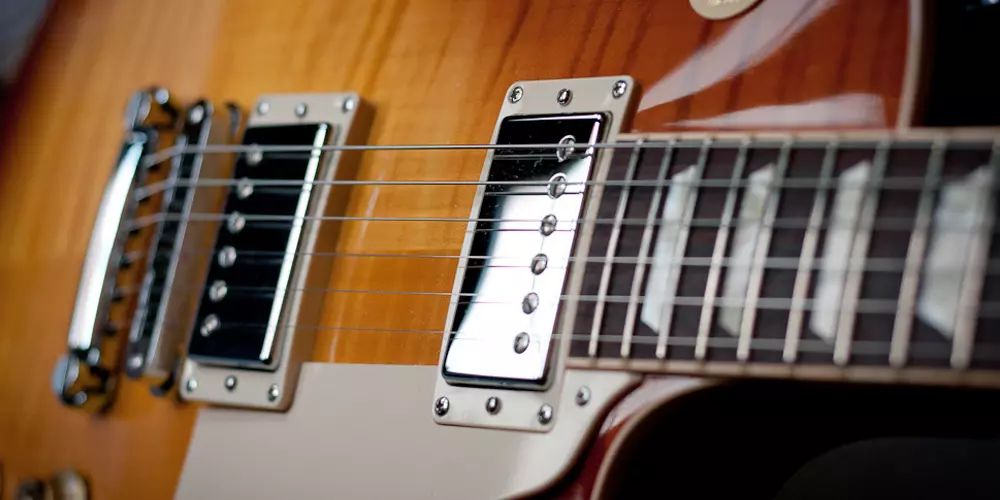 An in-depth tour of the Gibson USA booth and product lineup at NAMM 2016, explaining the differences between their new High Performance and Traditional product lines.
Hi, I'm Jim DeCola, Master Luthier with Gibson USA, showing you the latest from Gibson for 2016. This year, we've expanded the product line to have two parallel product lines within. We have a high performance product line, and a traditional product line.
We wanted to give everyone choices this year, and to do so, we decided some of our fans are more traditional based. They want traditional neck-shapes, and neck-heels, things like that. Then some are more progressive, so we divided it into the two lines. The high performance line has many advanced features. We have the Axcess heelless neck-joint, the latest evolution of the G FORCE tuning system. We now have the chrome tuner buttons.
The hard wire itself has changed just a little bit. We have the chrome tuner buttons. We have the tuner posts that now don't have that separate nut, so you don't have to use a tool to lock it down. It has a hole, so you tie the string in, in a figure 8 configuration to securely lock it. It has double ring on the post. It holds it secure without the need for a separate lock.
Next we have the redesigned zero-fret adjustable nut or simply the Z-FAN. We've added a center screw to lock it down once it's adjusted. Then it's made out of titanium. Titanium is a lot harder, and lot better properties in terms of tuning stability and longevity. The tuning works a lot better because of that. Then the titanium is long-lasting, more sustained, a lot of benefits there.
We also have the new high performance fingerboard. That has the wider fret board than a traditional neck, but it's not as wide as the 2015. We split the difference. It's still a very comfortable neck, but give you a little more room for vibrato and bending techniques.
Then we also have a fully radiused fret. We have a full round radiused on it, so it's a very smooth feel. It also ... wood by nature will expand and contract. If it contracts, even if it does while on a conventional fret, you'd feel that sharp edge. Now it's fully radiused, so you wouldn't even notice that. It's still going to be a smooth feel.
We also carried over our genuine shell Mother-of-Pearl inlay. Then of course the fast Axcess neck-joint, and then we have the titanium saddles that we carried over from last year. Then for the Les Paul Standards and Studios we have some advanced electronics. I'll explain on this body here.
Here we're showing the modern weight relief, which is what the Les Paul Studio and Standard both share. It's still solid throughout the center of the body. It was engineered to provide maximum sustain in mass, but weight relief without affecting the resonance of the body.
We have a new switch that we've developed, so it's a lot quieter than our other switches. We've tested it in high volume situations. You hear less click noise, and it's a very double-switch. It has a pin that it pivots on, so it's not going to be prone to any impact damage like other switches can. It's a small form factor. We have a quick connect, with a quick connect control play assembly.
The Studio and the Standard both share this new DIP switch circuit. They also have their same 4 push/pulls that they've had in years past, but in the case of the Les Paul, you still have the taps or splits. Then you have a phase, but instead of being the pure bypass, which the traditional still has. This gives you the option of the two inner coils or the two outer coils, when the coils are split. It gives you a lot more multiples of tonal variety there.
The real cool thing is the DIP switch. With that, it really multiplies the available selections with the push/pulls. Positions one and two are for the neck and bridge pickup respectively. That allows you in the tap or split mode, when the push/pull is up, to have your choice of the pickup either being a coil split or a coil tap.
The coil tap has a balanced output with hum-backing and it's a fatter more P-90 voiced single coil. The split truly cuts off one coil, so it has to drop in volume and it's a brighter, thinner single coil sound. Some players like one, some players like the other. Here you can have your choice. If you don't know you can listen, it's great for that. Now you can learn what you like and decide. You might have one pickup tapped and the other pick up split, any combination thereof.
Positions three and four are for the high pass filter also known as a treble bleed circuit on the volume controls. That's simply just a little resistant capacitor across the volume control. When you lower your volumes down, it passes high as you retain highs. Some players really like that, some players don't.
Now you have your choice. You can have it activated on either of the volume ports. You might have it activated on one and not the other. You can hear the differences and have your choice there. Number five is a very interesting circuit. It's a passive limiter. What that does is it's a transients suppression circuit. This is intended for digital recording.
When you're recording on regular amps, whether they are two or solid state, there is an inherent compression on the input, so it softens the attack. In the digital world, you don't have that. A lot of times you will have these spikes and artifacts that you'll have to edit afterwards or use another limiter or a compressor before. What this does is passively limit those spikes without need for a battery or anything like that. It's a great circuit.
Then another benefit is that, even if you left it activated you can still plug it into a regular guitar amp and it wouldn't make any difference. You're not going to hear it in the circuit, because of the way it works. It's definitely intended for the modern more progressive players. A lot of variety, there is literally hundreds of options.
We'll have this Lexan sticker on the inside of the control cover, so when you open it up you can refer to it. Then on the outside of the cover, when we shift the guitars, we'll have a low tech sticker that has the same information, so you can refer to that at point of purchase.
Lot of great varieties, and again because we're doing on the circuit board mount. It's very consistent and very double because of that, and a lot more flexible, lot of great electronic advances.
Also on the new switch, all the contacts are internal and on the pin are all gold-plated. Our jack, you can't see here. We have a new jack that has gold-plated contacts as well, and they are also radiused. You have more surface contact when the cord is plugged in, and then you have multiple contacts. It's a lot more secure than a traditional jack. A lot of great benefits.
The Studio has the same DIP switch circuit and the same push/pulls on the volume controls, but it doesn't have the phase or the inner-outer choice, but still has the other features. The traditional line has the same features ... same body. Here we're looking at the Les Paul CM. In the high performance version, you can see the access neck-joint, the latest G FORCE, the titanium nut.
Then here we have the same model in the traditional line. It looks the same except it has a conventional hard-filed nut, conventional vintage style tuners and a conventional, a traditional neck-heel, otherwise it's the same guitar. We understand our fans. Some are very traditional minded and some are very progressive, so we wanted to offer something to make both of them happy.
Here we have the Les Paul traditional model. Here is the Les Paul traditional model from the traditional series. Conventional-traditional nut, traditional tuners, traditional neck-heel, neck-shape, … all the features that you would except in a Les Paul traditional.
Here we have the high performance version of the traditional. You can see the fast Axcess neck-joint, the G FORCE tuners, the titanium nut, the genuine shell inlay, otherwise it's the same model. The same pickups in electronics. It's just with the high performance features versus the traditional.
All our models listed here in the model line will be available in either version. We definitely a Gibson for everybody. We feel this is our best year ever, so please checkout a Gibson at Long & McQuade, when you get a chance. Thank you.