NAMM 2016: Gibson Guitars
| More in NAMM 2016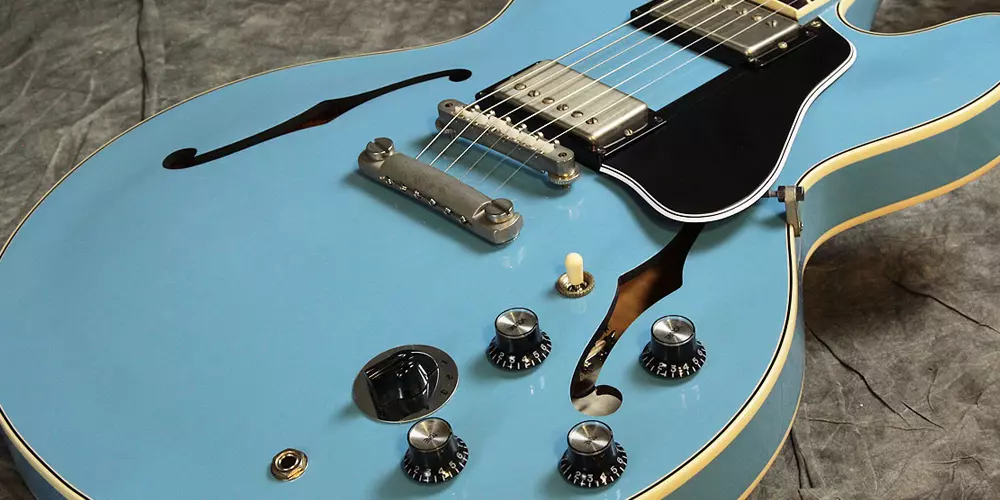 An in-depth tour of the Gibson Memphis booth and product lineup at NAMM 2016. Highlights include the ES Les Paul Special, ES-345 in Frost Blue, ES Les Paul in Pelham Blue, the ES-335 and more.
Welcome to the NAMM 2016 Gibson Brands booth with Long and McQuaid. Thank you so much for coming. We're going to go through our new guitars from Gibson Memphis and we're going to start out with the ES Les Paul Special. Excuse me while I reach over. Two years ago, we brought out the ES Les Paul line, it's been a huge hit. A wonderful guitar. It's manufactured just like an ES 335. It has a center block, it's all laminated, and assembled like an acoustic.
This year, we wanted to actually bring it and make it more affordable, so we reached into the Gibson bag of tricks and looked at the old Specials. Same guitar, just a flat top, not the arch top. It's got the maple fingerboard, we're using black binding which I think is very elegant, but everything is the same internally. When you pick it up, it feels just like a Les Paul, it sounds like a Les Paul, a bit more affordable. Even on this guitar, we roll the binding in, so when you grab that neck, it just feels like it's been around for 50 years.
Let's move on. Here we've got our Studio Series. We brought out the Studio Series in the 335 and the 339 two years ago. Every year we've been developing and improving it. Last year it had a single volume and a single tone, and this year we've managed to actually go with a full Gibson lineup, which is two volumes and two tones, improving the guitar just a little bit more.
Over here, we have our 1964 ES 345 in Frost Blue. Gibson did a few Frost Blue guitars back in the early days. It was just so beautiful and we found it we said, "This is it. We have to do it." Guitars have to sound good, but they have to look great too. This is art for the 345. Again, here we have our ES Les Paul, Pelham Blue. Pelham Blue is such a beautiful color. We thought, "Share it on the Les Paul." We've done 335s, we've done a lot of guitars and it was just time.
We've made some big changes in our 335. Our natural's got that same beautiful figure, it's art. A few of the changes are all of our saddles in anything above a Studio are titanium. We started using it. Basically, we just put them in and listened and we really like what we heard. Right across the board, ABR-1 titanium saddles. One of the big changes this year is the neck profile. As we started working with more artists, actually with Joe Bonamassa, we were developing necks that felt really good, but you could play for hours without hand fatigue. We came up with a neck that we used on the Bonamassa, the Luther Dickinson, Rusty Anderson. Basically, it's a '59 profile, but they tended to be quite large, but they had a beautiful shape, a soft "C". We've taken that profile, made it a little bit smaller, and you've got this wonderful neck that fits in your hand, and you can play it for hours without getting fatigued. That's it for our 335 this year. That neck shape will be on every 335 we're doing.
Moving on, this is brand new. This is for all of the jazz players out there. While we were in Japan doing some research, there was a trend over there of a lot of young players discovering jazz. Picking up jazz, even embraced it, but they wanted something a little more contemporary, they wanted better access than on your typical jazz box, say an ES 175. What we did, we thought about it, we thought "Well, what says jazz? What says Gibson?" It's the L5 shape. This is the L5 shape, reduced 10 percent, just a little bit smaller for some comfort. Two inches across, wider than our normal 335, but not too wide. It's totally hollow, braced like a 175. What really tied it all together, we put a Les Paul neck on it. It's got this wonderful neck, 22 frets, full access all the way up. This is brand new. In fact, this is our very first production guitar. It's available in a couple of colors and we'll see the rest in the back.
Back by popular demand. We started doing our 1959 ES 175 which has done really well. People love it, but some of the fellas out there miss the figured Maple and the affordability. We've brought back what was the core ES 175. Three-bar tail piece, figured Maple top and back. They're laminated sides instead of solid like the original, and we're able to build it at a little bit more affordable price. You've got your great jazz guitar, little easier on the wallet. That's coming back this year. If you guys don't mind, let's walk around the corner just for a minute.

All right, we're back to the 335s. Pelham Blue, you've seen it on the Les Paul, we brought it back on the 335. We just love it. This year, a limited run, we have a Pelham Blue 335. It has all of the new features of the other 335s, which is a little bit different neck shape, very comfortable. The titanium inserts, only it's that beautiful Pelham Blue.
Let's move on here, 1963 ES 335 Bigsby. Factory original. We did this with Chris Robinson, a very similar guitar. It sold out almost immediately. Gibson did so many of these, we thought, "It's time to bring it back." It's a beautiful guitar. What I love, we put the custom-made plate over just like they did originally in Kalamazoo. Underneath this plate, the stud inserts are in the guitar, because the original guitar, they would build it, once it got to the final place, they determined what they wanted, and just nail that over. If you want, you can always just take it off and put a regular stop tail piece. We kept it just like the originals.
We've already seen the Frost Blue on the other side. Over here, although not historically accurate, it's not in our historic lineup, we do have our 355. We are giving it a vintage look. It's got the faded hardware, VOS treatment. It has a rich light fingerboard, which keeps us from putting it in the historic lineup. Other than that, this is just and original-looking barn burner. It's a great guitar. Let's walk into the back room and see the special stuff.
Okay, let's go back over here. We already saw the ES 275 which is brand new this year, but I wanted to make sure you got to see the lineup. For 2016, we started with our regular 275. It's plain Maple veneer, trapeze tail piece, and the appointments are the same as an ES 345. That's one reason we're doing the Cherry, because you think of the original 345s. There were a lot of Cherry 345s, they were really pretty. You've got the elegant binding, fairly simple but just a little bit more. You've got your split trapezoid inlays, and that ties it all together.
The other series, this is what we saw out front, but the difference is this is in a Montrose Burst. Nicely figured, and again, this has our original zig-zag tail piece. These are actually made on the original form that they used from Kalamazoo. They're handmade, they're solid brass, silver-soldered together. Rich light board, and this one is set up, all the appointments are a 355 or a Les Paul Custom. It's just a beautiful little jazz box.
Now, we had to go back to our history. Thank you Ted McCarty. This is the guitar that started the 335. This is a 1958 ES 335 which is the original guitar. As the original one, early '58, there's no binding on the neck. Which I think has an elegant, wonderful feel. I just like it, probably because it's different. Here it is, a '58, and the nice part about this guitar is, it's priced a little bit less than a normal '59. It's in the range of the '63, so it's very affordable, and you get a lot of the same features. The same Mickey Mouse ears, same Adirondack bracing. It's just an absolutely gorgeous guitar. We also have it in a Sunburst.
Now these two guitars are here, this is our regular Les Paul, and this year we brought it out in Ebony which is a classic color for the Les Paul. This guitar, I'm very excited about this guitar. This is one of our Premier Series. Each quarter, we'll be doing a different guitar. Right now, we're doing the ES Les Paul Premier. We'll do an ES 335 Premier, a 345 Premier, and an ES Les Paul Premier with P90s later in the year.
What sets this guitar apart is the internal construction. We've been working with thermally-engineered wood now for about a year and a half. It's been used in the acoustic industry very well. You've probably seen the True Vintage guitars from Montana. It just brings this depth and warmth to the instrument. What we've done, we have the same mahogany center block, only it's been thermally-engineered. We're using quarter saw and Adirondack spruce, also thermally-engineered. We're putting the spruce braces on with hot high glue, and then to wrap it up, we're using our match pots that we use in all of our historic guitars. They're custom CTS pots for us, plus or minus 5 percent, 550K audio taper. Then we sit down and we measure the resistance on every pot, and put together matched sets.
I don't know if you'll be able to hear the difference or not, but I have them back here. I used to have a pick. This is a regular Les Paul. Do you have a pick? Well, I don't know if a mic will pick up this, but ... Let me just play the same on our Premier. It's got twice the volume. It's got clarity, it rings. By going with the hot high glue, the thermally-engineered wood, all of a sudden the guitar just came alive. This is our Premier Series. When you plug it in, it's amazing. Thank you very much for joining us at the NAMM show. Long and McQuaid, you guys are wonderful. Thank you for representing us and carrying our product. Thank you Canada.