NAMM 2016: Vic Firth New Products
| More in NAMM 2016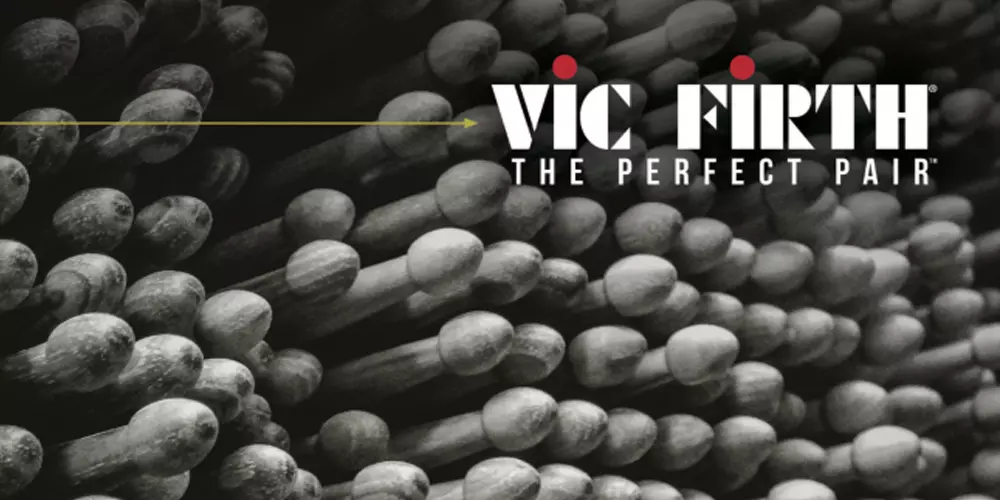 A tour of the Vic Firth product lineup at NAMM 2016, including the new Signature Drum Set Drumsticks, Marching Drumsticks, the Steve Gadd Practice Pad and Keyboard Mallets.

Hello, my name's Neil Larrivee. I'm from Vic Firth, and we're here for Long & McQuade to talk about the new Vic Firth products for 2016. We're here at the NAMM Show, super excited on day two, and we're ready to talk about these great things that we've launched.
First thing we're gonna talk about is our new drum set products. Four distinct models - signature models - super-excited about, but first we're gonna talk about our new Keith Moon stick. The Keith Moon Foundation approached us, asked us to make a commemorative product, and what we did is we worked with them to replicate the model that Keith had used his entire drumming career. We're excited about it because it's a very unique model for Vic Firth in that it has a unique way that the taper and neck works in a fast-sloping manner and the way this olive tip fits on the top of there. It's just short of 16 inches and the way that it's actually designed it really has a lot of punch, a lot of impact, even though it's not a large, big stick. It crosses over nicely in the rock genre as well as any jazz playing as well.
Next we're going to talk about Ray Luzier, who's the wonderful drummer for the nu-metal band Korn. Super excited to have Ray join the team. He came to us looking for a bit of a hybrid model; something that utilized the 5B shaft. It mixed the neck-tapering tip of our rock model, so it's created a stick that while not thick in the hand, still has a lot of forward punch, a lot of impact for really great backbeat and strong emphasis.
Jen Ledger is a wonderful drummer with the band Skillet. She's a bit of an Internet sensation, to be honest with you. She's just got a tremendous following for her positivity in music and her great playing as well. It's based on a 3A, but with a unique taper that is fast sloping that makes it while long and rigid, it plays really fast in this neck area. The tip is a combination of our barrel tip and teardrop makes for a unique cymbal sound.
If you're a drumming fan, then you know the name Chris Coleman. A mega-drummer, a great star who's really one of the busiest touring drummers as well as recording drummers. He's a beast of a drummer; a big man needing a big stick. The way this stick is created is it has a lot of forward emphasis in terms of how far forward the shoulder is, how short the taper is. It means this stick has a big, big feel out front. Makes a huge sound on drums and cymbals. Great, great versatile stick and a wonderful artist.
Launched earlier this summer was our Steve Gadd Pad. The Gadd Pad. We love it. What's unique about it for us is the ability to be able to have a really unique graphic celebrating Steve's 70th birthday and the unique way that we present our Vic Firth logo. Unique for us in it's size - eight inches - fits nicely in any kind of backpack. Snare basket fits on very nicely. Wonderful worn, soft rubber to play on and a fun pad indeed. Again, celebrating the greatest drummer of our time, Steve Gadd.
In the marching world, we've introduced some tremendous sticks with two fabulous artists. John Mapes is a fantastic drumming artist who we've developed a marching snare drumstick and tenor stick. The marching snare drumstick has a great feel while still producing great sound. Bright qualities being able to be developed with the tip. Again, the treatment of the taper allows for really fast action.
Our new tenor stick with John also features a longer shaft for new tenor players who like to keep their drums a little further away from their body. A bolder tip than any of our other tenor sticks makes for a warmer and more full sound.
A full complement of new keyboard mallets for the marching genre offered with the artist Ian Grom. Five marimba models on birch with yarn and three vibraphone models. They all share a common rubber core, weighted and soft, producing really warm fundamental and great quality, especially utilized in an amplified situation.
Last but not least, is our contemporary vibraphone series. This is a series designed for chamber music, percussion ensemble and solo vibraphone playing. Graduated series, four hardnesses. They're really designed to cover the whole gamut and spectrum of sounds in that genre.
We're super excited about the diversity of our offering this year, really attacking all kinds of musical genres. We're super excited about it. Hope you guys will have a chance to try these new products with our fabulous partners at Long & McQuade. Great retailers, great partners; go check those sticks and mallets out with them. They'll take great care of you, and thanks so much.