NAMM 2016: Sabian XSR and HH Vanguard Cymbals
| More in NAMM 2016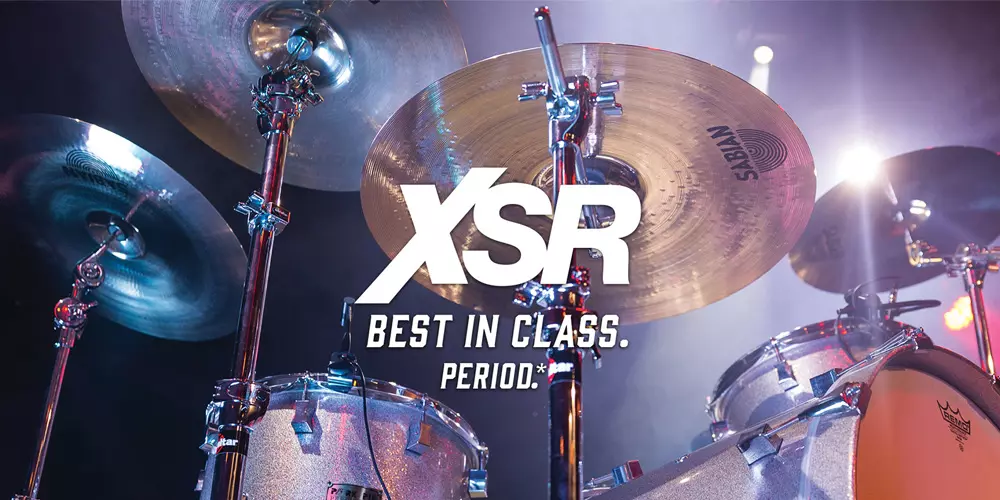 Hi I am Mark Love, product specialist for Sabian. Welcome to NAMM 2016. Today I am here with Long and McQuade looking at our new product. This year we have XSR, it is a new professional B-20 cymbal series that is taking the place of the XS-20 series.

:
We have changed the line up a little bit. We have eliminated the DB control crash and the medium pin crash and we have added the fast crash, 14, 16, 18 and 20. Pretty much the same line up, other than that we have the 21 ride, medium ride, 20-inch medium ride, 20-inch rock ride, 18-inch china. We have a 12 and a 10-inch flash and in high hats we have 14-inch accelerator, 14-inch medium, 14-inch rock, and then a 13-inch medium.
Also the popular Monarch that we had in excess 20, we have changed the design a little bit this year, but it is still a great, incredible instrument; 22-inch Monarch. Now I will run through them and play them a little bit for you. 14, 16, 18, and 20 fast crash. The 21 ride, great bell. The 20 ride, this is the 20 rock ride, and the 18 China. 10-inch splash, accelerator hat, 12-inch splash, and then we have the rock crash of course to go with the ride and the 18, and we got a 16 here a little harder to get to. The Monarch, great cymbal, which was part of the big and ugly collection last year.
Now the XSR is a big step up from the XS20. It is below the AA, we have added hammering, pin-point lathing, so it creates a more even timbre and focused attack. We used what we call trickle-down technology where we have taken some of the secrets that we have been developing, AA explosion craft, the evolution … and we have incorporated that into this technology, so we're offering a professional sounding system at a very affordable price. We are very happy with what we have with what we have in XSR this year.
Also for NAMM 2016, Sabian has a new addition to the HH lineup. It is called the HH Vanguard. It is available in 22, 21, 20, 18, 16, and 14. Now these cymbals are made in the fashion of all hand hammers. The same amount of coal work is going into them but we have applied a different lathing technique, the pin-point lathing. We have added smaller bells and they are a thinner weight than a typical HH. As you can see we don't call them rides or crashes; it is up to the players to decide depending on what application works best for them, because they work great as a ride and a crash.
The 21-inch Vanguard, the 20-inch Vanguard, 18 Vanguard, and around to this side. Here we have the 22 Vanguard, nice shimmer, and the 16-inch Vanguard, real fast splash attack; it is a great musical cymbal. Last but not least, is the 14-inch Vanguard high hats. Now, these are not lathed in the bottom, and lathed on the edge but just lined in the middle, but we rolled them at a thinner weight so they are not too heavy, but they are very controlled, high end, good sound. There you have it, HH Vanguard for 2016.