NAMM 2016: Yamaha Recording Custom kit, alloy snares, and DTX electronic drums
| More in Drums, NAMM 2016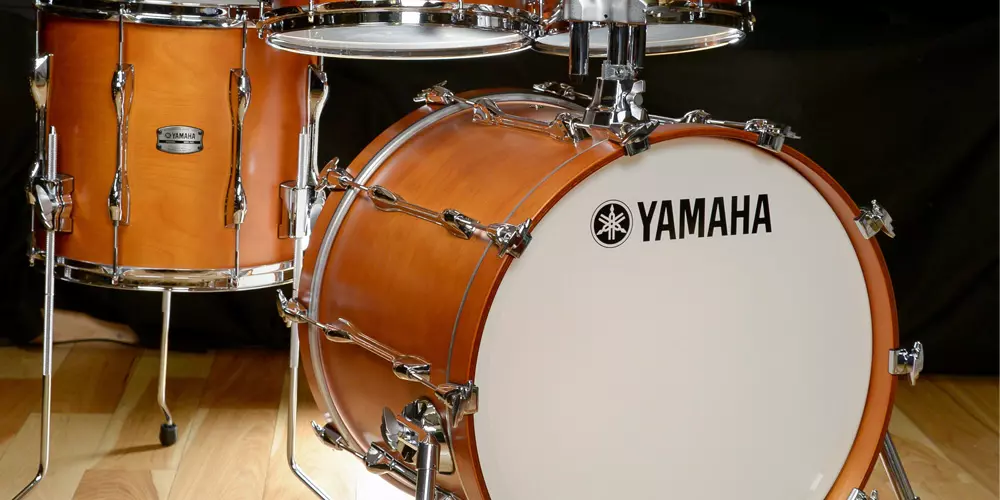 International Product Manager Sean Browne shows off Yamaha's Recording Custom kit re-issue, as well as 7 new metal alloy snares, designed with the help of legendary drummer Steve Gadd.
Hi everyone. I'm here with Steve and Matt, doing a little thing here. My name is Sean Browne, I am the international drum product marketing manager for Yamaha drums, recently for Canada. And I'm here to show you some of the new stuff we've got going on here at NAMM 2016. The most exciting thing that I've seen in my 20 year career with Yamaha is the re-release of the quintessential recording drum in history: Recording Custom, completely redesigned with Dr. Steve Gadd. 3 years ago we got together with Steve and we said, "How can we improve this particular musical instrument?" and he had a couple ideas. We got together on a few sessions. With some of the things that have changed, I think you'll really dig.
Start off with this: all of the drums are 6 ply. Originally the base drum was 8 ply, in the original YD-9000, which was launched in 1975. This is our vintage drum set. With this you have, of course, birch, North American birch shell, and a 30 degree bearing edge. So we have a thinner shell with a sharper edge, and in order to create more bottom end -- we discovered something while we were doing the R&D. We started making the lugs heavier, about 30% heavier. With that mass on the outside of the shell on the toms and on the base drum, matched with the thinner shell and the sharper bearing edge it created a thunderous, beautiful bottom end. Of course Mr. Gadd also uses Remo Coated Ambassador heads so we included Ambassador heads on the drum set as he likes it. These are stunning-sounding drums, and the expression and dynamic range that are involved here -- besides the fact that they are one of the most recognizable drums in the world, this shows an amazing opportunity and journey that we got to have with one of the greatest drummers in the history of music.
Colors that are available are real wood, which was one of the finishes we had in the original YD-9000 back in 1975. Interesting finish here, called surf green, getting a little funky. We also have classic walnut if you look up here. Looks beautiful in the light. Very similar to the original cherry wood finish. And of course solid black, and the interesting story about solid black is in 1975 we also were the first company ever to start using polyurethane finishes and high-gloss lacquer on wood. This was a revolutionary lacquering technique, making the drums more open without wrapping them with PVC wraps. So this combination makes the re-release of one of the most popular drum sets -- no, I might even say the most popular drum set in the history of music.
Now, also while working with Mr. Gadd --- he is a big fan of metal shell snare drums. So we came up with a group of 7 models of new metal shell snare drums: aluminum, 2 models; stainless steel, 2 models; and brass, 3 models. We can go over and check them out. So the stainless steel models are seamed. We have a 14x5.5 and a 14x6.5 model, all with our heavy-duty new throw off system. 25 strand snares on the bottom, regular triple-flange hoop, which is the way Mr. Gadd likes it, likes that open tone. The 14x5.5 also comes with the Steve Gadd signature snare wires, which are the 10 snare wires. The aluminum models are super light, but with cast aluminum hoops. These are seamless shells, one constant piece of alloy. The brass is available in the 14x5.5, 14x6.5, and a 13x6.5 for that more poppy, funky sound.
We are really happy after 3 years of R&D to finally offer a really solid set of beautiful alloy snare drums, and I know you're going to really dig them. I want to thank Long & McQuade for taking the time to come and see us. I know the support that they have given us over the years is stellar, and I wish you all a very happy new year.
YAMAHA DTX-760K ELECTRONIC DRUMS
Hi, I'm Sean Browne from Yamaha Drums here at the DTX station here at NAMM 2016 with my friends from Long & McQuade, and we're talking a little bit about some of the new things we've got going on here.
New pad configurations are available for the DTX series, 700 and 900. This new pad configuration will show and contain two 10-inch tom-toms with a control knob, 12-inch snare with included snare stand, 12-inch floor tom, again all with control knobs. The control knob allows you to tune the drums.
Also, the cool new KP-100 gives a nice big surface for double-bass drum or single-bass drum. Really comfortable feeling.
Hi, I'm Dave from Yamaha. I'm here to show you the new DTX-760K. This kit features newer, larger pads on the toms, 10-inch and 12-inch on the snare and floor tom, all three zones, three-zone cymbal pads, which are mutable. Play the pre-mute and the mute. Hi-hat has not changed, still your great Yamaha hi-hat stand. Control knob on the toms does tuning. On the snare drum. Can be used to turn the snares on or off.
We have a new kick pad. It's the KP-100, that replaces the KP-125 kick pad. It's got an acoustic feel. It gives back on the pedal when you kick it.
Most importantly, the new Yamaha app which allows you to access everything that's happening in your DTX modules. This DTX-700 module has our DTX-700F, and if you take a look at the screen, you can see I'm selecting through different kits. One of my favourites is the funk kit. The loud kit. Many of these are your classic Yamaha drum sounds; maple custom oak, custom beech, recording custom.
As I go into the kit editor real quickly, you can edit sounds at the touch of a finger, do tuning on the fly, and the app is bi-directional with the module allowing you to select a drum just by hitting it and start making edits. Tuning, muffling, and then finally we have layering.
You can do up to four sounds per pad, per zone. So in case I want to blend samples to get the crispness from one kick drum sound that I like and the lowness from another, that's something I would do in my layers. You can add kick drum sounds very easily, just go through all these amazing Yamaha sounds that have been built in. You can also load your own samples, which is incredibly helpful.
I want to thank everyone at Long & McQuade for the support that they've been giving the DTX series, and I hope to see you on the other side.