NAMM 2016: Sonor Drums
| More in Drums, NAMM 2016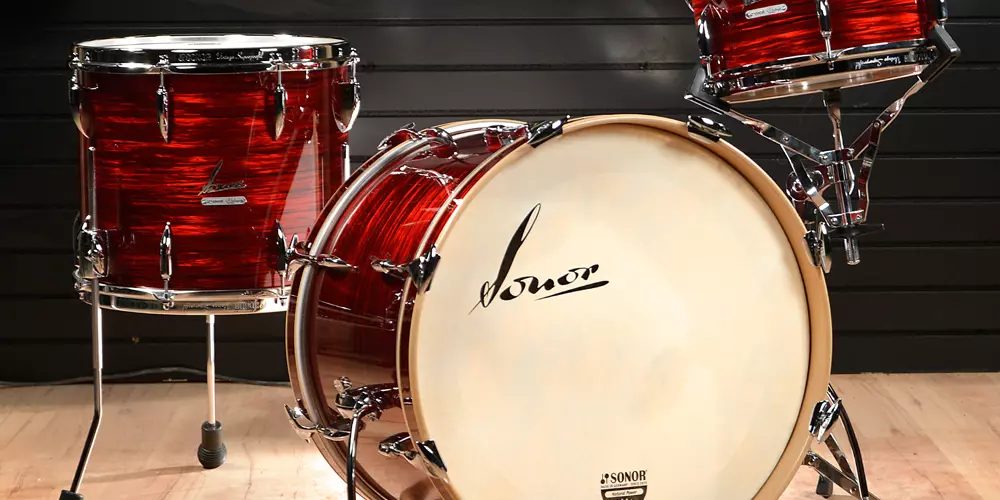 Sonor product manager Frank Boestfleisch shows off the company's new Red Oyster Vintage Series kit, bass drum brackets, burnt walnut limited edition snares, and more.

:
Good morning, guys. I am Frank, from Sonor, Germany, I'm the product manager and I want to tell you some news for 2016. First of all, we've got a new finish in our Vintage Series, it's called Red Oyster, and it's the first original finish from the sixties which has also been used at that time.
There is also other news for this year. We've got a new bass drum bracket for the series. This one will be available from March this year, and it is also available on kits and bass drums.
Here we have our two new of a kind, one of a kind snare drums for 2016. These are two different models. This one is a 14 inch by 6 inch … next to this one we have the 14 inch by 7 inch. This veneer is called walnut burn, and both snares have this veneer also in the inside of the shells. These veneers are from one tree only, so the numbers are very limited. We got 80 pieces of this one worldwide, and only 50 pieces of this one worldwide. Both models come with … a dual strainer system where you can detach the wires for quick change of the bottom edge.
It also have these beautiful wedges, with the engraved logos. These are laser cut from the veneer. Both snares come also with the special snare case made by Hardcase.
We've got a new artist series snare drum which is made of an extremely thick 27-ply German beach shell. The size is 13 inch by 5 inch. The veneer is called Tineo, It is a hydro finish. You got a single lock per side, and also the dual snare strainer system. This one is not limited and will be generally available. Thanks guys, thanks for listening and have a look on our new products for 2016.