NAMM 2016: Gretsch Drums - New Kits and Snares
| More in Drums, NAMM 2016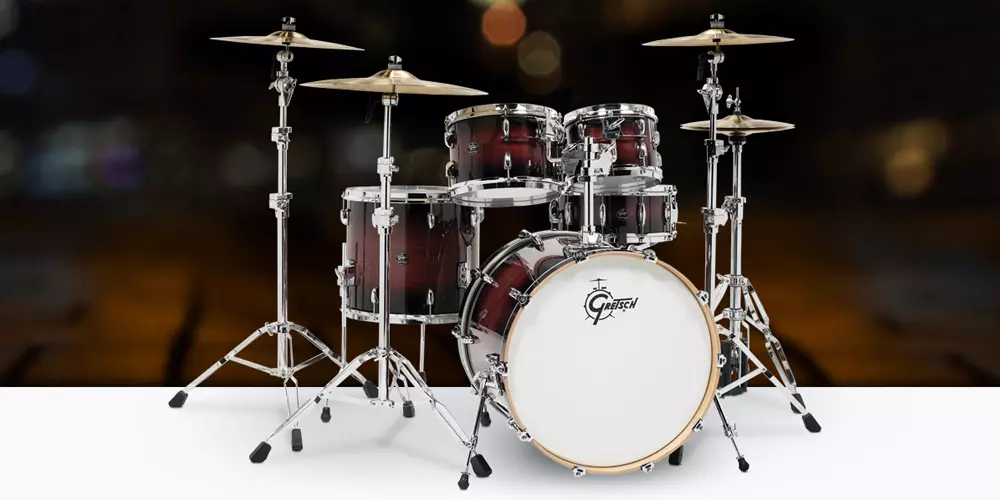 Mike Nieland of Gretsch Drums talks about the company's new 2016 metal snare drums, including black hammered steel, bronze, and copper models, as well as new Catalina Club and revamped Renown RN2 kits.

:
How you doing, I'm Mike Nieland with Gretsch Drums, hanging out with Long & McQuade at the 2016 NAMM show. We're going to go through some of the new stuff we've got to offer this year for Gretsch we're really excited about. We're going to start with our full-range series of snare drums.
Brought these guys back. Black hammered steel: it's simple, it's precise, it's versatile, they work in any situation at all. Got 3 different depths of these, we've got a 5x14 ... So obviously you've got a great attack, you've got a great rim-shot sound, great for R&B, anything that requires a really defined 2 and 4 in your playing. Just really easy drums to work with. Like I said we've got a 5x14, 6.5x14, 6.5x14 with wood hoops. What's cool about these drums is the wood hoop really takes the tone of the drum, and it's going to darken the tone up a little bit, but you can hear just between ... These are the same shell, but just the difference the hoop makes. So obviously you've got a much more defined attack, and not to mention the best thing about the wood hoops is the cross-stick that you get out of it. That thing will cut through any mix you could possibly put forward with it.
Moving on to my good friend the 8 inch deep drum. This thing is all about depth and power ... new sonic options. The cool thing about snare drums is you never own just one, they're like shoes, right? They keep multiplying all over the place. So we've got the full-range black steel drums. Come on down, we'll show you some of the new USA drums. New for 2016 in the USA custom line we've added a copper shell in both a 5 and a 6.5 configuration. One of the ways we do it at Gretsch is on 5 inch deep drum we go with an 8 lug pattern. 6 is going to have either a 10 lug, or in this case a 20 lug pattern, 10 top, 10 bottom.
In the sonic spectrum, copper is the warmest-sounding of all the metals, it's the closest to a wood kind of tonality. With snare drums, the snare drum is the signature of your sound, and you want to have as many options as you can so we brought these back into the USA line just to give us a full smorgasbord of sounds. So you've got the really warm copper drum. Next to it you've got bronze. Great attack, bronze is a very musical metal. They've been using it in cymbal-making for years sand years, and to put it on the drum just makes sense to do it. It's a great addition to anybody's snare collection.
Moving right along in snare drums, we've got the new for 2016, the dial throw. This was something we developed with our R&D team this year, and this is just a totally different take on the throw off. These are going to be hitting the stores later on this year. This is a concept model of it. It works like that. It's on, it's off. Jut a different take on it, and we're really happy with this. This has been doing really well for us at the show this year. Very simple, as they should be.
Moving on, let's go look at some drum kits. Also new for 2016 is the Renown RN2 kit. The Renown kit has been with us now for 15 years plus. It's been a strong, strong performer for us, and we wanted to put some additional focus on it this year. We changed some of the specs on it. I wanted to bring over some of the USA properties so we've added the 302 hoops, which we use on our Brooklyn and Broadkaster series.
We've also respecced all the bearing edges on all of the import drums. They have a new edge where we basically took a 1980's Gretsch USA tom that belongs to one of the local rental houses in town, and goes out and does recording sessions. As a matter of fact, it took me time to get the drum in my hand because it was out on recording sessions so much. So we took that drum in, and me and the R&D guys went and we really got into what the edge of that drum was. It was a factory edge, and we took it, drew it out, did some computer drawings, and then we applied it to both the Renown and the Catalina kit that I'll show you in a second. It's and expanded tuning range, it's a wider dynamic range. It allows all the overtones of the drum to really cut out and really project.
A lot of people don't realize when they're talking about drum tones it's not just one note, it's a combination of notes, and it's how all of those harmonics blend together to give you your final tone that goes out to the audience. So this kit ... So great cut, great projection, great working kit. Also the new price, we brought the price back down to where it was in 2012, or I'm sorry 2002, when these drums debuted. And so made it more accessible to more people, and we're really happy with how they turned out, Gretsch Renown.
Finally we have the Catalina Club series. Catalina Clubs have been I the lien for a long time, and it's the classic Gretsch jazz configuration: 14x18 bass drum, 8x12 rack tom, 14x14 floor tom. It's a 7 ply mahogany kit, so great warm classic tones. All new finishes for 2016, all lacquered finishes. This is a lacquered finish. The kit we're showing right here at the show is called "gloss crimson burst". We've got them in a variety of colors and fades and bursts and all that. They're all at a great price that makes it really easy for anybody to get into the Gretsch sound. So there you have it. There's the other half of our 2016 Gretsch lineup. Thanks to the guys at Long & McQuade, and we'll see you at the show. Have a great one, thanks.

USA CUSTOM KITS


Gretsch drum factory head honcho Paul Cooper demos the company's latest USA Custom kit offerings.


Hi, I'm Paul Cooper. I run the Gretsch drum factory in Richmond, South Carolina. I'm here with the guys from Long & McQuade to talk about some Gretsch USA Custom drums.
First kit I want to show you is a Brooklyn kit. It's a new finish we have this year, satin chestnut. This kit is a 24 inch kit, 9x13, 16, 16, a 6-1/2x14 snare drum. The 6-ply maple poplar shell, and is a new addition to the Brooklyn series.
Coming over here, these two kits are Broadcaster kits. Broadcaster kits have our 3-ply shell. This year, we've opened up the whole USA custom color palette to all of the Broadcaster series, so you can now order a Broadcaster in any color that's available at Gretsch. This particular kit, it's a 14x20, 8x12, 14, 14 and a 5-1/2x14 snare drum, finished in gold sparkle. It's got all the vintage hardware on it. Rail mount, vintage diamond plate floor tom legs, tone controls on the bass drum, top and bottom on the floor toms and a micro-sensitive strainer and throw-off on the snare drum.
This next kit, this is a purple duko finish high-gloss lacquer. We've got a 14x26 bass drum, which adds something new on the Brooklyn series. We've added 26 inch bass drums and 10 inch tom-toms. We've got a 14x26, 10x14, 6-1/2x14 snare drum, 16 16 floor tom and a 16 18 floor tom.
Over here, we've offered exotic pearly maple this year. We're doing 50 kits. You can get them in either this configuration, which is an 18x22, 7x10, 8x12, 14, 14 and a 16x16; or you can also get your traditional be-bop sizes, which is 14x14, 8x14 and a 14x18 kit.
Over here, the last USA Custom kit we have, if we can see it. This is a new color for the USA Custom. It's peacock satin flame, which is a very popular color back in the 50s and 60s.