ART Pro Audio
CoolSwitchPro Isolated AB/Y Footswitch
SKU: #

421769
|
Model: #

COOLSWITCHPRO
|





Product Reviews

2 Reviews
Write a Review
---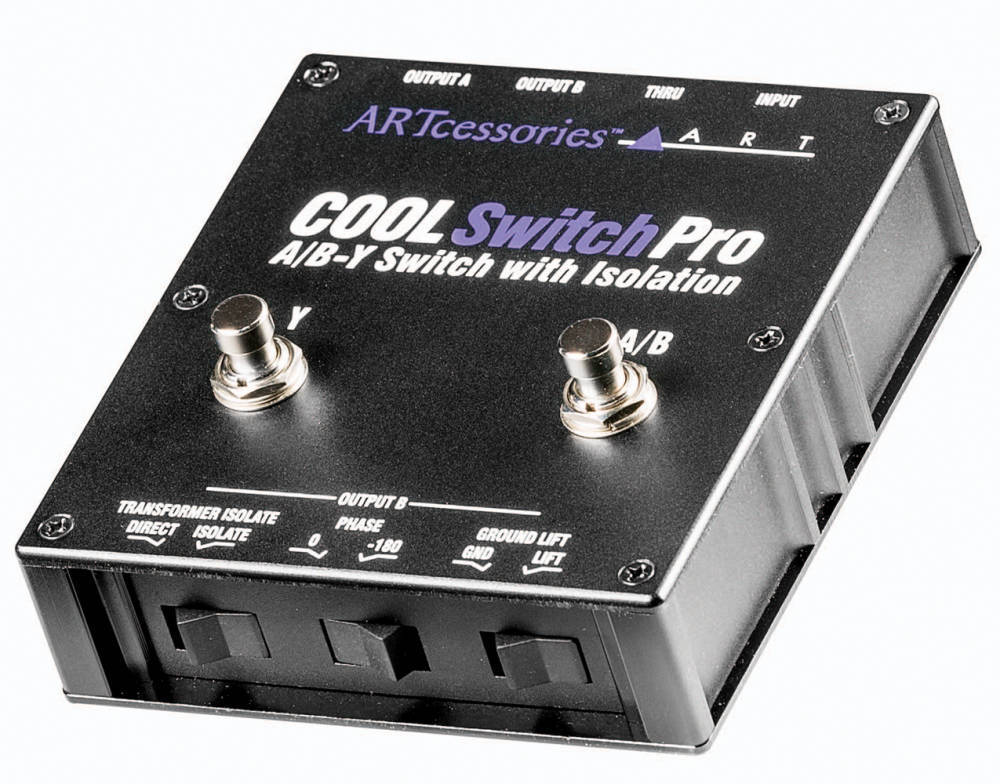 Additional Photos: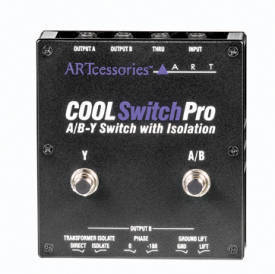 The ART COOLSwitchPro A/B-Y Switch with Isolation is a handy foot-operated box that lets you switch an instrument signal (guitar, bass, or keyboard) to either of two amplifiers or amp channels, A or B. The "Y" function sends the input signal to both the A and B outputs in parallel.

Switch-selectable features on the B channel add versatility to the basic switching functions. A high quality audio transformer can be switched in to provide isolation between the input and output signals. This helps reduce the danger of shock when the amplifiers are at a different potential. Also, this isolation, along with a ground lift function, helps to eliminate the hum caused by ground loops. A phase reverse function lets you make sure both amps are in phase.

The ART COOLSwitchPro is completely passive with true bypass and is housed in a rugged, stable case with industrial-grade footswitches spaced for easy operation. It will provide many years of reliable service, whether on stage or in the studio.




• Sends your signal to either of two amps or both with foot control
• Switchable transformer isolation helps prevent shocks and remove hum
• Switchable phase invert helps make sure both amps are properly in phase
• Switchable ground lift helps remove another potential source of hum
• Always connected "thru" jack for use with a tuner or other piece of gear
• Can be used in reverse to select between two instruments connected to one amp
• Passive operation requires no power and provides true bypass
• Rugged aluminum case sits flat and optimum footswitch spacing allows easy operation
• Perfect for stage or studio use
44.200.145.223
CCBot/2.0 (https://commoncrawl.org/faq/)
Great ABY switch for less money
2 of 2 customers found this review helpful
Features





Quality





Value





Overall





Product Experience
I own it
Closest Store
Woodstock, Ontario
Bottom line is this is a great ABY switch that does exactly what it's supposed to do for about 40 bucks cheaper than other brand names. Yes there is some tone suck, or high-end roll-off, that is noticeable when using this in front of amps for switching which is inherent to all passive switching systems.if you're looking for something to use in front of amps to divide your guitar signal into multiple paths, you will need something that can buffer like the Radial Shotgun. But if you're looking for something to simply A/B between multiple guitars, or two different powered speaker options, this device works flawlessly.
Posted by

ShredRex

on

Dec 18, 2020
Rolls off WAY to much high frequencyou tone.
12 of 12 customers found this review helpful
Features





Quality





Value





Overall





Product Experience
I've tried it
Closest Store
Kingston, Ontario
Tried this pedal in Kingston. With two deluxe reverbs. Drove the front end of the normal channel with a metal muff. Got ea chance amp set to a use able tone. Then engaged both. Amp B had an inverted signal as it normally would. Engaged the Iso transformer and phase inversion switch and it sounded like the amp was buried in the ground... totally neutered the tone. Appears well built but the isolated out is useless. Its should have been seemles especially with a buffered pedal in front. Tried the radial Bigshot ABY and immediately bought it..... radial is night and day difference. With a buffered pedal the isolated out is 1:1 quality. The coolswitch Pro is 8-10 bucks more than the standard coolswitch. And is even more useless. Go Canadian with the radial. I've been messing with the radial feeding my Recto and Krank Revolution... and I could not do without.
Posted by

Jimmer

on

Dec 28, 2016
This product is normally available for rental. Please contact your preferred location for further information.
1 Day $3.00
1 Week $5.00
1 Month $10.00