Oxford University Press
Enjoy Playing Guitar Tutor, Book 1 - Cracknell - Guitar - Book/CD
SKU: #

352098
|
Model: #

9780193371347
|





Product Reviews

0 Reviews
Write a Review
---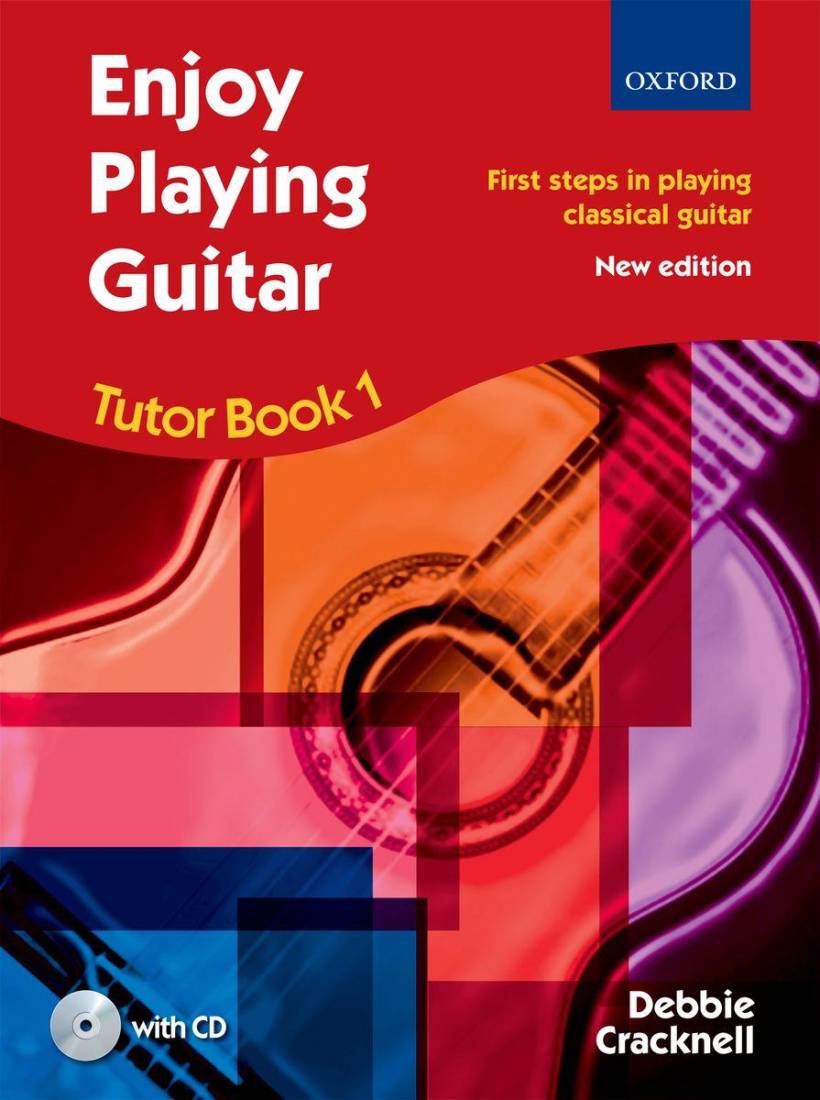 First steps in playing classical guitar
Composer: Debbie Cracknell
Format: Book with CD
Instrumentation: Guitar
This revised edition of
Enjoy Playing Guitar: Tutor Book 1
is the ultimate resource for all beginner guitarists. It introduces the basics of classical guitar playing and musical concepts through an approach that is clear, progressive, and carefully paced. It includes tailored solos, duets, and trios in a range of styles, and it develops musicianship through activities in improvisation, playing by ear, and the art of accompanying. To consolidate learning, there are helpful reminders and quizzes covering musical knowledge, plus a CD with over 70 play-along tracks. Encouraging self-directed learning outside as well as during lessons, this is the perfect book for today's aspiring player.
accommodates one-to-one or group teaching
over 70 pieces in a range of styles, including originals plus arrangements of well-known tunes
supporting creative activities covering improvisation, playing by ear, and accompanying using basic chords and ostinatos
detailed illustrations showing best posture and hand/finger positions
CD of play-alongs for school performance or practising at home
Contents:
Parts of the guitar
Sitting position
Right-hand position
Left-hand position
Strings and frets
4/4 time
Two-Note Hop
Two-Note Jump
March
A Stroll
Jogging
Conversation
3/4 time
Waltz
Bees and Cees
I. C. A. B.
Bees and Dees
Solo
Copycat
Echo
Slow Train
Go, tell Aunt Nancy
Two into One
Indigo Blues
Little Bird
Jingle Bells
Old Time Minuet
Yankee Doodle
Au Clair de la Lune
Good King Wenceslas
Dance
The Low Down
The Russian Girl (duet)
Barcarolle
Open bass strings plus treble notes
Thumb, Finger, Finger
Serenade
Inca Dawn
Summary of all the open strings
Happy Birthday
London's Burning;
Frere Jacques
Oh Sinner Man!
A March for Two Guitars
Home on the Range
The Tie
Summer Waltz
The right-hand fingers
Open-string exercises
Vals Triste
Theme and Variation
G Major Scale
Scale Study
(Meet) the Flintstones
El Coqui (The Tree-Frog)
The Key Signature
Andante in G
Waltz (F. Carulli)
Camelot
A Blues Duet
6/4 time
The Natural
The Ash Grove
Shalom Chaverim
Dreaming
Invention
Study in A Minor
Pony Trek
The Cossacks
Malaguena
Auld Lang Syne
The First Nowell
The Lutenist
6/8 time
Row, row, row your boat
Irish Jig
Country Jig
Manhattan Nights
Oasis
Cowboy Blues
Turkish Dance
Song of the Volga Boatmen
The Wasp
C Major Scale
Silent Night
The Russian Girl (solo)
Summer is
Icumen in
Pastoral
Siesta
More work on bassnotes
E minor Pentatonic Scale
The Condor
Three in One
Two's Company
The Coventry Carol
Andante in C
Greensleeves
Match of the Day
There are currently no reviews for this product. Be the first to write one!