GIA Publications
Coordinate Movement for Pianists - Marsh - Piano - Book
SKU: #

734409
|
Model: #

G-9987
|





Product Reviews

0 Reviews
Write a Review
---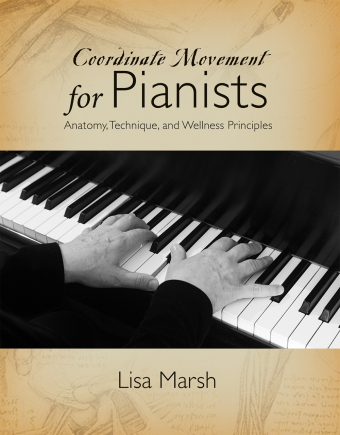 Anatomy, Technique, and Wellness Principles

Author: Lisa Marsh
Format: Book
Instrumentation: Piano Text

Coordinate Movement for Pianists explores the art and science of playing piano from a fundamental yet often overlooked perspective: sound is the result of movement. What movements, then, produce the most desirable sounds at the piano?

Drawing from experience in the fields of piano instruction, medicine, and Body Mapping, author Lisa Marsh presents a detailed discussion--complete with anatomical drawings and music examples--about the types of movement that contribute to a healthy, fluid, and versatile piano technique.

This resource is divided into three parts. In the first, Marsh establishes several foundational concepts, including the relationship between sound and movement, sensory awareness, and the practice of inclusive awareness. This section also introduces the key anatomical structures involved in playing piano.

Part II focuses on the development of a piano technique based on relaxed, efficient, and anatomically accurate movements. Technical skills addressed include: tremolos, trills, leaps, scales, navigating black and white keys, octaves, chords, voicing, articulation, pedalling, fingerings, repeated notes, and tone production, among others.

The dozens of music examples included in Part II, excerpted from the standard piano literature, offer an opportunity for pianists to practice healthy movements in context. This section also includes several chapters that offer practical tips for practising, learning, and memorising music.

Part III rounds out this resource with a thoughtful discussion about musicians' physical, mental, and emotional wellness. Topics covered include finding community and employment, combating performance anxiety, preventing injury, and rehabilitating after injury.

Coordinate Movement for Pianists is a brilliant reminder that healthy movement is the basis for a fulfilling and lifelong enjoyment of piano. Regardless of experience or level, students and teachers alike are certain to gain new inspiration and reap the benefits from applying these ideas to their own craft.

Lisa Marsh is Director of the Coordinate Movement Program at Portland State University, where she specializes in wellness for musicians. Her work as an educator, performer, and composer is informed by years of experience in the fields of medicine, piano study, Body Mapping, and Alexander Technique.
There are currently no reviews for this product. Be the first to write one!