ART Pro Audio
Phono Preamp/Interface w/ USB
SKU: #

357989
|
Model: #

USBPHONOPLUSPS
|





Product Reviews

3 Reviews
Write a Review
---
Additional Photos: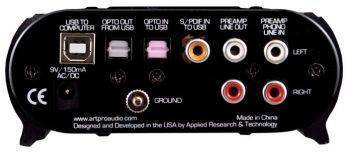 Original Price: $
119.00
CDN
The USB Phono Plus is the ideal solution for transferring any highly prized vinyl collection to your computer or laptop. It is also the ideal high performance audio interface between analog and digital sources. Built in low-noise RIAA phono pre-amp circuit with low cut filters (to remove rumble and noise) guarantee pristine audio capture.

Front mounted gain control and Signal/Clip LED allows easy optimization of a wide range of analog input sources. The USB Monitor/headphone provides zero latency monitoring of the input source for easy cueing. The USB PhonoPlusPS can also act as audio playback source for any USB equipped computer or laptop. Optical TOSLINK Input and Output as well as an S/PDIF Input make the USB PhonoPlusPS an ideal analog / digital audio to USB interface as well.

The built-in low noise Phono Preamp circuit is highly accurate and precisely conforms to the RIAA standard. The Line Out jacks are always connected to the input preamp signal for source monitoring or to allow use as a stand-alone phono preamp.

Housed in an all aluminum black anodized case, the USB PhonoPlusPS can be powered by either external power supply or directly via USB port. To ensure maximum versatility, the USB PhonoPlusPS is fully compliant with the USB 2.0 specification and uses USB adaptive mode for playback and USB asynchronous mode for record. It will work with Windows 98SE/ME/2000/XP/Vista/7 USB audio device drivers as well as Apple OS9.1/OS-X computers with native USB support.

Features:
• USB Connectivity to Desktop and Laptop Computers
• RIAA Accurate Low Noise Phono Preamp
*Up to 45 dB of Clean Gain
• Latency Free Monitoring
• S/PDIF oroptical to USB and USB to Optical Interfaces Included
• Preamp Line Out Allows Use as a Stand
• alone Phono Preamp
• Includes Recording & Production Software
• Compact, Stackable all Aluminum Chassis
• Flexible Power from USB or External Power Supply (sold separately)
• Three Year Warranty


specifications:
• USB Phono Plus Project Series Specifications:
• Frequency Response: 0 Hz50 kHz, +/- 0.5%
• THD: 90 dB below clipping
• Input Impedance: 47k Ohms/100pf (phono), 270k Ohms (line)
• Maximum Input Level: 40 mV rms @ 1 kHz (phono), +19dBu (line)
• Maximum Gain: 45dB @ 1 kHz (phono), 6dB (line)
• Analog Input Connections: RCA (preamp / phono/line output)
• Analog Output Connection: RCA (preamp line output) 1/8 (monitor/headphone output)
• Maximum Output Level: +6dBu (1.4V rms)
• Filter Type / Response: Switchable, high pass (low cut)3dB @ 22 Hz
• A/D-D/A: 16 bit, 44.1 kHz or 48 kHz, USB selectable from computer 0.4 ms A/D latency @ 44.1 kHz
• Digital Audio Interface; TOSLINK Opto In to USB, TOSLINK Opto Out from USB, S/PDIF coax (RCA) In to USB
• Computer Interface: USB 2.0 compliant
• Chassis Type: All aluminum black anodized with integral rubber sides
• Power Requirement: USB bus powered or 7-12V DC or 9-12V AC @ 150mA (external)Either polarity of the tip will work with DC power
• Dimensions: 1.85 x 4.6 x 4.5 (in) 47 x 117 x 114 (mm)
• Weight: 1.35 lbs, 0.61 k
3.235.147.50
CCBot/2.0 (https://commoncrawl.org/faq/)
Made my turntable come to life
0 of 0 customers found this review helpful
Features





Quality





Value





Overall





Product Experience
I own it
Closest Store
Kanata, Ontario
This let me bypass the turntable's built in, very low output pre-amp and made my LPs come alive. Now, I can have the same volume between different sources on the amp. No longer have to turn the volume way up just to hear the record.
Gain is only on about 1/4. Great device. No, artifacts, just great clean sound.
Posted by

Mark

on

Feb 25, 2017
Terrific solution for transferring vinyl to digital
3 of 3 customers found this review helpful
Features





Quality





Value





Overall





Product Experience
I own it
Closest Store
Toronto (Bloor St.), Ontario
I have an extensive LP collection, some of which I want to transfer to the digital realm. I also have a Linn LP 12 Sondek turntable with a Grado Reference cartridge. It's a modest but good enough setup that produces incredible sound. I bought a Technics USB turntable to do the transfers because I wasn't sure how to connect the LP12 to my computer. I had a Griffin Powerwave audio interface wedged between the Technics turntable and the computer. Unfortunately, it turns out that USB turntables pretty much suck. They just do, and it's probably a hardware limitation with USB. I don't know. Some USB turntables are better than others, but they just can't produce truly great results - especially if you are used to good sounding, audiophile-quality music. The Technics certainly couldn't compete with what I am used to hearing using the Linn, and the rumble and hum and other noise it generated was very much apparent in the digitized files - even after I used all my software tricks post transfer. And there's no gain control on the Powerwave, which was sorely missed when I connected my Linn to it after deciding the USB turntable simply would not suffice. Very frustrating! What to do, what to do. Well, the ART Phono USB Preamp turned out to be the solution. The transferred files sound terrific and clean and warm. A highly recommended piece of hardware. Well built, and the gain control is really handy for fine-tuning input levels. Low level filters are there if you want or need them, although I don't seem to require their utilization. BONUS: turntable ground connection! Sweet!
Posted by

Michael

on

Dec 12, 2016
Nice sounding versatile unit.
3 of 3 customers found this review helpful
Features





Quality





Value





Overall





Product Experience
I own it
Closest Store
Calgary East, Alberta
Bought to replace my turntables built in phono stage. Sounds very good to my ears and the gain trim is a good feature for louder recordings to reduce distortion. USB out, line level switch, headphone jack, and the spdif connectivity is an added bonus if you are also looking for a two channel audio interface. The best part is that the unit is USB bus powered. So no need for a power adaptor.
Posted by

Trevor

on

Feb 12, 2014