GIA Publications
The Anatomy of Tone - Jordan/Price/McCarther - Book
SKU: #

690510
|
Model: #

G-9421
|





Product Reviews

0 Reviews
Write a Review
---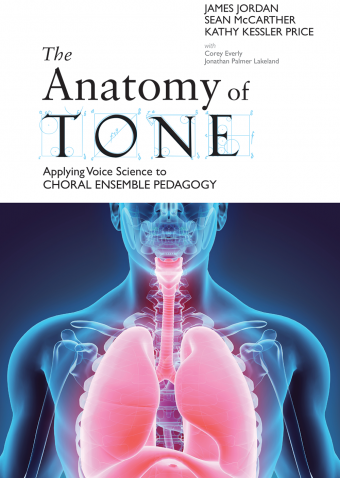 Authors: James Jordan, Kathy Kessler Price, Sean McCarther
Format: Book
Version: Choral Pedagogy
This important volume brings together the latest knowledge of voice science, voice pedagogy, conducting, and accompanying into a single volume. It is a valuable resource for choral conductors, no matter the age or experience of their ensembles.
The Anatomy of Tone
explores essential aspects of anatomy, physiology, and acoustics, and describes their impact on choral teaching and rehearsal. In addition, this book reviews groundbreaking scientific information on spacing of singers and its effect upon intonation and vocal health.
This volume contains pedagogical information pertaining to:
Breathing
Resonance
Formants in the Choral Rehearsal
Structuring the Choral Warm-Up
The Use of Breath as a Foundation of Expressive Choral Singing
The Use of Legato as a Primary Tool in the Choral Rehearsal
Choral Spacing for Balanced Resonance
Teaching of Specific Vowels and Their Internal Architectures
Use of Harmonically Based Warm-Ups
Piano Accompanying to Support Good Vocalism and Building Listening Skills
"Though knowledge of vocal anatomy/physiology and acoustical theories have existed for centuries, technology now enables singers to see their voices in action, to measure sound pressure levels in performance/rehearsal spaces, and to understand resonance frequencies within the human instrument in ways we never have before. Take advantage of this information! Put it into action to create choirs whose singers do not have to pay the price of over-singing. Enable singers to sing throughout their lifespans with joy and freedom, thereby producing the most exquisite music of which they---and you--are capable."
- Kathy Kessler Price
, from the Foreword
GRAMMY-nominated conductor
James Jordan
is Professor and Senior Conductor at Westminster Choir College, where he conducts the Westminster Schola Cantorum and the internationally acclaimed Westminster Williamson Voices.
Baritone
Sean McCarther
serves as Assistant Professor of Voice at Westminster Choir College, where he teaches studio voice and voice science.
Soprano
Kathy Kessler Price
is Associate Professor of Voice at Westminster Choir College, where she teaches graduate voice pedagogy courses and applied voice, and directs the Westminster Presser Voice Laboratory.
There are currently no reviews for this product. Be the first to write one!